2018 Shamrock FC 313
Shamrock FC 313 Preview: Bobby Voelker Returns, Gold Up For Grabs
Shamrock FC 313 Preview: Bobby Voelker Returns, Gold Up For Grabs
Shamrock FC returns to FloCombat Saturday, Dec. 8, with Shamrock FC 313, featuring UFC vet Bobby Voelker and much more.
Dec 7, 2018
by Nolan King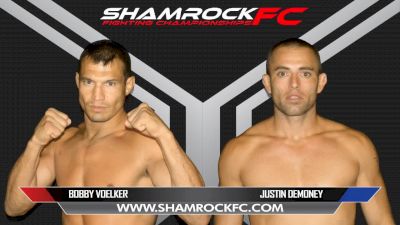 Unlock this video, live events, and more with a subscription!
Get Started
Already a subscriber? Log In
They'reeeee baccckkkk. Saturday, Dec. 8, Shamrock FC returns to FloCombat with Shamrock FC 313, promising another thrilling face-punching extravaganza.
The event kicks off at 8 p.m. ET, live from the Ameristar Casino in Kansas City, Missouri.
Watch Shamrock FC 313 LIVE on FloCombat
It's Time To Get Vicious
In the main event, UFC veteran and Shamrock FC legend "Vicious" Bobby Voelker returns to the cage to take on surging power striker Darrius Flowers.
Known for his incredible brawls, Voelker has solely competed for Shamrock FC since his UFC departure in mid-2014. In his eight fights since leaving the world's largest MMA promotion, Voelker has won seven bouts, with six knockouts in that stretch—including a wild comeback against Justin DeMoney in his most recent outing at Shamrock FC 306.
And while he doesn't boast the resume of the 44-fight veteran Voelker, Chicago's Flowers is well on his way. The 24-year-old welterweight has competed for a mishmash of top regional promotions, including LFA and King of the Cage (KOTC). Fans should expect to see the best "Beast Mode" possible when he enters enemy territory Saturday in Missouri.
Watch Shamrock FC 313 LIVE on FloCombat
Fan Favorites Collide In Co-Main Event
Earlier in the evening, crowd pleasers Dillon Tolbert and Jacob Thrall are set to throw down.
Most recently competing at Shamrock FC 303 in March, Tolbert defeated Daniel O'Connor in swift fashion, knocking out the Colorado native in a little over four minutes' time. Entering the bout against Thrall, Tolbert is riding a back-to-back first round finishes.
Kansas's Thrall, however, hasn't lost in his last three fights, going 2-0-1 in that stretch. In his last outing, Thrall submitted red-hot prospect John Weston via rear-naked choke.
Prospects Galore
Before the headliners and co-headliners take the main stage, a handful of the region's professional and amateur fighters will throw down.
Featherweights Drake Heitfield and Horacio Escobar will try to steal the show, while heavyweights Kirk Grinlinton and Cesar Gutierrez will aim to add another highlight-reel knockout to their mixtapes.
On the amateur portion of the card, a title is on the line as undefeated 22-year-old middleweight Zach Scroggin takes on Isaac Lyons.
Other highlighted amateur bouts include a light heavyweight showdown between Andrew Floyd and Derek Newson, as well as a bantamweight bout between Hunter Gore and Daryoosh Noori.
Watch Shamrock FC 313 LIVE on FloCombat
Full Shamrock FC 313 Fight Card:
Bobby Voelker vs. Darrius Flowers
Jacob Thrall vs. Dillon Tolbert
Horacio Escobar vs. Drake Heitfield
Kirk Grinlinton vs. Cesar Gutierrez
Zach Scroggins vs. Isaac Lyons (For Shamrock FC amateur middleweight title)
Andrew Floyd vs. Derek Newsome
Connor Shepherd vs. Edwin Rowe (kickboxing)
Cody Gillenwater vs. Logan Pirl
Lainey Nations vs. Krista Camarillo
Hunter Gore vs. Daryoosh Noori
Kayla Williams vs. Laura Bauman- Kickboxing
Shane McKay vs. Chris Laperle
Jake Wilson vs. Keenan Richcreek