UFC Adelaide: Ben Nguyen Talks Wilson Reis, Future Of Flyweight Division
UFC Adelaide: Ben Nguyen Talks Wilson Reis, Future Of Flyweight Division
UFC flyweight Ben Nguyen discusses his upcoming UFC Fight Night 142 bout vs. Wilson Reis in Adelaide, the future of the 125-pound division, and more.
Dec 1, 2018
by Nolan King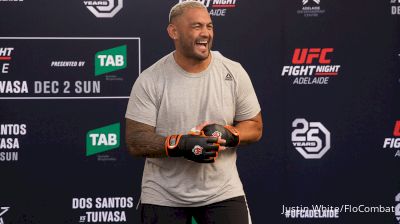 With the UFC flyweight division approaching its imminent demise, many of the UFC's 125-pound fighters are competing for their jobs.
Saturday night at UFC Fight Night 142 in Adelaide, there's a good chance flyweights Ben Nguyen and Wilson Reis will throw down in an attempt to punch their ticket onto the UFC's bantamweight roster.
For Nguyen, the news of the flyweight division's impending termination came as a shock.
"We thought it was eventually going to come, but we didn't think it was going to come this fast," Nguyen said in an interview with FloCombat. "Especially after the champion change. You'd think they'd keep it around for a little bit longer because there are changes in the entertainment factor. It just mixes up the bag, so I thought it'd be a lot longer."
The uncertainty was concerning for the South Dakotan-turned-Australian. The 30-year-old Nguyen says he was receiving most updates alongside the fans, from outside sources.
"It's been a roller coaster in that week where everything went down and people were getting cut," Nguyen said. "Then they announced Cejudo fighting TJ at flyweight, so that was like, 'What is going on?'
"We don't know and we're all kept in the dark on this thing. We're just trying to learn our fate through news publications."
BREAKING: We're hearing the #UFC men's flyweight division is 100% being dissolved, likely done by the end of 2018.

THE KICKER: Not all flyweights are being asked to move up to bantamweight. They're just getting cut. Unreal.

We'll update you as we receive more info.

— FloCombat (@FloCombat) November 7, 2018
The soft-spoken, unassuming flyweight isn't totally sold on the idea of his clash at UFC Adelaide being a do-or-die scenario. With fights left on his contract, a win would mandate his stay on the UFC roster.
What would a loss mean? Nguyen says he doesn't have to worry about that.
"I'm confident that I'll be sticking around," Nguyen said.
Having competed at bantamweight in the past, Nguyen believes the move up to 135 pounds shouldn't be too difficult of a transition if necessary.
"I'm happy to fight at bantamweight," Nguyen said. "I've fought there many times before the UFC. Just looking at the flyweight roster, they're not much bigger than us flyweights.
"Even looking at the frames of some of the fighters coming in. They're 5'5", 5'4". I'm 5'5", but I'm pretty much a bantamweight fighting at flyweight. I'm sure I'd do awesome at bantamweight, so I'm happy to move up."
It doesn't take an expert to recognize Nguyen's bout against Wilson Reis is a classic grappler vs. striker matchup. The Sioux Falls native indicates this matchup is right in his wheelhouse.
"This is what I've been doing my whole life," Nguyen said. "Growing up in South Dakota, most of the fighters in the Midwest were all wrestlers. This is the way I've had to fight my entire career. It's going to be very similar to my last fight, without me losing. I feel like Jussier Formiga was better all-around than Wilson [Reis]."