Aleksandar Rakic On Transition To MMA, UFC 231 Matchup vs. Devin Clark
Aleksandar Rakic On Transition To MMA, UFC 231 Matchup vs. Devin Clark
Newly signed UFC light heavyweight Aleksandar Rakic discusses his rise to the UFC and more with the Top Turtle MMA Podcast on FloCombat.
Nov 23, 2018
by Daniel Vreeland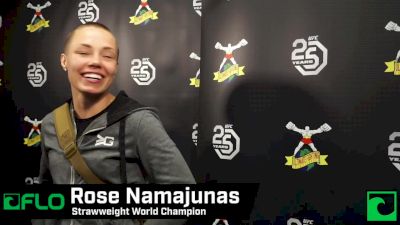 When you think of martial arts in Europe, your first (or even eighth) thought is not typically about Austria. Judo is currently their martial art that has the highest number of Olympic medalists with a grand total of five; wrestling comes next with just two.
So it's maybe not a surprise that the country of over 9 million people boasts just one fighter who has made his way to the UFC. Although their star-in-the-making Aleksandar Rakic—who faces Devin Clark at UFC 231 in Toronto—doesn't exactly come from a hotbed of martial arts action, he does have a long personal history with fighting.
"I've been doing martial arts for around 13 years. I started with boxing and kickboxing," Rakic told the Top Turtle MMA Podcast on FloCombat. "I did around 40 or 50 fights in boxing and kickboxing. In 2011, I moved to MMA."
As could be expected, that move to MMA was a difficult one, with the support needed for the change not entirely in place.
"In Austria it is really hard to train because when I first started it was really hard to get the BJJ and grappling [needed]," Rakic said. "But it's coming. Every year it's getting better and better."
While the change was difficult, it was necessary for Rakic, who was losing interest in what he had devoted so much of his time to.
"My first fight in kickboxing was at 14, and I fought until I was 20," he said. "So I fought for six years—a lot of fights. It was boring for me, you know. I want[ed] something more."
And that something more was the opportunity to show off his skills, his athleticism, and his violence—something he said was missing in boxing and kickboxing.
"I want to wrestle, I want to grapple, I want to punch on the ground—I want some more action," Rakic said. "That's the reason I changed to MMA."
In his second UFC fight, a Fight Night card in Germany, Rakic showed off his love for violence on the ground. However, he wasn't planning the fight to go that way.
"I didn't plan to fight like that in Hamburg against Justin Ledet, but after the first shot he got, he wanted to take me down and I felt how much power I have," Rakic said.
This discovery was not a slight to his opponent, for whom he has immense respect. Instead it was a newfound understanding for just how powerful he can be.
"He was not weak, but I was too strong for him," Rakic said. "So then I decided to do it like this—to maul him, to grind him, to take him down, to ground-and-pound him."
Although he enjoys showing off the years of boxing techniques he's acquired, Rakic says that he's ready to impose his will on Clark in Toronto using his full range of MMA skills.