Joanna Jedrzejczyk Excited For Flyweight Debut But 'I Will Go Back' To 115
Joanna Jedrzejczyk Excited For Flyweight Debut But 'I Will Go Back' To 115
Former UFC strawweight champion Joanna Jedrzejczyk discusses her move to flyweight ahead of her UFC 231 title shot vs. Valentina Shevchenko.
Nov 15, 2018
by Damon Martin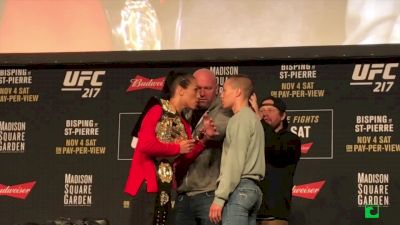 Joanna Jedrzejczyk feels like a new woman now that she's preparing for her UFC flyweight debut—but that doesn't mean she's putting strawweight in her rearview mirror forever.
The former 115-pound queen will move to flyweight to take on Valentina Shevchenko Dec. 8 in the co-main event at UFC 231 in Toronto with an opportunity to become the first ever two-division champion from the women's divisions.
Over her past few fights at strawweight, Jedrzejczyk endured some painfully tough weight cuts, including one particularly brutal incident that ended with her losing the title to Rose Namajunas.
Now that she's preparing for a fight at 125 pounds, Jedrzejczyk says everything has improved—from her recovery time to her mood in training camp—and that's a welcome change as she attempts to win her second UFC title.
"I actually feel great," Jedrzejczyk told FloCombat about her move to flyweight. "I feel my body is recovering better, I sleep better, I eat better, I'm in a better mood. So I'm enjoying this process more than I used to. This is what Mikey Brown said so many times: 'J, you most move up and enjoy your life.'
"Because for the last 15 years, I've been in this business and I've been fighting and making weight. The last six months I spent in the states preparing for my fights. I'm a pretty busy athlete and six months out of 12, I was on this diet. I'm enjoying this process. It's new."
Competing at a higher weight class still comes with certain challenges, like Jedrzejczyk realizing she could actually gain a few pounds in preparation for her December showdown.
After spending so much time trying to keep her weight down, the Polish superstar admits it was a weird feeling but a welcome one at the same time.
"My weight is low," Jedrzejczyk said. "I'm trying to even eat more to keep higher weight because I don't want to put on too much weight 'cause I don't want this extra weight to impact my training. But I feel good. I feel strong. It's been great. It's something new. I don't know how to go through the weight cut. The last few days aren't going to be that easy or that funny but still.
"It's something new and it's been a while since I fought in the flyweight division. Let's see what's going to happen on Dec. 8."
At the gym she calls home in Florida, American Top Team, Jedrzejczyk has already seen the results of some of her teammates moving up in weight and the success that has followed. Dustin Poirier has gone from a top-10 featherweight to knocking on the door for a title shot at lightweight, while Tony Martin has emerged as a real prospect at welterweight after killing himself for years cutting down to 155 pounds.
"I believe I'm going to be better in the flyweight division," Jedrzejczyk said.
That said, as much as Jedrzejczyk is enjoying life as a flyweight, she's not done with the strawweight division by any means.
Jedrzejczyk is the longest reigning champion in the history of the strawweight division, and she's not giving up hope on reclaiming that title again in the near future.
"Yes, I will go back. Definitely I will go back," Jedrzejczyk said. "Somehow yes, I want to face myself, go through the weight cut again, drop to 115. I'm not having problems with the weight. I want to go through this and face the champion again. I hope that Rose Namajunas has been a great champion for the UFC, she's been the champion for a year now.
"When I lost the belt, I was like, 'What's now?' It's been a year already. I'm happy. I have a bunch of great fans. I have a life outside the Octagon. But I want to face the champion in the strawweight division next year."