Invicta FC 32: Kay Hansen On Erin Blanchfield Matchup, Quest For UFC Gold
Invicta FC 32: Kay Hansen On Erin Blanchfield Matchup, Quest For UFC Gold
Invicta FC 32 competitor Kay Hansen discusses her matchup vs. Erin Blanchfield, her lofty career goals, and more.
Nov 15, 2018
by Nolan King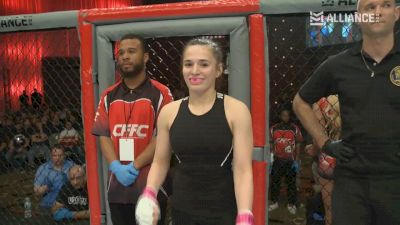 Unlock this video, live events, and more with a subscription!
Get Started
Already a subscriber? Log In
Forty years old: That's the combined age of Invicta prospects Kay Hansen (3-1) and Erin Blanchfield (2-0), who will compete against one another this Friday, Nov. 16, at Invicta FC 32.
For the 19-year-old Hansen, this bout is a best-case scenario. In a sense, it's a product of her creation.
Following her third-round TKO finish of Helen Peralta at Invicta FC 31, Hansen made the most of her time on the microphone.
"I want to take this moment to call out Erin Blanchfield," Hansen declared. "I'd love to fight her on the next card. I think we're two up-and-coming prospects and I'd love to go up to flyweight and face her."
Ask and you shall receive.
Friday night, Hansen and Blanchfield will square off at the Firelake Arena in Shawnee, Oklahoma. Expectedly, Hansen couldn't be happier her callout paid off.
"You never know if you're going to get what you want," Hansen said in an interview with FloCombat. "Obviously, it worked out for me which was great. This is the first fight where I've gotten a real say in who I fight. All my fights before this, like Kal [Schwartz] and [Helen] Peralta, the Invicta matchmaker was like, 'Hey we need someone on a month's notice.'"
Preparing for the matchup, Hansen drilled heavily for the slick ground game of her fight night foe, but she also said she expects the most well-rounded version of Blanchfield to date.
"It's no secret that her grappling is her bread and butter," Hansen said. "She's the EBI [Eddie Bravo Invitational] champion at 125 pounds. I'm expecting anything and hoping for the best Erin Blanchfield. I'm hoping to see the most talented Erin Blanchfield to date.
"I think it's going to be a really good fight stylistically for me. We're both two young opponents who think highly of ourselves. Once the cage door closes, it's going to be fun."
When Hansen ruminates on the fight's potential outcomes, she discerns many possibilities. All these outcomes have the same ending—the referee raising her hand.
"I see myself coming out on top," Hansen said. "I'm not going to sit here and say I'm going to knock her out and I'm not going to say I'm going to submit her. I'm just going to go out there and fight and sh*t's going to happen."
There aren't many 19-year-old fighters who have the skills and the poise of Hansen. Despite her rapid ascent toward MMA fame, Hansen is thoroughly nonchalant about her accomplishments.
"I've been taught to set really high standards for myself," Hansen said. "Once I start accomplishing what I set out to do—things I really think are special—maybe I'll sit back. I don't take time and sit back on things right now. I just try to keep going. The moment I step back, I lose focus."
The success of former UFC champion Ronda Rousey inspired Hansen's entry into mixed martial arts. Now, Hansen hopes to continue to walk down the road paved by Rousey—all the way to UFC gold.
"I want to be the UFC champion," Hansen said. "If you're in the sport and that's not your ultimate goal, you're selling yourself short. There are a lot of other organizations—you've got your Bellator champ, your ONE champ, your Invicta champ—but honest to god, the number one accomplishment to prove you're the best in the world is the UFC belt.
"Of course, that's my ultimate goal. Anything and everything that's going to help me get there is what I'm willing to do."