UFC 230: Daniel Cormier vs. Derrick Lewis
Michael Rapaport On UFC 230, Liddell vs. Ortiz, Brock Lensar, Jon Jones
Michael Rapaport On UFC 230, Liddell vs. Ortiz, Brock Lensar, Jon Jones
The dynamic duo from down under, Submission Radio, caught up with Michael Rapaport for an exclusive interview, and it's a heater. Watch it here.
Nov 7, 2018
by FloCombat Staff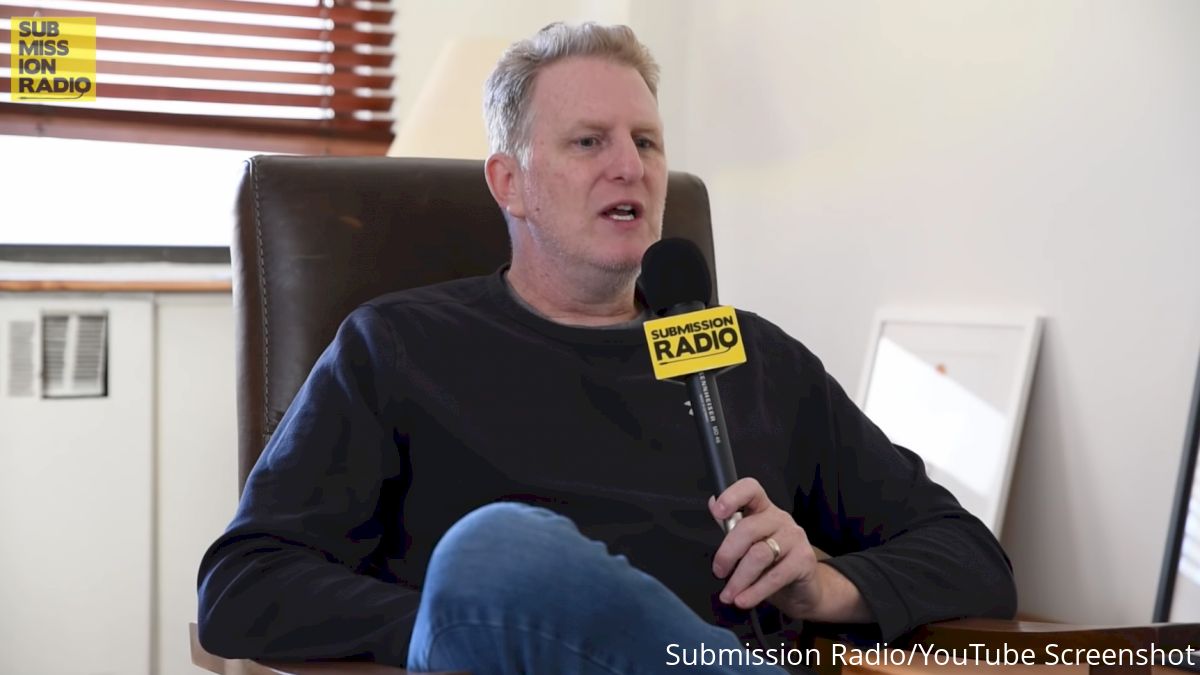 Michael Rapaport holds strong opinions.
That much is certain.
If you don't follow the man's work or if you haven't seen him on social media, know this: He's brash. He's brutal. He is not "PC."
Speaking with Submission Radio from his New York home following UFC 230, Rapaport brought those qualities and more in full force, dishing on the card's main event between Daniel Cormier and Derrick Lewis, Jon Jones, Brock Lesnar, Khabib Nurmagomedov vs. Floyd Mayweather, Chuck Liddell vs. Tito Ortiz, and more.
Here are some highlights—then catch the full interview, embedded below. It's a good one.
---
On rooting for Derrick Lewis
"Cormier's a great fighter. You know, it's not the end of Derrick Lewis. I was talking a lot of shit (to Daniel Cormier). You know, it's at Madison Square Garden, it's the same arena. The arena hasn't moved. It's the same building that [Muhammad] Ali fought Joe Frazer, and I was like, yo, Cormier, if you're the champion, yo, give it one round of stand-up and go toe-to-toe like Ali and Frazer did. You're [under] the same roof. There's still DNA from that fight in that fucking building. That's real.
"So I would have loved to have seen that. But listen, it's easier for me to say that. But I was talking – and they could hear me – to his brother or somebody that looked just like him was over there. I was in the friends and family section and somebody said, 'You know you're in the friends and family section?' I said, 'I'm friends and family of fucking Beast. I'm here for fu*kin' Beast.'"
On what he was saying to DC
"I was saying, yo DC, stand up and fight, be a champ, don't be a chump. Like, they could hear me. I was like 20 feet away and I was catching it in between the crowd, and I just wanted to see if I could instigate him to stand up a little bit more. I know they heard me. He heard me. Like I said, I have nothing but respect, it's hard not to like Cormier, but I wanted Beast to have a chance to catch him. But again, it's about winning, it's not about standing in there against a guy who you know if he hits you it can end so quickly."
Thoughts on Brock Lesnar
"I don't respect him. I don't respect him at all. That one guy who he fought, I can't remember the name of the guy that he fought, but when he beat him on steroids [Mark Hunt)]. You know, it's like, you're Mr. Wilderness, Mr. All-Natural, Mr. America and you're on fu*king steroids. You know, you're like 'Mr. I Train in the Woods.'
You don't train in the woods, you're in a fu*king lab. So, I think he's just a big bully.
I watched him, the guy who beat him for the belt quickly – this was years ago – I can't remember who it was but he fought Lesnar, and Lesnar was all cowered over in the corner. So I'm not that impressed with him. Obviously, he's another guy that's big and strong, but I don't even think he has the punching power of Derrick Lewis, he has no stamina, and I just think he's a bully. I think Cormier will beat him."
On Jon Jones
"He's got that fu*king edge, he's got that fighters edge. But yo, you fu*ked your shit up. He could have been the Michael Jordan, the Lebron James of the UFC. He could have been that guy. His fighting skill, his charisma, his looks, he's American.
He fu*ked that up. So, all these complaints and you know, that's on him. And I'm on him. And I'm a huge Jon Jones fan. I fu*k with Jon Jones hard, and he's one of the people that I've fu*ked with for a long time.
On dealing with Jones' most recent PED trouble
"It's just, it discredits it. It discredits it. As much as I fu*k with him and I'm a fan, it discredits it. And I was rooting for him against Cormier. I'm a Jon Jones fan. But you know, so listen, he's a shit talker, which I like. I'm a shit talker. So, it's like, you know, I get his side. But it's like, yo, you fucked up your legacy in terms of tainting it, and went from being like the Golden Boy of the UFC to sort of this dark-cloud figure. That's on him. He knows that.
"There's time in front of him to do it, to change that, you know. The Gustafsson fight, that was a fu*king brawl. And I remember tweeting – I tweeted and either called him Drago or I called him Gomer Pyle – I think Jon Jones is gonna knock out Drago or Gomer Pyle in one round. And then lo and behold, this tweet didn't age well because shit was fu*king nuts."
Can't leave New York without a selfie with @MichaelRapaport #CyborgNation nerds to standup in the crowd and cheer like this guy Dec 29th #UFC232 #KeepBrazilCreonteFree #CyborgVsNunes ??????? pic.twitter.com/N8cYwVhcbB

— #CyborgNation #UFC232 (@criscyborg) November 4, 2018
On wanting Jon Jones to beat up Brock Lesnar
"I would love to see Jon Jones fight Lesnar more than I would love to see him fight Cormier. I would love to see him fu*k Brock Lesnar up. I would love Jon Jones—'cause Jon Jones I think would be in such control of that fight and he could give Lesnar the beating that he wants. Whereas Cormier I think will win, but I think he'd have to fight him more.
"Jones could just do so much different shit to him, where he could really embarrass Lesnar. And that I would love to see."
On Khabib trying to angle for a fight with Floyd Mayweather
"Don't do it. If you think the Floyd/[Conor] McGregor fight was a joke, this will really be a joke. Because Floyd is Floyd. No one even thought that Khabib was a boxer up until, like, oh yeah, cause he was punching Conor. But he's not a boxer. It's two different sports. It's like Michael Jordan playing baseball. And Michael Jordan's a freak athlete and he wound up doing good as a minor league baseball player, but he never made it to the major leagues. Conor McGregor was carried in that fight. And then Floyd (vs. Khabib), it won't even be as good as that fight was. It won't even be as exciting. It shouldn't happen."
Disappointed but @dc_mma was great.
No shame for my man BEAST @Thebeast_ufc #UFC230 @ufc pic.twitter.com/uVEMf59QrM

— MichaelRapaport (@MichaelRapaport) November 4, 2018
On Chuck Liddell and Tito Ortiz fighting at an older age
"This is not good. This is not… but this is the world of fighting—boxing and UFC. I don't know what needs to happen. I love both of the sports. I'm not one of these fu*kin' people who's like, 'Fu*k boxing, I love UFC,' or, 'Fu*k UFC, I love boxing.' To me, it's like football and basketball. I don't know why people have this divide where it's like, you can only love one. I think it's stupid. Boxing isn't fighting UFC, UFC isn't fighting boxing.
"I want the fighters to all make money, I want them to all be taken care of, I want them to all be respected, I want them to have healthcare and unions and whatever the fu*k they need to do to not be fighting at 50. Because Chuck Liddell and Ortiz, the glory days are over. Fifty-year-old men should not be doing that.
"Your body is not… I don't give a fu*k about 'Oh, he's a great athlete, he takes care of himself.' This is not what a 50-year-old man—I don't care what you do or how you eat—this is not what you plan to be doing at 50. You're only doing this for money. It's not good, it's not safe and it's just… it's not dignifying. Not that they're not dignified and not that they don't have dignity, but the fact that they're having to do it is not dignified for the sport. You know what I'm saying? And whether it's the UFC or these other side places, they shouldn't be doing it. They shouldn't have to do it. There should be a forum for those champions. UFC should learn from boxing to figure out a way to help implement a system—I don't know what it is—to take care of these fighters so they're not homeless, so they're not fu*ked up, so there's some kind of system in place. Learn from boxing."
---