Ben Askren: 'I'm A Bad Matchup For Anybody,' Including Robbie Lawler
Ben Askren: 'I'm A Bad Matchup For Anybody,' Including Robbie Lawler
UFC welterweight Ben Askren explains why his wrestling is next-level and why Robbie Lawler won't be able to stop it with FloCombat's Damon Martin.
Nov 6, 2018
by Damon Martin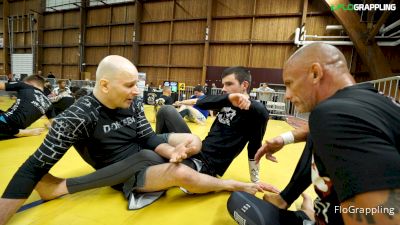 Ben Askren is finally in the UFC and he wasted no time putting the entire welterweight division on notice as soon as he signed.
The former Bellator and ONE Championship welterweight king was part of the blockbuster trade that sent him to the UFC in exchange for former UFC flyweight champ Demetrious Johnson, who will now call ONE Championship home.
Even when the rumors of Askren's arrival were first revealed, he immediately went on the offensive, calling out virtually every top-five ranked welterweight short of his teammate Tyron Woodley, who he's said repeatedly he will not fight.
One name that Askren didn't immediately mention was former UFC welterweight champion Robbie Lawler, who is coming back from knee surgery following a loss to Rafael dos Anjos in his last fight in December of 2017.
Ultimately, that's exactly who the UFC decided to give Askren for his first opponent with the bout expected to take place at UFC 233 Jan. 26 in Anaheim, California.
Related: Watch exclusive techniques and insights from Ben Askren & John Danaher here.
Prior to his fight being announced, Askren was asked about three potential opponents out of the fighters who were available in his division—Lawler, Darren Till, and Stephen "Wonderboy" Thompson—and how he matched up with all of them.
"I'm a bad matchup for anybody," Askren told FloCombat. "My style is something literally nobody replicates. I mean, Demian Maia went on a streak, I'm him but with way better wrestling. Literally, he got like seven or eight wins in a row with a freaking single-leg takedown. That was literally what he did. He got a single-leg takedown or pulled half guard. That was it.
"When I was helping Tyron prepare for him, I watched his fights and he's persistent as shit, he'll keep on coming, but when I had to act like Demian Maia when Tyron and I were sparring, it was annoying as shit. I can only do two moves. I can do a single leg and I can pull guard. How the hell am I supposed to take Tyron Woodley down if I can only do two moves?"
On that front, Askren feels he's the next evolution of Maia, which will be problematic for the current welterweight crop.
"It's not like Demian Maia disguised it or anything," Askren said. "It wasn't like he came with spinning shit or striking first and then going for the takedown like Georges St-Pierre. He was going to walk in, shoot a single leg or he was going to pull half guard. And he won eight fights in a row in the welterweight division. I'm like Demian Maia with way, way better wrestling and frankly a better top game. I'm like Demian Maia 2.0. I'm a fan, I was enthralled with what he could do."
WATCH | Ben Askren demonstrates his single-leg takedown technique
While it appears Lawler will be the fighter selected to welcome Askren to the UFC, the former two-time NCAA champion wrestler and 2008 Olympian was happy to face anybody ranked in the top five from the welterweight division in his debut.
Breaking: Ben Askren vs. Robbie Lawler targeted for UFC 233 on Jan. 26 in Anaheim, per Dana White. Contracts are not signed yet from what I'm told, but UFC is working on getting it finalized. Story up soon on @ESPN.

— Brett Okamoto (@bokamotoESPN) November 6, 2018
Askren was originally calling out No. 2-ranked Darren Till, who was seemingly the only fighter ranked in the top five willing to exchange barbs with him over Twitter.
That callout then earned Askren backlash, as some fans suggested he was picking a fight that was favorable to him stylistically, as Till is a striker from England, where wrestling isn't exactly known as their greatest weapon.
There are several top grapplers among the elite welterweights in the UFC beyond Woodley, a list that includes former All-American Colby Covington and Division II National Champion Kamaru Usman.
Unfortunately, both of those fighters are already matched up, with Usman facing dos Anjos Nov. 30 and Covington expected to take on Woodley for the welterweight title in early 2019.
Otherwise, Askren says he would have been happy to fight either one of them and prove even those fighters with wrestling backgrounds won't be able to stop him.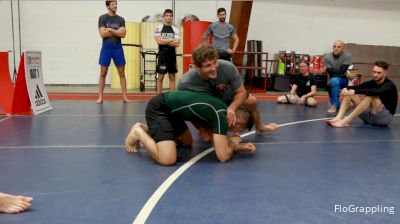 Unlock this video, live events, and more with a subscription!
Get Started
Already a subscriber? Log In
"I think my wrestling trumps their wrestling," Askren said. "It's not like I haven't fought any wrestlers. If you go way back in my career, Ryan Thomas was a Division I wrestler. Nick Thompson was a Division I wrestler, Jay Hieron was a Division I wrestler, so I have fought guys with wrestling backgrounds before—I just haven't done it recently.
"The thing about it is my wrestling is unique. They are tough wrestlers, but I won a freaking Hodge trophy [given to the nation's most outstanding collegiate wrestler]. I made the freaking Olympic team. My wrestling is next level. Like Colby [Covington], I wish I could fight Colby right now. Tyron's got his pick to beat up on him otherwise I'd pick on him."