Ben Askren To Debut vs. Robbie Lawler At UFC 233? That's... Weird
Ben Askren To Debut vs. Robbie Lawler At UFC 233? That's... Weird
Ben Askren is expected to fight Robbie Lawler Jan. 26 at UFC 233, and FloCombat's Hunter Homistek explains why this was not the fight to make, chief.
Nov 6, 2018
by Hunter Homistek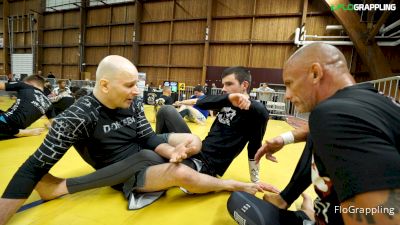 It looks like a dance partner finally took Ben Askren's hand for his UFC debut.
According to ESPN's Brett Okamoto, a bout between Askren and former UFC welterweight champion Robbie Lawler is in the works for Jan. 26's UFC 233 card in Anaheim. "In the works" is just code for "Hey, both parties agreed, and this is happening, but all the paperwork isn't quite done yet and we want to cover our asses in case something goes wrong at the 11th Hour."
In other words, it's happening.
Breaking: Ben Askren vs. Robbie Lawler targeted for UFC 233 on Jan. 26 in Anaheim, per Dana White. Contracts are not signed yet from what I'm told, but UFC is working on getting it finalized. Story up soon on @ESPN.

— Brett Okamoto (@bokamotoESPN) November 6, 2018
But why?
This is a strange matchup on so many levels.
Askren's arrival to the UFC generated excitement for days in MMA communities and on social media. It was all people could talk about. Who will he fight? How will he do? He said what?!
The former Bellator and ONE Championship king came into the UFC firing, calling out everyone from Darren Till to Nate Diaz to Colby Covington to Khabib Nurmagomedov to Stephen Thompson in the process.
Askren's message was clear: I just want to fight one of these guys. I'm ready.
November 3, 2018
So, just as everyone expected, the UFC gives Askren the one guy he didn't call out and the one guy pretty much no fighter in the history of the sport has beef with: Robbie Lawler.
On this alone, I'm on the fence with the matchup. Askren is a phenomenal trash talker. Pairing him with somebody who not only doesn't talk trash but who won't say much of anything before, during, or after the fight feels like a waste of one of Askren's main talents.
You only debut once. Why not give fans the full Ben Askren Show?
Let's eliminate this aspect though. OK, the fight might not draw rabid interest like Askren vs. Till or Askren vs. Diaz would. Maybe there's minimal trash talk.
It's still a great matchup, right?
I mean... not really.
For his career, Lawler boasts a 69 percent takedown defense. It's not bad, and he's shown moments or brilliance in defending takedowns, but when you dig into it, Rory MacDonald took him down four times. Johny Hendricks took him down seven times in their two bouts combined. Donald Cerrone got him down once.
In his last bout, Lawler was grounded twice by Rafael dos Anjos, a fight in which he also blew out his knee and dropped a unanimous decision.
Lawler is 36, he's 1-2 in his last three, and he's coming off a major surgery—and the totality of that marks the biggest problem I have with this fight.
If Askren beats Lawler, will anybody even care?
Will it prove what Askren has wanted so long to prove—that he can hang with the elite-level fighters in the UFC?
It won't. If Askren beats Lawler, the narrative will be, "Well, Robbie is done. We all knew that anyway." True or not, you just know that's the angle fans will take.
And that will do little to set up Askren's next fight. He'll win, spin his wheels, and land right where he is now—with bouts vs. Till, Diaz, and company looming.
Lots of welterweights breathing easy right about now. Don't worry your times will come! https://t.co/8xDJwIC7VZ

— Ben Askren (@Benaskren) November 6, 2018
You can't give him a title shot with just one win over Lawler. And that's if he wins. Power is one of the last things to go, and Lawler is a juggernaut once the cage door closes.
He wears a bit more damage now, but Lawler is still a beast. He could annihilate Askren with his aggression and his brute force, and it wouldn't come as much of a surprise.
And if that happens, what was the point of this Askren experiment? If you're not going to utilize him as a top-level star and throw him into the marquee matchups that generate the most money and the most interest, why ship away one of the greatest fighters of all time in Demetrious Johnson for him?
Right now, Askren's stock is high. He's the talk of the town. He's undefeated. He's a multiple-promotion champion.
Pitting him against Lawler feels unnecessarily dangerous with little upside for either man.
You're either taking a legend like Lawler and feeding him to a legitimate wolf in Askren or you're taking a potential star in the making and blowing up his stock before he ever gets off the ground.
Either way, this bout perplexes, and now we can only hope it's not indicative of how Askren's entire UFC run will be handled.