2018 Cage Titans FC 41
Shamrock FC 311, Cage Titans 41 Preview: Bochnovic, Joe Giannetti Return
Shamrock FC 311, Cage Titans 41 Preview: Bochnovic, Joe Giannetti Return
UFC vet James Bochnovic, TUF finalist Joe Giannetti, and red-hot Joe Lauzon protege Randy Costa are coming live to FloCombat. Here's how to watch.
Nov 2, 2018
by Nolan King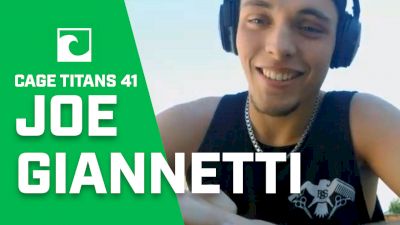 With UFC 230: Daniel Cormier vs. Derrick Lewis looming Saturday, mixed martial arts excitement is thick in the air. That said, the New York City-based event isn't the only card worth getting pumped up about this weekend.
FloCombat is primed to deliver two thrilling MMA cards on back-to-back evenings.
Friday night, esteemed Midwest promotion Shamrock Fighting Championship returns for Shamrock FC 311. Taking place at the River City Casino in St. Louis, Missouri, the action kicks off at 8:30 PM ET.
Watch Shamrock FC 311 LIVE FRIDAY on FloCombat
UFC Vet James Bochnovic IS BACK
In the main event, UFC veteran James Bochnovic looks to pick up his second win in as many fights. After being cut from the UFC earlier this year, Bochnovic defeated fellow UFC veteran Adam Cella by first-round submission at Shamrock FC 309.
Standing in Bochnovic's way will be talented Missourian Ty Flores. At 24 years old, Flores has shown a tremendous amount of potential. After kicking off his career at 2-2, the 6'3" middleweight has won three straight bouts entering Friday night.
The main event is great, but it's bolstered further by a supporting lineup. In the co-main event, Rashad Lovelace faces Sean Woodson in an exciting lightweight rematch. At 4-0, Woodson got the better of Lovelace in June of 2017, defeating him via unanimous decision.
That said, Lovelace ensures everyone it's not going down like that again, and he's hellbent on getting revenge.
If you need further convincing, just have yourself a taste of what Shamrock FC brings to the table:
HE GOT FROZEN IN SPACE AND TIME! BAH GAWDDD! #ShamrockFC305 (@Shamrock_FC) pic.twitter.com/E0hch5EPji

— FloCombat (@FloCombat) May 12, 2018
Joe Giannetti, Randy Costa In Action
A phenomenal FloCombat weekend will be topped off Saturday night when top New England promotion Cage Titans returns to your phone, computer, Roku, or Apple TV.
Kicking off at 5 PM ET, Cage Titans 41 takes place from the Plymouth Memorial Auditorium in Plymouth, Massachusetts.
Watch Cage Titans 41 LIVE SATURDAY on FloCombat
The main event features the Cage Titans return of The Ultimate Fighter 27 lightweight runner-up Joe Giannetti. The UFC cut Giannetti after he lost to Mike Trizano at the TUF 27 Finale in July despite his phenomenal, submission-laden run on the show.
Opposite Giannetti Saturday night will be undefeated Mainer Josh Harvey. Coming over from his home state's NEF promotion, Harvey has never gone the distance in his professional career. He'll look to keep the streak alive in the biggest fight of his life.
Also featured on Saturday's card are top New Englanders Johnny Campbell and Dan Dubuque. Fresh off an unsuccessful title defense earlier this year "Cupcakes" Campbell will look to halt the surging Dubuque.
Additionally, Cage Titans 41 marks the return of fan-favorite Kin Moy as he takes on Patrick Corrigan. Having not competed since mid-2016, Moy has had quite the layoff, and he's looking to show that ring rust has no effect on his exciting style.
The fun doesn't end there.
Earlier in the evening, hyped Massachusetts prospect Randy Costa looks to once again "send it" when he takes on his most experienced opponent to date, Chris Thorne.
Two fights into his career, Costa is establishing himself as must-see TV. In his last bout, the 24-year-old beheaded Kenny Lewis with a devastating highlight-reel head kick.
Randy Costa's first pro #MMA fight lasted 44 seconds.

His second was even quicker. ? (@R_Costaa / @JoeLauzon / @lauzonmma) pic.twitter.com/SKUyzvfiNw

— FloCombat (@FloCombat) August 22, 2018
Will he get the job done again, or will this be the first hiccup in his promising young career?
We're all about to find out Saturday, live on FloCombat. See you there.
Watch Cage Titans 41 LIVE SATURDAY on FloCombat