UFC 230: Daniel Cormier vs. Derrick Lewis
Daniel Cormier On Brock Lesnar, Jon Jones: 'The Mega Fight Is Jones & I'
Daniel Cormier On Brock Lesnar, Jon Jones: 'The Mega Fight Is Jones & I'
Daniel Cormier discusses potential matchups vs. Brock Lesnar and Jon Jones ahead of his UFC 230 showdown vs. Derrick Lewis in New York.
Nov 1, 2018
by Damon Martin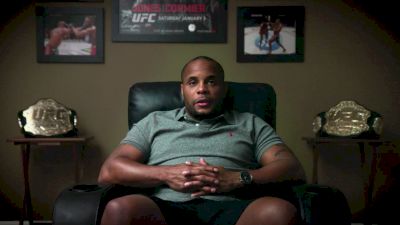 Daniel Cormier has set a deadline for his retirement in early 2019, and that means a win over Derrick Lewis at UFC 230 Saturday night in New York might leave room for just one more fight in his career.
While defeating Lewis isn't a foregone conclusion, Cormier is a massive favorite heading into the fight, and a loss would be considered one of the bigger upsets in the history of the UFC's heavyweight division.
Assuming Cormier finds a way to win, his next fight will likely come down to two possible opponents: Brock Lesnar or Jon Jones.
Lesnar, the former UFC heavyweight champion and current WWE superstar, has consistently been one of the five biggest draws in the history of MMA, and there was already heat building for a showdown with Cormier after they had an in-cage altercation back at UFC 226 in July.
Meanwhile, Jones is arguably the greatest mixed martial artist of all time and he stands as the only person to hand Cormier a defeat during his entire career.
On paper, Cormier facing Lesnar would be a bigger fight in terms of paycheck, but getting one more shot to avenge his prior loss to Jones represents a massive legacy fight. That's why Cormier says in reality a fight against Jones should be bigger—it's actually two of the top fighters in the history of the sport clashing for the third time.
"It's crazy that people say me and Lesnar would be a mega fight when the reality is the mega fight is Jones and I," Cormier told FloCombat. "We're the two greatest fighters of all time and we fight each other. It's so easy to say, 'This guy's one of the greatest and this guy's one of the greatest,' but they never fight each other. Jones and I may be the two best fighters in the history of the sport. That should be the mega fight.
"Unfortunately, it will not net me the money that I would make fighting Brock Lesnar."
Right now, Cormier is focused only on defending his heavyweight title against Lewis Saturday night at Madison Square Garden, but assuming he wins, then it will come time to make some important decisions.
Cormier says nothing has been decided yet on which fight the UFC would favor much less the one he'd prefer to land but there are plenty of factors—including money—playing into what actually unfolds.
"Ultimately we would have to decide that as a team and figure out what we want to do," Cormier said. "Don't think for a second I'm making pennies when I fight Jones, 'cause both of our pay-per-views have done over 800,000 buys. But when I was on the card with Brock, it did over 1.1 million buys.
"When you get to those numbers and you get 300,000 extra pay-per-view buys, at that number of pay-per-views, that's a big, big number."