Colby Covington Dismisses 'Needle D*ck' Ben Askren: He's Not Relevant
Colby Covington Dismisses 'Needle D*ck' Ben Askren: He's Not Relevant
Interim UFC welterweight champion Colby Covington slams Ben Askren's credentials and dismisses him as an opponent in an interview with FloCombat.
Oct 25, 2018
by Damon Martin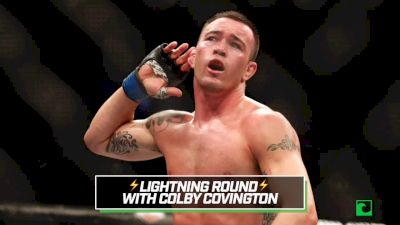 Colby Covington has his sights set on a welterweight title fight against UFC champ Tyron Woodley, not welcoming Ben Askren to the UFC.
Over the past 24 hours, a historic trade deal was revealed that would send the undefeated Askren to the UFC in exchange for former flyweight champion Demetrious Johnson going to ONE Championship.
More on the proposed Demetrious Johnson for Ben Askren "trade" in the works from today's A&TBG show. Full episode up shortly. It was one of my favorites so far. pic.twitter.com/0ewgmtTeqD

— Ariel Helwani (@arielhelwani) October 24, 2018
While the deal isn't quite finalized, Askren has already started burning up Twitter by calling out a number of welterweights as he expects to make his arrival in the UFC soon. Among the fighters he's called out is the interim welterweight champion Covington, who has been waiting for his chance to face Woodley since defeating Rafael dos Anjos in June.
Covington saw the call out but doesn't give Askren much merit to ask for the fight as his first foray into the Octagon.
"I don't really have too [many] thoughts on it," Covington told FloCombat. "He's piping up the wrong tree, he's asking for this big fight and he's never won a fight in the top 50 let alone the top 20.
"He's trying to prove himself by calling me out but I'm America's champ. My skills got me to the White House. Where the hell has that loser ever been? Nowhere. He's not been anywhere. Where have his skills taken him? Malaysia? That's really cool. He ain't ready for the big cities and the bright lights. I just sold out the United Center like Michael Jordan. 15,000 plus were on their feet in Chicago to witness greatness."
Covington didn't stop there.
"That needle dick can't get 15 people into an Asian bingo hall," he said. "They gave him away for a midget for Christ's sake. There's levels to this shit."
Covington's vitriol toward Askren isn't unique because the welterweight firebrand has taken aim at numerous fighters on the UFC roster during his ascension to the interim title.The biggest problem Covington has with the former Olympian and NCAA champion is that he's trying to jump into the deep end of the pool at the UFC.
Covington doesn't believe Askren has faced anywhere near the same level of competition during his career, so why should he get to sign with the UFC and immediately jump to the front of the line?
"Nothing about Ben Askren impresses me. He's a one-dimensional fighter. He's never hurt a fly," Covington said. "He hasn't beat[en] anybody relevant. He hasn't beat[en] anybody top 50 in the world. If he proves himself and works his way up, he's an easy payday for me but he's not a draw. No one gives a f*ck about him. If he wants to come to the big boy's league, he's been in the little boy's league, but you're going to have to work your way up.
"I'm not reaching to the bottom of the mountain to pick guys up anymore. I'm at the top of the UFC mountain. You've got to earn your way up. I'm not helping you. If you work your way up, don't worry buddy, I'll leave you unconscious and we'll send you back to the prelims where you [belong]."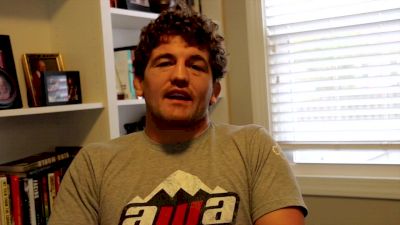 That being said, Covington believes based solely on his wrestling ability that Askren could probably get a few quality wins in the UFC depending on the kinds of matchups that are offered to him.
Once he faces the legitimate top-tier talent at welterweight is when Covington expects Askren to be truly exposed as a fraud.
"If he gets matched up right like what they like to do with their prospects—and that's all he is: a prospect—I think he could beat some strikers. He's got a wrestling background to beat some strikers," Covington said. "But he's getting older and he's never really fought any good competition. He's fighting these guys in these Asian bingo halls that don't belong there. They're not true fighters.
"Nobody knows who this pencil-necked, Chia-pet dweeb is and that's 'cause he's never done anything relevant in the sport. When he's done something relevant, then come talk to me."