2018 V3Fights 70
JacksonWink's Chris Brown Details 'Petty Beef' With Donald 'Cowboy' Cerrone
JacksonWink's Chris Brown Details 'Petty Beef' With Donald 'Cowboy' Cerrone
Undefeated JacksonWink product Chris Brown sheds light on the Donald Cerrone-JacksonWink drama ahead of his V3Fights 70 main event.
Oct 19, 2018
by Daniel Vreeland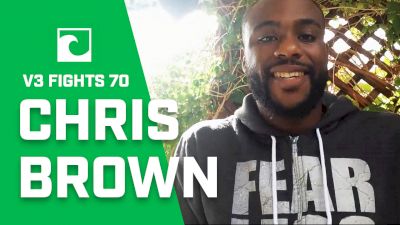 Undefeated JacksonWink product Chris Brown has a main-event scrap Saturday, Oct. 20, at V3Fights 70 against Thomas Gifford—but there's another fighter on his mind, too.
In August, Donald Cerrone stopped by Joe Rogan's MMA Show and lofted some heavy allegations toward his former gym, Brown's current home in Albuquerque, New Mexico.
The claims ranged from reduced involvement from Greg Jackson himself to allowing civilians off the street to come in and train with the fight team for money. The interview sparked backlash and a number of statements from team members and leaders alike, all of which rebuked Cerrone's words and actions.
Although far from the first to respond to the Cowboy interview, Brown shared his personal insights regarding Cerrone in a recent interview with FloCombat.
"You saw Cowboy's fake-ass interview… just got on there and just starting lying from the very beginning," Brown told FloCombat's James Lynch. "Just exaggerations and telling stories that are three years old because that's how long he hasn't really been a part of the team."
Watch V3Fights 70 LIVE on FloCombat
Issues between Brown and Cerrone come from over two years ago, when the two used to be key sparring partners for one another. Brown notes the end of that era was largely due to a misunderstanding and a lot of pettiness.
"[He talked] about, 'Oh, I don't have training partners and people are doing this.' He stopped training with me because of some stupid drama," Brown said. "I used to be his main training partner, like after the Rick Story fight he put out this statement that he wasn't doing any more hard sparring and he was retiring from hard sparring."
This statement from Cerrone came as a surprise to some and sparked some comments from teammates intended as jokes. The week before that fight, Cerrone had gone through a tough day of sparring with Brown, and it was this that became the talk of the gym after the fight.
"So the last day we sparred, we went five rounds just me and him, straight five rounds," Brown said. "We went the first round and he's like, 'Let's go again. Let's go again.' So we just kept going, and we went to war. After that, someone said that I was saying that I retired him."
While Brown didn't take these comments all that seriously, it was clear Cerrone did. As a result, their relationship became strained.
"So he just started acting funny with me, come in the gym just mugging me, wouldn't talk to me," Brown said. "So when he finally started sparring again, I was like, 'Hey, let's get a round,' and he's like, 'Nah."
Watch V3Fights 70 LIVE on FloCombat
Brown later tried to bury the hatchet with the UFC veteran. Apparently, Cerrone wasn't having it.
"One day he was at the gym when I was getting ready for my next fight and so I just went up to him like, 'Hey, this shit's stupid. I never said that. You're one of the dudes I looked up to when I joined the team,'" Brown said. "He used to beat the hell out of me when I first got here. He's one of the people that helped me reach the level that I'm at. It was just something super petty that we should've never been beefing over."
Although Brown was willing to make amends then, he likely isn't after the interview. In particular, Brown took offense to claims that Cerrone made about co-owner Mike Winklejohn and teammate Michelle Waterson that paint the gym in a negative light.
"He went on the rant talking about [how] Coach Wink is a horrible person for the gym—we wouldn't even have the gym if it wasn't for Coach Wink, you know what I mean? We wouldn't even have the gym anymore," Brown said. "So that's just him being hatefu.
"[He's] trying to say Michelle built her own gym to get away from us. She built her home gym so she can train at home because she has a daughter and her husband helps her at home. But she's in the gym every day. Even when he made that statement, Wink was like, 'Yeah, I've seen Michelle three times today.' Yeah, because she's always in there working with us. I know she's always on my social media. I'm always on hers, because she's always in there grinding."
In the end though, the words are just that—words. Brown finds he is better off without both Cerrone and fellow departing member Landon "Lando" Vannata.
"Landon was in the group with Cowboy, so it wasn't a big deal about them leaving," Brown said. "Landon stopped sparring with me a long time ago. Honestly, I [only] got a handful of sparring times with Landon because he doesn't like getting beat up. It's like that. I don't care."
Watch V3Fights 70 LIVE on FloCombat
Not only is Brown better off, but he believes the team is better off as neither Vannata nor Cowboy was there to help any of the other fighters.
"They don't help us. They weren't helping us really," Brown said. "Cowboy didn't come help anybody with their camp. He'll come in there and try to hand pick people he can train with, but other than that, he's not helping nobody. He's not going to come in out of his way to come help me get ready for a camp, so… We're better off without him.
"He's not part of our team no more. We're good. We don't need that kind of energy."