UFC 229: Khabib Nurmagomedov vs. Conor McGregor
Dominick Reyes On Lofty Standard At 205: 'We're Big Without Being Sloppy'
Dominick Reyes On Lofty Standard At 205: 'We're Big Without Being Sloppy'
Red-hot UFC light heavyweight Dominick Reyes discusses his 'special' division, his next steps, and more with the Top Turtle MMA Podcast on FloCombat.
Oct 19, 2018
by Daniel Vreeland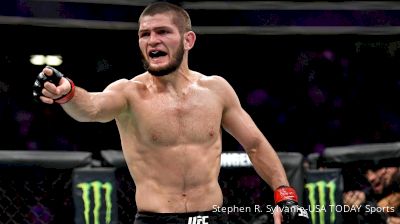 Inspiration to become a mixed martial artist comes from many places. For some fighters, it begins with a childhood martial art, such karate or wrestling. For others, it involves a teenage trip to the video store. For Dominick Reyes, it came from seeing the real deal live.
Although it wasn't his introduction to the sport, a family trip to see a live UFC event in Vegas helped lead him down the road he currently travels. As an adolescent, his parents took his brothers and him to see UFC 43, which featured a main event between Randy Couture and Chuck Liddell—a bout that still affects him today.
"It was frickin' badass," Reyes told the Top Turtle MMA Podcast on FloCombat. "We were at the MGM. I still remember the noise, the sound, when Randy knocked out Chuck. I still remember the energy going through my body. I was getting goosebumps."
And that goosebump feeling after a violent knockout is something Reyes has been in search of since.
"I still get the same feeling," Reyes said. "That's kind of what I'm chasing in fighting."
Today, it's not only the feeling the No. 6-ranked fighter chases—there's pride in the division that once hooked him on the sport. According to Reyes, the 205-pound class is the division that help build and save the UFC on numerous occasions.
"Forrest Griffin brought the UFC back with The Ultimate Fighter," Reyes said. "Chuck Liddell, Tito [Ortiz], all the all the crazy names that everyone remembers—most of them are at light heavyweight."
Because of the history, Reyes believes the current crop of light heavyweights has a standard to uphold—a standard that includes being both talented and exciting.
"We're the light heavyweights. Let's show it," Reyes said. "Everyone out there is getting more love than we are… we're the exciting weight class. We are the UFC, the light heavyweights—we're special.
"We're big without being sloppy."
Luckily for Reyes, he sees plenty of big fights on the horizon that will show just what he's talking about. One in particular that sticks out for him is the upcoming headliner between Volkan Oezdemir and Anthony Smith at UFC Fight Night 138 in Moncton.
That fight jacks him up.
"Every time I see light heavyweights put on good-ass fights, it makes me happy," Reyes said. "I'm like, 'Hell yeah, that's what's up.'"
With all the big light heavyweight fights about to kick off, the newly minted top-10 Reyes looks to add to the prestige of the division. If he's going to do that, he's got a name he thinks can assist him.
"Right now, the only name on my mind is Jan Blachowicz," Reyes said. "He's perfect, man. He's perfect for my next step. He's a clean striker with great takedowns. His timing is really good. I feel like it's a good test."
If that fight is going to happen and Reyes is going to further the story of the division, however, it may have to wait until next year.
With the cards filling up left and right, Reyes expects to fight again around February. Until then, he'll sit back and enjoy his favorite division.