UFC 229: Khabib Nurmagomedov vs. Conor McGregor
Ranking Top 5 Matchups Left In 2018 | Top Turtle MMA Podcast
Ranking Top 5 Matchups Left In 2018 | Top Turtle MMA Podcast
The Top Turtle MMA Podcast on FloCombat counts down the top five matchups left in 2018, chats with red-hot UFC light heavyweight Dominick Reyes, and more.
Oct 17, 2018
by Daniel Vreeland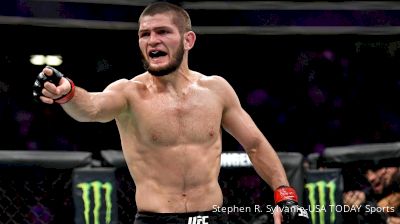 We roll out this episode of the Top Turtle MMA Podcast on FloCombat by chatting with the youngest light heavyweight in the top 10, Dominick Reyes. We discuss the prestige of the 205-pound division and what he wants to do next.
Plus, we're counting down the top five fights remaining in this calendar year. There are some bangers in there, and we didn't have room for them all. See which ones made the cut below.
All this, plus we take a look around the MMA world with our news roundup, and we discuss jiu-jitsu with hot black belt prospect Levi Jones-Leary.
Time Stamps
1:00 - Dominick Reyes Interview: Who's Next?

11:00 - MMA News Roundup: Bye, Bye, Eddie Alvarez

24:00 - Combat Countdown: Top 5 Fights Left in 2018

38:00 - Levi Jones-Leary Interview: Next Big Black Belt?
To make sure you never miss one of our top five lists or any of our killer fighter interviews, use any of the links below to subscribe to the show.
And if you'd like to contact the show, you can do so by tweeting @TopTurtleMMA and @FloCombat or emailing the show at TopTurtleMMA@gmail.com. Currently, we are accepting all love and hate mail.