Christian Medina Details Road To Bellator 208: It's An 'Amazing' Feeling
Christian Medina Details Road To Bellator 208: It's An 'Amazing' Feeling
Flyweight fighter Christian Medina discusses his road to Bellator 208, his bond with his twin brother, fighting on a card with Chael Sonnen, and more.
Oct 11, 2018
by FloCombat Staff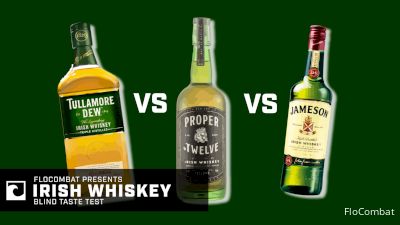 By Doug Geller
From watching Chael Sonnen from the stands to fighting on the same card as the American Gangster himself, Christian Medina is excited to make his Bellator debut Sat., Oct. 13, at Bellator 208.
Fighting was always the career goal of Medina, a 22-year-old flyweight out of the Bronx in New York City—he just thought it would be for his country, not for himself. Medina and his twin brother Brandon decided at 13 years old they were going to join the United States military when they turned 18—just like many of their family members, such as his cousins who are currently serving in Afghanistan. However, they weren't impressed by the hand-to-hand combat training the military provided, so they decided to start on their own before they joined. It was then they discovered mixed martial arts.
They walked into Tito Hartz of East Coast United BJJ and MMA, the Bronx location (ECU) having no idea what MMA was. They dove into training, focusing on Brazilian jiu-jitsu and Muay Thai. After eight months of hard training, Hartz approached Christian, asking him if he wanted to take a Muay Thai fight.
"My instructor was like, 'Do you want to do an amateur Muay Thai fight for your 16th birthday?' I was like, 'Hell yea, why not?'" Medina told FloCombat. "You know, might as well get my first fight, if I'm going be fighting people if I was going to war in real life, I might as well put myself in that scenario, right? So I did my first Muay Thai fight at 16 and I won."
The fight was against an opponent 10 years older than him and the victory gave Medina an extra boost to continue training. He and his brother started to get into fighting more, and when he turned 18, Medina took his first amateur MMA fight.
"That first time stepping into the cage, it was a wide array of feelings, it was way different than stepping into a ring, way different than doing jiu-jitsu on the mats," Medina said. "It was hearing the door lock, hearing the cage, it was so surreal. It put me in love with mixed martial arts."
Medina lost that first fight by knockout, while his brother won his fight. The knockout didn't discourage either of the Medina twins, though. They knew it was just part of the game. In fact, right after the fights when they got home, they talked about how it only reconfirmed that they wanted to dedicate their lives to the sport.
"[That] same night, we went back to our house and we were in love with this," Medina said. "This is something we were going to choose to put all our effort into it doing and always wanting to train it and always wanting to do it."
But the military was still on his mind as he approached 18—until his coach pulled him aside and talked him out of it.
"Tito Hartz, my instructor, talked me out of it," Medina said. "He was like, 'You can always jump into the military. You can't always jump into the cage.' That's what he said to me and that took me out of the military and put me into the cage. Maybe I am better off. I am fighting in Bellator."
What makes it truly special for Medina is that he gets to do it alongside his twin brother.
"To have somebody who is in your family, that you're with 24-7 at home... It's a great feeling," Medina said.
His brother Brandon feels the same way, and he believes they can dominate the MMA world together.
"I want to take it all the way to the top. If we can get a 125 title with the UFC and get a 125 title in Bellator, that's a dream come true," he said. "I want to show this twin bond we have is something extraordinary."
For now, Medina makes his Bellator debut at Bellator 208 against Zarrukh Adashev, who is also 0-1. The Bellator 208 fight card promises to be one of the biggest of the year, featuring Chael Sonnen vs. Fedor Emelianenko in the main event as part of Bellator's heavyweight grand prix tournament.
Medina is honored to be a part of a major event.
"Just to be on a card with Chael Sonnen and Fedor—my first ever live UFC I saw was Chael Sonnen vs. Jon Jones in Jersey where he (Jones) broke his toe," Medinda said. "Just for me to go [in a] 180-degree circle from me watching him and wanting to be there and then now I'm fighting on the same card as this guy and Fedor, who is a monster and legend from Pride... it's an amazing thing, and I'm obviously doing the right thing and I'm obviously messing with the right people."
Medina is taking this opportunity seriously, and he admits his preparation wasn't perfect for his first professional fight. Ahead of that debut fight, he was still going out with friends to events and staying up late, and he doesn't believe he was mentally prepared for the fight.
"I made weight but I wasn't 100 percent mentally there," Medina said.
This time, however, he is determined to be 100 percent ready. He is staying in and watching tape of his opponent at night. He even is working with nutritionist Eoghan Gallagher, who has worked with the likes of UFC fighters Darren Till and Paul Felder. Medina has also been cross training at different gyms for this fight, going as far as Mexico to train with Renzo Gracie disciple and UFC veteran Sean Alvarez.
He is also taking the advice of his teammate, Ross "The Boss" Richardson, who fought at Bellator 194 and came away with a second-round TKO victory. Richardson told Medina the key is to forget your surroundings and to just focus on the task at hand.
"'Don't worry about what the crowd really cares about, you just gotta go out there and do your thing.' That's pretty much what Ross told me," Medina said.
With the confidence of being prepared, now Medina is excited to step into the Bellator cage and to throw down with Adashev. He believes Adashev, who was submitted in his last fight, will want to keep this fight standing.
"I think it's going to be a stand-up battle, 100 percent honestly," Medina said. "He's not a grappler, so I don't think he's going to try and take it to the floor, not at all."
And with that in mind, Medina sees himself getting the finish.
"I see it ending with me as the winner—either knocking him out or choking him," he said.
Medina hopes his performance will lead to a long-term contract with Bellator, which he prefers to going to the UFC.
"Right now, I prefer Bellator, because, me being honest, this Brock Lesnar match up with DC [Daniel Cormier], that should've gone to Curtis Blaydes," Medina said. "I feel like [at times] the UFC [thinks] it is the WWE. That's my honest opinion."
For now, Medina is living his dream.
"Living the dream of being a pro fighter is an amazing feeling," he said.