Ronda Rousey Relaunches Website Featuring Training Videos, Premium Content
Ronda Rousey Relaunches Website Featuring Training Videos, Premium Content
Former UFC champion and current WWE star Ronda Rousey recently launched a new website geared toward super fans. Details here.
Oct 11, 2018
by FloCombat Staff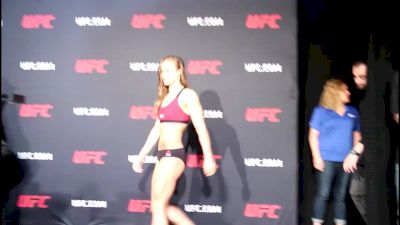 UFC Hall of Famer and current WWE superstar Ronda Rousey just launched a fancy new website, y'all.
For past, current, and future fans of the "Rowdy" one, the site is a goldmine for videos, news, updates, merch, and more.
Rousey's new site also features a ton of premium content with training lessons, something we can appreciate here at FloCombat.
We see you, Ms. Rousey.
For Rousey, who retired from MMA on the heels of back-to-back knockout losses, one of the biggest surprises from the site is just how close the content brings you to her life and to her career. MMA fans may note Rousey's reclusive nature following her defeats, but the website bucks that perception.
Featuring an "On the Road" section, Rousey offers her fans personal updates, taking them with her as she travels city to city as a member of the WWE roster.
Supplementing this, Rousey also provides fans a heavy dose of YouTube action, giving them yet another way to keep up with her latest travels, events, and general shenanigans.
In all, the site gives fans plenty to get excited about, but even for non-fans, it shows that Rousey is ready to fully embrace being back in the public eye and getting back to her superstar ways.
By opening up and by allowing the cameras to snap and the lights to shine on her once again, Rousey is making it clear her WWE career is no side project. She's here to conquer all comers—again.