UFC 229: Khabib Nurmagomedov vs. Conor McGregor
Derrick Lewis Talks 'Messed Up' Daniel Cormier vs. Brock Lesnar Matchup
Derrick Lewis Talks 'Messed Up' Daniel Cormier vs. Brock Lesnar Matchup
UFC heavyweight contender Derrick Lewis discusses the potential Daniel Cormier vs. Brock Lesnar matchup, saying the fight shouldn't be for a title.
Oct 6, 2018
by Damon Martin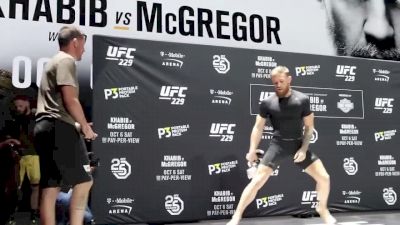 Derrick Lewis is the first person to admit he doesn't watch much MMA in his spare time.
When the UFC heavyweight isn't fighting or preparing to compete, Lewis has a family that takes up most of his time, so he rarely turns on the fights happening in the UFC.
While he's not aware of much that happens in the sport, Lewis definitely pays attention to the situations that affect him the most—for instance the current situation stagnating in the heavyweight division.
Lewis will walk into his fight Saturday night at UFC 229 against Alexander Volkov knowing the winner should probably be next in line to face heavyweight champion Daniel Cormier.
But both athletes know that's not the case.
Instead, former UFC heavyweight champion and current WWE superstar Brock Lesnar is going to jump the line to face Cormier in early 2019 when he's eligible to fight again after serving out the remainder of a suspension from USADA.
Now Lewis is never going to begrudge anybody going for a big payday in this sport, and that's absolutely what Cormier is after by pursuing a fight with Lesnar. Still, Lewis can't ignore the fact he's likely one win away from a similar life-changing situation, but he's going to have to either sit out for several months waiting for a title shot or take another fight, risking that opportunity altogether.
"I believe it's messed up in some type of way [for] the guys that's been fighting all the time, working their way up and the guys that really care about the title," Lewis told FloCombat when speaking about the Lesnar situation. "I don't think it should be a title fight. It should just be a fight, not for the title."
As far as the reason behind Lesnar jumping the line and getting a title shot upon his return with the last win on his resume coming in 2010, Lewis can't say for certain why it's happening beyond the money that will be made from the fight.
Lewis points out that Endeavor—the company responsible for paying $4 billion to purchase the UFC back in 2016—has investors that need to be paid back, and that means the fights being made have to be profitable.
Outside of this weekend's UFC 229 card featuring the return of Conor McGregor vs. Khabib Nurmagomedov, there's probably no more guaranteed jackpot for the promotion than putting Lesnar back inside the Octagon for a fight.
"It's crazy, [I have] mixed emotions about it," Lewis said about Lesnar's return. "The thing about it is, I've heard that the UFC are hurting for money, that they owe a lot of investors and they're really trying to pay those back so that's why you keep seeing all these crazy fights happening."
Despite all those factors working against him, Lewis isn't giving up hope that a lopsided win over Volkov will at least put him at the front of the line for the next title shot after Lesnar and Cormier are finished.
Now it's just up to Lewis to go out and do his job.
"It has to be a great performance. It has to be a dominant performance," Lewis said. "It can't be a split decision or a decision. It has to be a dominant performance. I have to finish him. A clear-cut, dominant, 'this guy is ready to fight for the title' [performance]. It can't be a close fight. It can't be anything lucky. It has to be something like what Tyron Woodley did.
"I have to come out ready to fight right after the bell."