UFC 229: Khabib Nurmagomedov vs. Conor McGregor
Michael Bisping: Conor McGregor 'Rattled' Khabib Nurmagomedov With Talk
Michael Bisping: Conor McGregor 'Rattled' Khabib Nurmagomedov With Talk
Former UFC middleweight champion Michael Bisping analyzes the psychological warfare between Conor McGregor and Khabib Nurmagomedov ahead of UFC 229.
Oct 4, 2018
by Damon Martin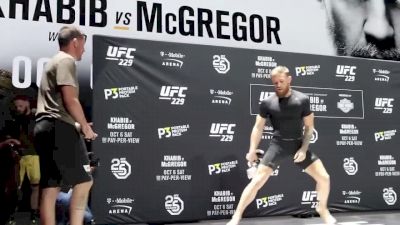 Few people in the history of mixed martial arts understand the art of trash talking better than former UFC middleweight champion Michael Bisping.
During his career, Bisping was arguably the most called-out fighter on the entire roster, in large part because he did such a tremendous job pissing off every opponent he ever faced before coming close to stepping foot inside the Octagon.
If trash talk is a weapon, Bisping was Ice Cube shouting about "No Vaseline," and Conor McGregor is the modern day Eminem, dropping kill shots on anybody who opposes him.
When it comes to McGregor. he doesn't just talk about how he's going to beat somebody up—he spends hours doing meticulous research in order to unleash every dig he can uncover, then he spews it back at his opponent like a shotgun blast.
Ahead of UFC 229 at the pre-fight press conference, McGregor took aim at lightweight champion Khabib Nurmagomedov, who is typically so stoic he's beaten statues in staring contests.
That day, McGregor took shots at Nurmagomedov's style inside the cage but then unleashed a venomous diatribe aimed at his father and his loyalty to Russia. As the verbal jabs kept coming at Nurmagomedov on stage, Bisping couldn't help but notice McGregor finally found an opening that had the lightweight champion reeling in those final moments.
"I think he did [get to him] towards the end of that press conference," Bisping told FloCombat. "You could see Khabib was a little rattled. It started off, Khabib handled it well, he was kind of grinning to himself, not responding, not taking the bait. Conor kept pushing him and pushing him and he's out of his goddamn mind, his ego is out of control, but he got to him eventually.
"You saw Khabib fire back and he tried to fight fire with fire, which is just the wrong thing to do against Conor. 'Cause only one man is going to win that battle."
According to Bisping, the key to trash talk when sharing a stage with an opponent at a press conference isn't about enraging them so they go past a boiling point.
Instead, Bisping suggests what he did throughout his career—and what McGregor does so well right now—is getting an opponent to doubt themselves. That's the kind of damage that pays dividends all the way up until the fight actually happens.
"Conor is similar to me or I'm similar to Conor, at that press conference, you're trying to get your opponent to doubt themselves," Bisping said. "You're trying to send the message that you're the alpha male in the fight, you're going to win, and you're not scared of them. You're also trying to get into their head and take them out of the game."
Following their first press conference, McGregor touted a famous line from the HBO series The Wire when he shouted at Nurmagomedov, "Don't come at the king—and if you do, don't miss."
That's good advice according to Bisping, who has seen firsthand what McGregor can do to an opponent if he gets inside their head before they step into the cage together.
Instead, Bisping suggests Nurmagomedov should do everything possible to ignore McGregor in the days leading up to their fight.
But that's much easier said than done.
"That's what happened to Jose Aldo," Bisping said about McGregor's trash talk having an effect. "Jose Aldo sprinted at him in the first 10 seconds. These days, we see Jose Aldo being the counter fighter, letting people come to him, but Conor got to him.
"Khabib, if he does the same thing, gets super aggressive, runs in thinking he's going to get a body lock and a takedown, he might run into a big left and get knocked right out."