Alex Chambers: It's 'A Badge Of Honor' To Face Livia Renata Souza In Brazil
Alex Chambers: It's 'A Badge Of Honor' To Face Livia Renata Souza In Brazil
UFC strawweight Alex Chambers discusses her upcoming matchup vs. Livia Renata Souza Saturday at UFC Fight Night 137 in Sao Paulo, Brazil.
Sep 21, 2018
by Damon Martin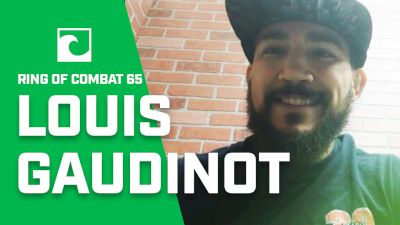 When Alex Chambers got the call from the UFC asking her to face former Invicta FC champion and Sao Paulo native Livia Renata Souza at the upcoming UFC Fight Night 137 card in Brazil, she didn't hesitate for a second with her answer.
"Hell yeah," Chambers told FloCombat with a laugh when speaking ahead of her fight vs. Souza Saturday.
It's no secret fighting someone in their own backyard can be either a blessing or a curse. Many fighters prefer not to go into an opponent's hometown, especially when it requires traveling halfway around the globe and then dealing with the crowd being against them. Then, there are the worries about judges potentially making a biased call for the hometown fighter.
Then again, some athletes embrace the chaos and love feeding off the negative energy from the crowd.
Consider Chambers in that latter category. She didn't blink when the UFC offered her the fight against Souza in her native Brazil.
"I thought it was on the bucket list of all fighters to come here and fight a Brazilian in Brazil," Chambers said. "If you can walk out to that, to the crowd in Brazil, then it's almost like a badge of honor. It's an honor to fight here in Brazil.
"It didn't even cross my mind. I just saw it as a great opportunity. I train at American Top Team around so many Brazilians—my coaches are Brazilian—so worry was not something that crossed my mind."
I woke up like this. 115.8 ⭐ Feeling great. Tune in to the @ufc official weigh-ins tonight live on @ufcfightpass tonight #ufc #astrogirl #ufcsaopaulo #americantopteam #hydratewithbodyarmor #reebokau | @UFCBrasil @UFC_AUSNZ pic.twitter.com/dSw3WLbZbL

— Alex Chambers (@alexchambersmma) September 21, 2018
Souza makes her UFC debut this weekend after putting together an impressive resume in Invicta FC, including her reign as strawweight champion.
With an 11-1 record, Souza will have plenty of eyes on her performance Saturday night, and Chambers expects nothing but the best out of her when they step into the cage.
"Obviously she's a very good fighter," Chambers said. "She was the Invicta champion. I fought in Invicta. Here we are in the UFC. I feel like the UFC always puts on good matchups, and I want to fight someone who's going to bring out the best in me. I feel like this is the fight that's going to bring out the best in me.
"I'm excited to fight her and she's a great fighter, so let's do this."
If there's one other question looming over Chambers' head going into this fight, it's a matter of how she's approaching this matchup after two straight losses in her most recent performances.
Don't believe me just watch. Two days ⭐ @ufc @UFC_AUSNZ #ufc #astrogirl #ufcsaopaulo #americantopteam #northsidepureboxing #barbarians pic.twitter.com/CAEsgG8RrE

— Alex Chambers (@alexchambersmma) September 20, 2018
While there is no rule in the UFC stating a third loss means being released, everybody on the roster knows that several defeats in a row usually means the reaper's scythe is dangling overhead.
None of that enters Chambers' mind as she prepares for her upcoming fight.
She just wants to go out there and perform to the best of her ability. And if she duplicates what she's been doing in training, Chambers is confident she'll leave Brazil with a win.
"There's always pressure here. This is the big leagues," Chambers said. "Pressure can bring out the best in you. I deal with it everyday training with the beasts in my teammates at American Top Team. It's something that I'm going to embrace because it's an opportunity to go out there and have some fun and do what I love doing."