Colby Covington Sends Strong Message To Snoop Dogg: 'Calvin, F*ck You'
Colby Covington Sends Strong Message To Snoop Dogg: 'Calvin, F*ck You'
UFC interim welterweight champion Colby Covington reacts to Tyron Woodley's victory over Darren Till at UFC 228 and annihilates Snoop Dogg.
Sep 10, 2018
by Damon Martin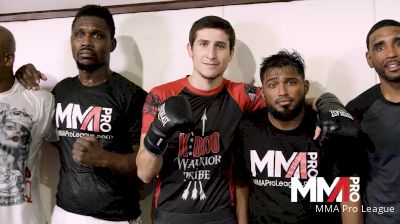 Colby Covington was not impressed with what he witnessed between Tyron Woodley and Darren Till Saturday at UFC 228 in Dallas.
While he was at home rather than sitting cage-side in Dallas, the top-ranked welterweight watched Woodley defend his title with a second-round submission win over the highly touted contender Till.
By the time the fight took place, Till was actually a betting favorite, but ultimately he was handed a lopsided defeat with Woodley locking on a D'arce choke to get the job done.
Covington will never be a big fan of Woodley, but even he admits he was rooting for "The Chosen One" to get the win so they could set up their potential showdown later this year.
Nothing really shocked Covington about the way Woodley won, and now Till can go back to the end of the line after coming up short in his first bid to become UFC champion.
"You got a guy who shouldn't have even been in there," Covington told FloCombat. "The Doughboy Till, he's missed weight in a third of his UFC fights. He beat an over-the-hill clown boy [Donald Cerrone] and then he got a gift decision in Europe in his hometown against the choir boy [Stephen Thompson]. So the guy shouldn't have even been in there. He's got a bunch of fake followers, a bunch of fake interactions on Instagram. They wanted to hype him up and nothing surprised me.
"It's pretty funny: Doughboy ignored his family to land a hot zero significant strikes. Good job, buddy."
Oh shut the hell up you virgin! You're at the back of the line choirboy. https://t.co/JXeSRrCO44

— Colby Covington (@ColbyCovMMA) September 9, 2018
Now, Covington has his sights set on Woodley with hopes they will meet Nov. 3 at UFC 230 in Madison Square Garden in New York.
Following his win Saturday night, Woodley said that he would be ready for that date, although he didn't seem all that interested in fighting Covington.
That's why Covington delivered a rather fiery message to Woodley on Monday.
"You're a soy boy, Tyrone," Covington said. "Come get this ass whooping Nov. 3. Don't fake no injuries. I know you're already trying to say you've got a bum little pinky toe or a bum little thumb. Take some Advil, bitch.
"Come see me in The Garden. You weren't complaining about that injury after the fight. You said you were good to go for the Garden. Let's do this Nov. 3, bitch. Give me my belt."
One more person who landed in Covington's crosshairs was former UFC commentator and hip-hop superstar Snoop Dogg, who posted a vide Saturday night after he watched the fight between Woodley and Till.
WARNING: Super NSFW language from Snoop Dogg in the following video:
Snoop Dogg mixed up Darren Till with @ColbyCovMMA. Check out his live commentary:

"F!%K DONALD TRUMP!!!"

??? pic.twitter.com/oS50gVGI5t

— lee (@leemaza) September 9, 2018
In the video, Snoop Dogg (real name Calvin Broadus) was cursing at Till while also taking shots at President Donald Trump. The comments led many to believe Snoop was under the impression that it was Covington fighting Woodley that night, considering his loud support of President Trump since he was inaugurated.
That earned the rapper an expletive-filled response from Covington, who held nothing back when addressing him.
"I want to make sure everybody knows: F*ck Snoop Dogg, that little California soy boy," Covington shouted. "He deleted my comment [on his video]. I put a comment on his Instagram and he deleted it cause he was trying to talk sh*t during the fight, he was saying, 'F*ck Donald Trump' when Tyron Woodley was fighting [Darren] Till. Till's from f*cking England. He has nothing to do with Trump or America.
"What kind of f*cking gangster rapper lives in a f*cking safe space? F*cking Snoop Dogg or AKA it's really 'Calvin.' Calvin, f*ck you, you little crusty old stick figure with Tourette's."