Bryan Barberena Talks Lifestyle Change, 'Living Off The Land' In Tennessee
Bryan Barberena Talks Lifestyle Change, 'Living Off The Land' In Tennessee
UFC welterweight Bryan Barberena discusses his family's major lifestyle change and who it will affect his fighting career.
Sep 10, 2018
by Daniel Vreeland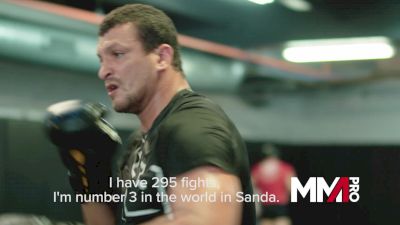 It didn't take a trained ear to hear the emotion in Bryan Barberena's voice during his post-fight interview with Paul Felder at UFC Fight Night 135 in Lincoln.
After picking up a vicious knockout victory over division mainstay Jake Ellenberger, Barberena mentioned how hard it had been to be away from home in the lead-up to the fight.
Barberena recently moved his family away from Arizona, where he lived and had made training camp from as far back in his amateur career, to Tennessee. Although the lifestyle change is drastic, it marks a shift Barberena has been considering for some time.
"It's something that me and my wife had been talking about a lot—buying some property and kind of living, not off the grid, but somewhere in that style—living off the land, raising our own animals, having a garden and having property," Barberena said.
For some who know only the version of Barberena they've seen on TV, it may be hard to picture him living on a farm, but Barberena has jumped feet-first into his new lifestyle.
"It's been awesome and great. We love it out here," Barberena said. "We got a bunch of chickens, we got cows, some steers, goats, turkeys—we got a little bit of everything... just a mix of everything and we plan to expand a lot more."
While wanting to live off the land and having a ranch is something that appealed to Barberena, the choice was not one he made for himself.
"It's something we wanted for our family and for our kids," he said. "[We wanted] to raise them up in a different atmosphere and bring them up differently."
It hasn't been all sunshine and rainbows for "Bam Bam" and the family though. Despite the move, he continues to make his camp at The MMA Lab back on the West Coast, which makes for a tough family situation.
"It's a lot different since I'm not used to traveling for my camps or my training at all," Barberena said. "It's definitely hard on me and hard on my family."
The difficulty of his training is somewhat put at ease thanks in part to local gym Shield Systems Academy in Knoxville, where he trains regularly, often with UFC lightweight Scott Holtzman. Plus, he makes the short trip to North Carolina to train with Jeff Jimmo, who joined him in his corner for his past fight.
But while those parties have helped the transition to his new life, The MMA Lab is where Barberena plans to finish each and every camp. Hopefully, a couple adjustments can make it even easier.
"The plan is to go back to The Lab and get a good training in with those guys to finish off my camps," Barberena said. "As of right now, the plan is to try to bring my kids and have them be there and be a part of the whole process. It's definitely going to be hard for them as far as school for them and everything, but we'll see how it goes."