Michael Chandler On Bellator Deal: 'Danis Is Now Second Highest Paid'
Michael Chandler On Bellator Deal: 'Danis Is Now Second Highest Paid'
Bellator star lightweight Michael Chandler discusses his new deal with the promotion, jabbing Dillon Danis in the process.
Sep 7, 2018
by Damon Martin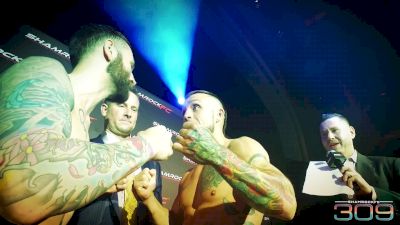 Michael Chandler will never apologize for being a prizefighter.
The former Bellator lightweight champion recently inked a lucrative multi-fight deal to stay with the promotion he's called home for almost his entire career, and he's definitely happy with the terms.
Chandler entered free agency following the expiration of his last Bellator contract and there was plenty of speculation about the UFC potentially signing a lightweight in the prime of his career who is known for putting on spectacularly exciting fights.
Rather than field offers from multiple suitors, though, Chandler opted to re-sign with Bellator. And while some fans might question his decision, Chandler will never feel bad for getting paid a lot of money that will provide for his family for years to come.
"It's just plain and simple: Bellator gave me an offer that I could not refuse," Chandler told FloCombat. "Obviously there's not a day that goes by that I don't hear from fans or other fighters or hear from the media about how I would stack up against the top 10 guys in the world in other organizations.
"But obviously, I'm trying to be the best businessman in MMA, and I think I'm very well up there. If [I'm] not the best businessman in MMA, I'm definitely up there when it comes to thinking about this as a business."
This is literally all I do.... pic.twitter.com/Yx94oa4NAp

— Michael Chandler (@MikeChandlerMMA) September 6, 2018
All fighters compete for different reasons.
Some do it for the accolades and the championships. Others do it for the thrill of the fight. Chandler does it to put food on the table and to ensure his wife and son never want for anything.
Now that might make Chandler sound like a paid mercenary, but make no mistake—he's not asking for anything less than the biggest fights Bellator can hand him now that this deal is done.
The way Chandler sees it, he can make a mountain of money and still add to his legacy as one of the most ferocious fighters in the sport.
That's why he believes Bellator invested so much in him with this new contract. By the time it's over, he believes both parties will be more than satisfied with the results.
"Over these next couple of fights, over these next couple of years, I do want the big fights," Chandler said. "I want this trilogy fight with Eddie [Alvarez]. I do believe Bellator's going to continue to sign big names and big talent. Jumping weight classes, fighting guys with big mouths, fighting guys with big rivalries—these are the things that I want. I'm in this sport to be entertaining and to make as much money as I can."
One name in particular immediately came to mind as Chandler elaborated.
"It's definitely what I'm interested in when it comes to the big names, the big followings, the amount of eyeballs," he said. "That's why Bellator has invested in me, and that's why Dillon Danis is now the second highest paid fighter in Bellator as we speak."
All jokes aside, Chandler is now focused on his return to action, and he's targeting dates in either November or December for his next fight.
With a hefty paycheck guaranteed and Bellator behind him, Chandler is ready to get back to work.
"Now that we have this commitment done and I am in the middle of it, now it's time to figure out who I want to fight, where I want to fight, and when I want to fight," Chandler said. "That's the beauty of being the guy who's the king of the lightweight division.
"It doesn't matter whether I'm the champion or not. I've been calling the shots for years and I will continue to call the shots."