Bellator 180 (Bellator NYC): Chael Sonnen vs. Wanderlei Silva
Bellator Champ Brent Primus Tired Of 'Michael Chandler Show,' Wants Rematch
Bellator Champ Brent Primus Tired Of 'Michael Chandler Show,' Wants Rematch
Bellator lightweight champion Brent Primus discusses why his rematch vs. Michael Chandler hasn't materialized, dropping some strong words in the process.
Sep 6, 2018
by Nolan King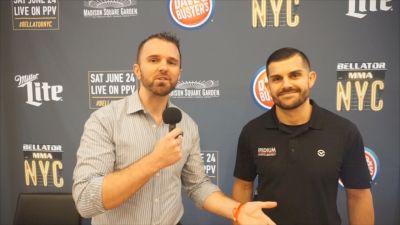 Brent Primus is fed up.
Bellator MMA's lightweight champion hasn't competed in over 14 months, but according to Primus, that doesn't mean he hasn't wanted to step into the cage.
"About five or six months ago, I was like, 'Alright, let's do this,'" Primus said in an interview with FloCombat. "The doctors cleared me and I'm ready to fight. I've just been waiting to fight. It's like déjà vu, so it kind of sucks."
Last competing at Bellator NYC in June of 2017, Primus defeated then-champion Michael Chandler via TKO due to a leg injury caused by an early Primus kick.
The ringside physician stopped the bout between rounds as Chandler struggled to stand, awarding Primus the title.
Since then, Chandler and Primus have exchanged words through the media, ultimately targeting a rematch. The two were rebooked in April, but an injury forced Primus out of the bout.
Now healthy, Primus says the ball is in Chandler's court and he isn't putting pen to paper.
"It's really the Michael Chandler show. It's whatever Michael wants—or whatever," Primus said. "It took months, and then they told me a date, so I was getting ready to start my fight camp. Right when I starting fight camp, I got a call saying, 'Michael Chandler wants to fight somebody else instead of you, so just wait.' I was like, 'What the hell?'
"Then I was on the bench waiting for him, and then I did really get injured. I had to recover and do some physical therapy and all of that stuff. I've been ready for a while and I'm just waiting for this guy."
The 33-year-old fighter found it additionally unnerving to hear Chandler's interviews and to see what his foe said about the fight.
"Honestly, it's just crazy because I got a call saying I got a date for a rematch a few weeks ago," Primus said. "I've been expecting that contract and waiting for him to agree to it. Then I heard him on [ESPN] last Monday saying he hasn't heard anything about me and he wants to fight Eddie Alvarez and all of these other guys. It's just crazy."
Is it possible there was a miscommunication between Bellator, Primus, and Chandler? It's unlikely, according to Primus.
"I think Chandler is full of sh*t for sure," Primus said. "Everything he says is for likes on Instagram or followers and shit like that. He says stuff that is just mind-blowing to me. Like, where the hell did this come from? It's crazy, man. I was waiting to get the contract weeks ago. I've been waiting for this guy and then I hear him saying he hasn't heard anything about me.
"It's also weird that I have the belt and he doesn't want the belt. People train their whole lives for the opportunity to fight for a belt, and he's saying it's not that big of a deal to him."
Primus sees only one possible reason behind Chandler's supposed evasiveness: a fear of losing.
"I honestly, 100 percent think he's scared to lose to me," Primus said. "If he loses to me again, it's going to drop him back into the 155-pound division. He's not going to have a title shot for a really long time. I realize Eddie Alvarez is a big name and win or lose, it's not going be a big deal to me. But if he loses, it's really going to screw up his career."
Most frustrating of all for Primus is the cloud of doubt created by their first matchup.
Is the underdog and relatively unknown Primus actually better than the Bellator staple Chandler? Was it a fluke? Would a healthy Chandler dominate Primus, like the odds said he would going into the first fight?
Almost a year and a half later, here we are, still without definitive answers. Primus hasn't competed since winning the belt, while Chandler has competed (and won) twice in non-title affairs.
Meanwhile, Primus is just dying to secure a rematch and to shut the doubters up.
"I want to prove to everyone it wasn't a fluke," Primus said. "That damn fight... I really wish the ref didn't stop it. It sucks man. I want to prove to him and everyone else that it was no joke. All those little punk-asses who are talking crap—if they trained with me they'd know what's up."
All other options are second to Primus. He wants to fight Chandler and only Chandler.
"I want to fight that guy so bad," Primus said. "It sucks for all of the other guys in the division—Pitbull [Patricky Freire] and some of these other guys. Saad Awad has been winning a few. It sucks for those guys. Those guys should have their chances too. I really think whatever Chandler wants, Bellator is going to try to make him happy.
However, if Chandler is flat-out against fighting him, Primus knows he still needs to put food on the table.
"There's nobody else I want to fight, but at the same time if he really doesn't want to fight me, then I think Pitbull has earned his shot," Primus said. "He's beaten [Benson] Henderson and Josh Thomson and is on a three-fight winning streak… but I just want to get paid and fight Chandler, man. I want to beat this little guy.
"It sucks because I need to get paid and make some money. I have a family and I need to support my family. It sucks sitting on the bench waiting for this little punk to run his mouth and not sign contracts. If he's going to run his mouth, then he should sign a contract, so we can get this thing going."