UFC 228: Tyron Woodley vs. Darren Till
Nicco Montano Ready To 'Shut Everybody Up' vs. Valentina Shevchenko
Nicco Montano Ready To 'Shut Everybody Up' vs. Valentina Shevchenko
UFC women's flyweight champion Nicco Montano previews her co-main event showdown vs. Valentina Shevchenko Sept. 8 at UFC 228.
Sep 4, 2018
by Damon Martin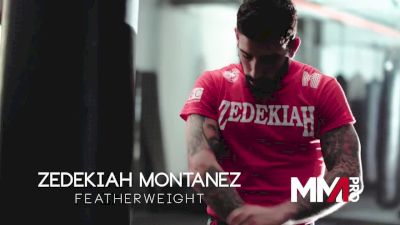 Nicco Montano hasn't exactly received a warm welcome as UFC women's flyweight champion.
After starting as the No. 14 seed out of 16 athletes competing to win the belt during Season 26 of The Ultimate Fighter, Montano pulled off one of the biggest upset stories of the year by running through every opponent she faced en route to another huge victory over Roxanne Modafferi to become champion.
Almost immediately, Montano was bombarded with messages claiming she was an illegitimate champion because she won her title from a reality show. It didn't help matters much that many of the fighters considered to be the best of the best at 125 pounds weren't part of that tournament to crown the first champion.
The situation only got worse when Montano was forced to the sidelines with a foot injury that had plagued her since before winning the title. What resulted was more than six months spent recovering while Montano was being called out by every flyweight contender hoping to get a shot at the title.
Now, as Montano approaches her first title defense at UFC 228, she has no regrets about taking the time off to get her body healthy, because rushing to return just to appease the masses would have surely resulted in disaster for her career.
"Having the longevity of my body being healthy is the most important thing for me right now, as I'm sure a lot of fighters learn through camps," Montano told FloCombat ahead of UFC 228. "It's pretty easy to just get damaged. My foot is always going to be arthritic, so it's never going to be 100 percent but it's definitely feeling a lot better than what it was once feeling.
"We're on the right page. Without me getting sick those two months when I was trying to get back into a camp, I think I would have been pushing it to get back. I would have been pushing my foot when it wasn't really recovered to what it could be. Now we know how to prevent a lot of further injuries for it and how to stay on top of it with treatment so that took some time to figure out."
Being the underdog is nothing new for Montano, so it shouldn't come as a complete shock that she's going against the odds yet again when facing Valentina Shevchenk Saturday night at UFC 228.
In fact, with eight-to-one odds against her, Montano is the biggest betting underdog as an incumbent champion in the history of the UFC.
In many ways, the world has seemingly already handed Shevchenko the championship along with the title of the best flyweight fighter in the world.
None of that really bothers Montano, because this was the exact scenario she faced when stepping into The Ultimate Fighter last year.
Nobody expected her to make it past the first round—much less to win the show—so this is just another opportunity for Montano to prove everybody wrong by going out and making the impossible seem possible.
"That's absolutely the ultimate goal—to just shut everybody up about it," Montano said. "When it comes down to it, uncrowned or not, I'm the one who has the belt currently. I'm the one the who's going to be fighting for the belt again come Sept. 8, and it's just going to be me and her.
"No matter what anybody says, nobody's going to be able to help her in that cage. Nobody's going to be able to cyberbully me in that cage, so we're good."