Devonte Smith Wants To Avenge John Gunther Loss At UFC Denver
Devonte Smith Wants To Avenge John Gunther Loss At UFC Denver
Newly signed UFC lightweight Devonte Smith is ready to make his debut—and he knows who he wants and where he wants him.
Sep 3, 2018
by Nolan King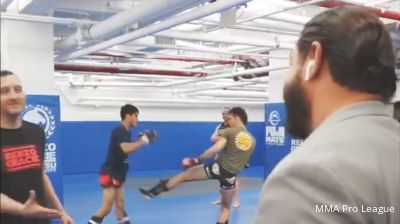 Devonte Smith hasn't even had a fight in the UFC yet, but that doesn't mean he's not going to try to call his shots.
The 25-year-old fighter impressed on the season finale of Dana White's Tuesday Night Contender Series season 2, knocking out tough opposition in Joseph Lowry in the first round. After a series of Fortnite-related in-cage celebrations and an eccentric post-fight interview, the UFC offered Smith a contract.
In Smith's mind, the achievement was pure destiny. In fact, Smith (8-1, 0-0 UFC) claims to he had a prophetic series of dreams just weeks prior to the fight.
"Two weeks before the fight, I had three dreams," Smith said in an interview with FloCombat. "In them, I dreamed I won the fight. And they made me feel mad because in them, I won the fight, I'm happy, I'm excited, and then I wake up.
"I was back in my room and I was like, 'Dang,' and then I'd go back to sleep. It'd happen again. I'd wake up. Then it'd happen again. It was the only thing that'd been on my mind."
After backstage reporter Laura Sanko made the news official, she gave Smith a second opportunity to speak his mind on the microphone. The Ohioan didn't disappoint, calling out fellow UFC lightweight John Gunther for a rematch of their instant classic in 2017 at RFO Big Guns 22.
The first meeting between the two high-paced lightweights was a frenetic one.
Smith had his moments in the bout and seemed on the verge of stopping Gunther early, but it was ultimately Gunther who picked up the third-round stoppage of his own.
"Everyone sees that Gunther loss and thinks it's my kryptonite," Smith said. "I had a bad night. It happens."
Watch Smith vs. Gunther I here: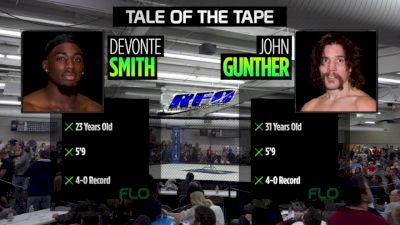 Unlock this video, live events, and more with a subscription!
Get Started
Already a subscriber? Log In
Not only does Smith have an opponent in mind, but he knows the date and the location be wants as well. Now training under Marc Montoya at Factory X in Colorado, Smith wants to compete in his newly founded backyard.
"Truthfully, I want to get on that Nov. 10 card in Denver," Smith said. "I want to get that rematch. Once I lost to him, it put me in a certain place. And I didn't want to fight him again on a local stage. I knew I was going to get to the UFC, I just knew I needed to keep working hard.
"But when I found out he was on the TUF [The Ultimate Fighter 27] season, I'm like, 'Okay, cool.' When I found out he was actually in the UFC, I said, 'Okay, this my chance to avenge my loss.' Plus, I can beat him on the biggest stage. Once we're done with Gunther, we're on to the next move."