Azunna Anyanwu Released By UFC Less Than 2 Months From Eligible Return
Azunna Anyanwu Released By UFC Less Than 2 Months From Eligible Return
Now-former UFC fighter Azunna Anyanwu has been released by the UFC. Full details, explanation, and quotes from Anyanwu here.
Aug 31, 2018
by Nolan King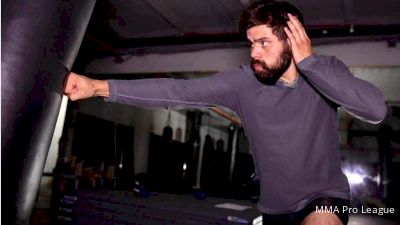 Azunna Anyanwu is no longer in the UFC.
The 37-year-old fighter broke the news of his UFC departure in an exclusive interview with FloCombat, detailing exactly what led to his release.
Discovering his UFC release just days ago, Anyanwu says it couldn't have come at a more surprising time.
"I was supposed to come back Oct. 13, so I'm gearing a whole year dropping this weight, getting back to full form," Anyanwu said. "Because I didn't really prove myself the first time on five days' notice when I hadn't been training for two months after Contender Series."
The Pennsylvania-based heavyweight lived out a dream in late 2017, signing a UFC deal in early September. On just 10 days' notice, Anyanwu stepped into the promotion's Octagon to face off against a tough test in Justin Ledet.
The fight was a closely contested affair, with the four-to-one underdog Anyanwu losing via split decision. Following the bout, Anyanwu received the first piece of news that would catch him off guard: USADA had flagged him for furosemide in an out-of-competition test.
USADA defines furosemide as a "specified substance in the class of diuretics and masking agents and is prohibited at all times."
Publicly talking about the USADA situation for the first time, Anyanwu detailed his side of the story.
"Basically, after I fought Justin Ledet, they came a month later," Anyanwu said. "My first test ever. The only thing I was taking was blood pressure medication. I took the blood pressure medication because I came into the Justin Ledet fight out of shape.
"The doctor over at the UFC was like, 'Your blood pressure is kind of up, maybe you want to check that. Being a black guy, you should check that.'"
From there, the situation escalated.
"I was taking lisinopril and I declared my lisinopril medication," Anyanwu said. "So, they came October and then said I popped for Lasix [also known as furosemide], which I never declared. That's really similar to lisinopril. My thing is generic, so we tested everything I was taking. I spent like $1,500 testing, probably more, and everything came back clean. We couldn't find what was tainted, so it must have been cross-contamination, but there's no way I could prove it.
"My prescription that I was on, I get it restocked every month. They said the lisinopril pills I had ain't have nothing tainted on it, so it could have been the old batch. Who knows? I'm thinking it could have been cross-contamination, like something similar to what happened to [UFC heavyweight] Junior Dos Santos."
After a year of sitting on the shelf, mentally and physically preparing for his promotional return, Anyanwu received the news no UFC fighter wants. The UFC cut Anyanwu less than a month before he became eligible to compete again.
"I thought I had done them a solid," Anyanwu said. "I thought I was good from what my old managers had told me."
Immediately, Anyanwu reached out to UFC matchmaker Mick Maynard, seeking answers.
"He was like, 'Unfortunately, we have to trim the roster down,'" Anyanwu said.
Not wanting to get into a pointless argument with the UFC matchmaker, Anyanwu took the high road.
"I wrote him a message back, 'It's cool man. Stay blessed. I'm here if you need me if anything happens,'" he said.
While some aspects disappoint "Zu" greatly, he also feels a bit liberated by his release.
"I'm not in the USADA pool no more, which is a big stress relief," Anyanwu said. "I'd take an aspirin or energy drink and they'd say not to take it. I'd get emails. I was like, 'Wow.' So, I'm kind of relieved on that."
Turning negatives into positives, Anywanu is turning his attention toward two specific promotions. The soft-spoken big man hopes the interest can be mutual.
"Honestly, I only want to fight for Bellator or PFL," Anyanwu said. "Basically there are only two options. I want to go big or go home. If the UFC calls me back up, it's got to be a fight [that's] worth it. They left a really bad taste in my mouth. They don't give a shit. They don't care. Nowadays it's just entertainment, a business."
Whichever promotion decides to sign him next, Anyanwu wants them to know they'll be getting the best version possible.
"At my full potential, I'm really freaking good," Anywanu said. "I'm going to be so ready. I'm with a new camp. So, I have a good nucleus around me. I'm ready for a heavy comeback to make serious noise. I'm going to be ready – so ready.
"I'm so motivated," he continued. "I'll bring the star power and the good fights. I'll bring stand up fights. I have good ground and really good stand up. Hands for days. I just bring that flavor. I'm a real good signing for anybody. I've been on the underground for quite a while, so people have never seen me at my best."