UFC 228: Tyron Woodley vs. Darren Till
UFC 228 Interview: Geoff Neal Explains What Makes Fortis MMA Special
UFC 228 Interview: Geoff Neal Explains What Makes Fortis MMA Special
UFC welterweight Geoff Neal discusses his upcoming UFC 228 matchup vs. Frank Camacho, his gym, Fortis MMA, and more.
Aug 31, 2018
by Daniel Vreeland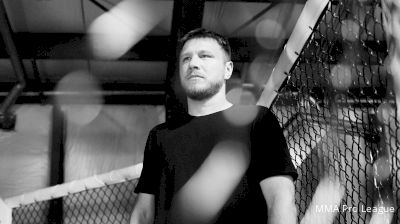 Most MMA fans know the names American Kickboxing Academy (AKA), Roufusport, Jackson Wink, American Top Team, and Tristar. Those names are established.
Now, thanks to solid coaching—along with a little help from Dana White's Tuesday Night Contender Series—there's a new gym making waves in the UFC.
In the two short seasons of the show, five different fighters from Fortis MMA have grabbed contracts. And the success doesn't end there; those five fighters have combined for a 3-1 record since debuting, with two more opportunities scheduled for Sept. 8's UFC 228 in Dallas, Texas.
If you ask team member and UFC welterweight Geoff Neal though, it hasn't really sunken in just how special this run has been for the gym.
"I mean, it is crazy," Neal told the Top Turtle MMA Podcast on FloCombat. "But I really haven't stopped to think about all the stuff that's going on around us."
In part, it's hard to stop and appreciate it all. On one hand, their signings have come at a rate nearly unprecedented by any gym, but on the other, they are fighting so often there is little time to boast.
"We all focus on getting the job done," Neal said. "Yeah, we all got contracts and we're in the UFC, whatever, but we still have to produce results now that we have the spotlight on us."
That production continues Sept. 8, when Neal opens the UFC 228 fight card with a bout vs. slugger Frank Camacho. Also on the card are Charles Bryd (who fights Darren Stewart) and gym import Razak Alhassan (who squares off with Niko Price).
For Neal, having a pair of training partners, especially those of similar size, has greatly benefitted his preparation.
"It's new as far as having training partners—two of them—getting ready for a fight at the exact same time," Neal said. "That's new and I love it because we're all focused, we're all in there beating up on each other. I'm watching them peak, and I'm peaking at the same time. It's pretty cool."
While Neal enjoys seeing his team's progress, don't expect him to be a spectator come fight night.
"Right after the fight, once it's said and done, I'm going to make sure my teammates are good to go into battle and I'll celebrate after," Neal said. "Just try to keep the focus and morale of the locker room where it should be."
The source of that mentality is easy to find at Fortis MMA. Coach Sayif Saud owns a clear vision for what he expects from his team and how he expects the team to function.
"[Saud] has so many strengths," Neal said. "His biggest one is that he holds us accountable for everything. He makes sure we're at the gym—he doesn't accept half-assed performances when it comes to training."
Saud also makes sure they know their place. They're here for each other, as teammates should be.
"He makes it feel like an actual team and there's no individuals and no people who just show up when they want to show up," Neal said. "There's no random people coming in from other gyms getting cross training. You're either with us or you're not with us."