UFC 228: Tyron Woodley vs. Darren Till
Tyron Woodley 'Assumes' Darren Till Will Make Weight At UFC 228
Tyron Woodley 'Assumes' Darren Till Will Make Weight At UFC 228
UFC welterweight champion Tyron Woodley closes the door on fighting Kamaru Usman at UFC 228 should Darren Till miss weight.
Aug 31, 2018
by Damon Martin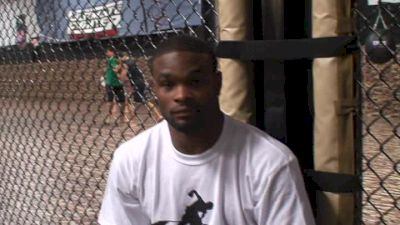 Tyron Woodley is ready to fight Sept. 8 at UFC 228—but only if he's facing Darren Till.
In recent weeks, much has been made about the UFC putting welterweight contender Kamaru Usman on notice to serve as a backup in case anybody is unable to compete in the main event.
Just a deep feeling in my soul, September 8th I will be the new Welterweight Champion of the world!!! ?

— KAMARU USMAN (@USMAN84kg) August 9, 2018
Part of that precaution may come from Till's spotty history with making weight after failing to make the welterweight limit in two previous fights—including in his win over Stephen "Wonderboy" Thompson that earned him the title shot vs. Woodley.
As much as the UFC might want to be ready to enact a contingency plan should something unfortunate happen, Woodley makes it clear he's showing up in Dallas to face Till and nobody else.
"If it was basketball and you're at the NBA Finals and they said, 'You know what, the Golden State Warriors can't make it tonight. We're going to throw Cleveland in there.' Yeah, they might be able to do it but they're not punching each other in the face," Woodley told FloCombat during the UFC 228 media conference call. "It's not a 6-foot-3 striker versus a 5-foot-11 wrestler.
"The mindset, the money, the time, the preparation that goes into preparing for a fighter—I'm pretty sure Darren Till don't want to prepare to fight me and then all of a sudden, two seconds later, oh you're fighting this guy."
Before #UFC228, this is how @TWooodley won the welterweight belt!

? https://t.co/Nk7bluVMD6 pic.twitter.com/Nk3imjgJu9

— UFC Europe (@UFCEurope) August 28, 2018
Over the years, UFC President Dana White has made it clear he loves fighters who are willing to face anyone, anywhere, at any time. He's criticized athletes in the past for not accepting a short-notice replacement.
But Woodley has a much different take.
"Some people want us to just be fighters, but this is not just fighting anymore. It's a business. It's entertainment," Woodley said. "I'll fight anybody, any time if it's life or death. I think we all would. If I came and I grab your kid's freaking backpack and try to throw them into a freaking car, I'd think you're going to be ready to fight, too. So we don't have to use that same mindset in our sport.
"We want to be professional. We want to be taken serious[ly]. I can't control what's going to go on, if he does make weight, if he doesn't make weight 'cause at the end of the day that's his responsibility. He's the one who is a fighter and he's the one who has to do what he has to do for his career. I'm focusing on myself."
Rather than waste time thinking about whether Till will make weight, Woodley is just going to assume his next opponent will be professional and take on the opportunity that has been presented to him with full focus and dedication.
"I'm not paying attention to the Usman conversation," Woodley said. "I'm really not paying mind to if [Till] misses or makes weight 'cause this is a big opportunity, so I would assume that he'll want to seize the opportunity and come in at championship weight."