Anthony Smith Not Eyeing Daniel Cormier: 'Jon Jones Is Probably Next'
Anthony Smith Not Eyeing Daniel Cormier: 'Jon Jones Is Probably Next'
UFC light heavyweight Anthony Smith says Jon Jones—not Daniel Cormier—is probably next for him with a win over Volkan Oezdemir.
Aug 24, 2018
by Damon Martin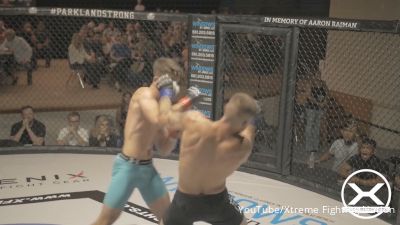 UFC light heavyweight Anthony Smith isn't afraid to call his shot.
Just two fights into his UFC light heavyweight career and he's already earned a pair of knockouts over two former champions in Rashad Evans and Mauricio "Shogun" Rua.
Directly after his last win, Smith called for a fight just two weeks later against former two-time title contender Alexander Gustafsson.
Unfortunately, Gustafsson suffered an injury that forced him back to the sidelines, so now Smith is preparing to face top-five ranked light heavyweight Volkan Oezdemir Oct. 27 in the main event at the UFC's first ever card in Moncton, New Brunswick, Canada.
While his focus remains on Oezdemir at UFC Fight Night 138, Smith knows a win should put him directly in the path of a title shot of his own—except there's one major problem: He doesn't believe current light heavyweight champion Daniel Cormier will ever compete at 205 pounds again.
"I just don't want to waste my shot. I'm very calculated in the the things that I say and I mean exactly what I say. So I'm not going to waste it playing some f*cking PR [public relations] game with Daniel Cormier," Smith told FloCombat. "Because Daniel Cormier is not on my radar. I have no desire to challenge Daniel Cormier to anything other than doing the right thing.
"You know he's not coming back [to light heavyweight]. I know he's not coming back."
Cormier is expected to take on former UFC champion Brock Lesnar in early 2019, and the current two-division king also stated numerous times he will retire from fighting next March when he turns 40.
With Cormier seemingly out of the picture, Smith turns his attention to the only man to ever defeat him—a man who is arguably the greatest mixed martial artist of all time.
"The chances of me fighting Daniel Cormier are about as close to zero as you're going to get. The chances of me fighting Jon Jones could be six months away," Smith said. "That's the realization. Maybe USADA will come and hammer him with a four-year suspension, but I think if USADA was going to give him four years, they would have already done it. That's my opinion.
"If Jon comes back and he's back in the near future and I do what I think I'm going to do to Volkan, honestly, I think Jon Jones is probably next. I really do."
Jones is currently on suspension from USADA (United States Anti-Doping Agency) after testing positive for steroids last year following a knockout win over Cormier. Jones faces up to a four-year suspension for the infraction of the UFC's anti-doping policy, but there's still been no word on when he might be cleared to return to the cage.
?? #UFCMoncton KO of the Week: @LionheartSmith needs only 53 seconds to finish a former LHW champ pic.twitter.com/vIhYkcv4wQ

— UFC Canada (@UFC_CA) August 14, 2018
If Jones is able to fight sooner rather than later, Smith loves the idea of welcoming him back to the Octagon.
"I personally hope that Jon Jones comes back soon 'cause I want to fight him," Smith said. "I think his integrity as an athlete is dog sh*t. I don't know him personally so I don't have anything to say about him personally, but his integrity as an athlete is shot. I don't think that he has the same mental capacity that I do.
"That's the fight that I want. That's the fight that stamps your legacy forever."
Of course, an argument could be made that Gustafsson would be the most logical choice for Jones' return fight considering they battled in a five-round classic at UFC 165 in 2013. Smith feels like Gustafsson's constant injuries combined with his last fight coming 15 months ago should eliminate him from the conversation.
The other factor that Smith finds in his favor is his belief he would be the person best suited to finally hand Jones the first legitimate defeat of his career.
"I don't think anybody else in the division can beat Jon Jones. I don't. I think I'm the only guy," Smith said. "I really believe that. I'm not just saying that. That's not a soundbite. I really think I'm the only guy in the division right now that can beat Jon Jones.
"Jon Jones has some physical tools that are definitely problems. He's dynamic and he's unpredictable and his unpredictable stuff that he does in the Octagon throws people off and they show up in a little ball. I don't give a f*ck. You can fly around in circles and crawl around on your knees. I don't give a sh*t. It doesn't change anything that I do, but not everybody has the mental capacity that I do. Not everybody has that 'f*ck it' mentality that I do when I'm in there."