2018 XFN 21
XFN 21 Preview, How To Watch: Vagner Rocha, Combat Jiu-Jitsu & More
XFN 21 Preview, How To Watch: Vagner Rocha, Combat Jiu-Jitsu & More
XFN 21 comes live to FloCombat Sunday, Aug. 26, bringing combat jiu-jitsu, MMA, UFC vet Vagner Rocha, and more. Here's how and why to watch.
Aug 23, 2018
by Hunter Homistek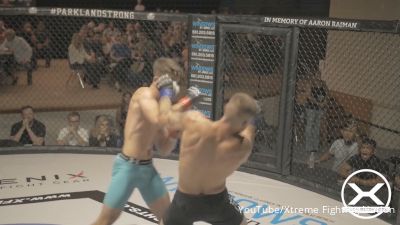 Standout Florida promotion Xtreme Fighting Nation (XFN) makes its FloCombat debut Sunday, Aug. 26, with XFN 21, bringing UFC veteran Vagner Rocha, combat jiu-jitsu, title fights, and much more right to your favorite device.
Watch XFN 21 LIVE on FloCombat
Rocha vs. Marin = Violence
In the night's main event, Rocha faces Christian Carvalho BJJ & MMA product Alex Marin in a showcase combat jiu-jitsu matchup.
Invented and popularized by BJJ legend Eddie Bravo, combat jiu-jitsu bridges the gap between no-gi grappling and MMA, allowing grapplers to utilize palm strikes while on the ground.
As a UFC, Bellator, and Strikeforce veteran and a medalist at ADCC, EBI, and IBJJF Pans, Rocha's skill set transitions perfectly to combat jiu-jitsu. He is the current CJJ Worlds lightweight champion, winning the title via palm-strike TKO in November of 2017.
Our friends at FloGrappling said it best: Vagner Rocha's BJJ game is downright nasty.
When he faces Marin Sunday evening at XFN 21, the slaps and subs will be flying—and you get a front-row seat to all the action.
Women's Bantamweight Title Fight
Before Rocha takes center stage, 32-year-old mother and wife Claudia Zamora looks to follow up her impressive XFN 20 performance with another victory as she takes on the undefeated Griffin Fisk.
At 3-0, the Island Fights vet Fisk isn't going to go away easily. Like Zamora, Fisk's finishes have come via submission, so it will be interesting to see how they match up should the fight hit the mat.
In the end, one woman will leave with her hand raised and a shiny golden belt around her waist. Who will it be?
Watch XFN 21 LIVE on FloCombat
Ya Like Tournaments?
Tournaments rule—and XFN is bringing two your way Sunday at XFN 21.
The promotion's flyweight tournament kicks off Sunday, with Roy Echeverria vs. Daniel Michel and Filipe Valentim vs. David Flores set for launch.
The winners of those two bouts will then throw down in December at XFN 22 to crown the XFN flyweight king.
Adding an extra shot of intrigue to the evening's festivities, XFN will also commence its four-man lightweight tournament.
Devon Dixon faces Ryan Conforti, and Vik Dixit squares off against Franklin Ramirez at XFN 21, with the winners competing for gold at XFN 22.
Not Just Rocha...
For the combat jiu-jitsu enthusiasts, XFN 21 is a flat out can't-miss event. You're probably already sold with Rocha, but XFN stacked the deck with four more combat jiu-jitsu matches to satisfy your need for that slappy goodness.
Kevin Granados vs. Jay Cotti, Tim Travaca vs. Alex Cejas, Robert Torres vs. Lazaro Perez, and Justin Jimenez vs. Esthram Jacobo Gavadia are all slated for Sunday evening, live at 6 PM ET on FloCombat.
We'll see you there.
Watch XFN 21 LIVE on FloCombat