Joe Giannetti Discusses UFC Release: 'They Made A Mistake Letting Me Go'
Joe Giannetti Discusses UFC Release: 'They Made A Mistake Letting Me Go'
The Ultimate Fighter 27 finalist Joe Giannetti discusses his UFC release and confirms an upcoming fight Nov. 3 for New England promotion Cage Titans.
Aug 20, 2018
by Hunter Homistek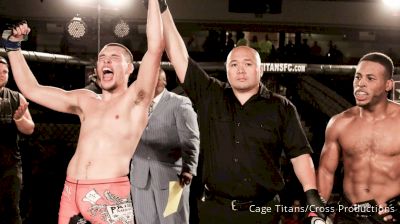 Joe Giannetti came one scorecard away from becoming the Ultimate Fighter and from securing his dream as a member of the UFC's lightweight division.
Instead, the 23-year-old fighter dropped a split decision at the TUF 27 Finale in July and was rewarded with his walking papers.
Taking to Instagram, Giannetti announced his release, shocking some fans and media members alike in the process.
For Giannetti though, there's no time to complain. It's time to get back to work and to prove he belongs inside the historic Octagon for good—and that's exactly what he intends to do.
"They [the UFC] made a mistake letting me go," Giannetti told FloCombat in an interview Monday. "I can't talk anymore. All I can do is train. Everybody else, I ask them if they want to see me back in the Octagon, tag the UFC, tag Sean Shelby, tag Dana White. I'm going to train as hard as I can and put on badass fights."
Step one for Giannetti is already booked in his mind.
Nov. 3, he'll return to the Cage Titans arena—where he fought almost his entire pro and amateur career before TUF 27—and he'll wipe out the next victim.
Watch Cage Titans 41 live on FloCombat
While that opponent was originally supposed to be Cage Titans lightweight champion Dan Dubuque, Giannetti now says that fight is not official and it may not happen at all.
"He [Dubuque] said he would rather fight me in January and he wants to go down to '35 in November then come back up to defend his belt," Giannetti said. "I've heard rumors that his coaches don't want the fight at all. I don't blame them. Dan is small for the weight, and if he goes down there really isn't a point to come back up."
Still, Giannetti assures whether Dubuque is standing across the cage or not, he will be fighting Nov. 3 for Cage Titans—with one exception.
"I will be fighting on Nov. 3 no matter what—unless the UFC decides they made a mistake and they want me back for a last-minute fight or anything like that," Giannetti said. "But right now, our game plan is Nov. 3, Cage Titans, whoever.
"I'd like a belt. I think I deserve it. I've given up a lot to fight for Cage Titans as if it was the UFC, and I'm undefeated in Cage Titans, so I'll fight whoever."
While Giannetti hoped to become a full-time member of the UFC's 155-pound division, this development is not without its benefits. Giannetti pieced together an impressive 6-0 record before heading to The Ultimate Fighter, and now he returns to the regional scene he previously dominated with new skills, new experiences, and a new motivation.
One thing that hasn't changed, however, is Giannetti's mindset.
"Every Cage Titans fight I've had, the last thing I say to myself is, 'If you can't beat this guy, you don't belong in the UFC,'" Giannetti said. "And that doesn't change. If I don't beat the next guy I fight, I don't belong. If I do lose, I'll fight the next guy. If I don't beat him, I don't belong. I'm still young, but my mentality hasn't changed."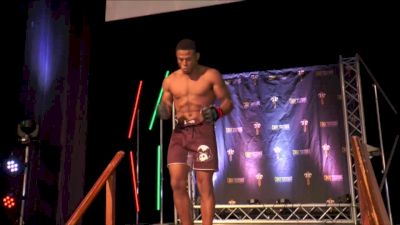 Unlock this video, live events, and more with a subscription!
Get Started
Already a subscriber? Log In
Making this return even sweeter for Giannetti, he now brings a contingent of non-believers with him. Fans and critics who only saw his split-decision loss at the TUF 27 Finale may write him off, and Giannetti looks forward to proving them wrong.
"I think the biggest problem with fans and even fighters in MMA, they truly, honestly believe you're only as good as your last fight," Giannetti said. "I had a bad fight. It's not a secret. But sleep on me. Forget who I was. Forget TUF. Pretend it never happened. You're gonna find out, whoever gets locked in there with me, that I'm the same fighter. I'm not the guy that left for TUF. I'm the guy that came back.
"I'm still the guy that choked John Gunther out in 17 seconds, and I'm coming to finish everybody."
Watch Cage Titans 41 live on FloCombat