Justin Gaethje: 'I Need To Be Scared' vs. James Vick At UFC Lincoln
Justin Gaethje: 'I Need To Be Scared' vs. James Vick At UFC Lincoln
UFC fan favorite Justin Gaethje lives and dies by the sword—and he acknowledges that may need to make changes ahead of UFC Lincoln.
Aug 17, 2018
by Damon Martin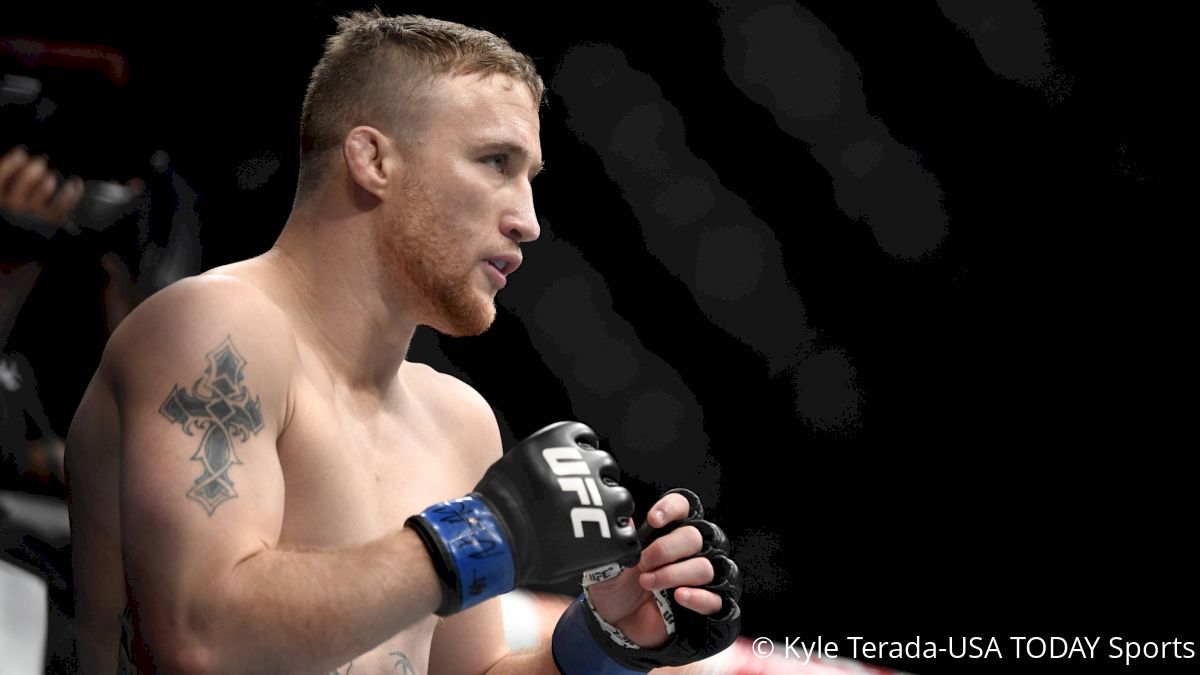 Justin Gaethje is never going to apologize for the way he fights—but he is planning to make a few adjustments ahead of his Aug. 25 scrap vs. James Vick at UFC Fight Night 135 in Lincoln, Nebraska.
Since first arriving in the UFC in 2017, Gaethje has engaged in three fights—all of them earning him Fight of the Night honors—and his debut against Michael Johnson was lauded as the best scrap of the entire year.
Unfortunately, Gaethje's win over Johnson stands as his only victory inside the Octagon after suffering back-to-back TKO losses to Eddie Alvarez and Dustin Poirier in his most recent fights.
Gaethje's style lends itself to those kind of jaw-dropping performances that everybody remembers, but it also puts him in harm's way more often than not. That said, Gaethje isn't planning on changing the way he approaches his fights; rather, he will just alter the way he approaches the mindset about what he needs to do when stepping inside the Octagon.
"Really, what I've been focused on is not becoming too complacent and not having too much fun out there," Gaethje told FloCombat. "Right before that knee [against Alvarez], I landed some huge uppercuts and I got too relaxed. In my mind, he was going away and you cannot do that at this level, especially against guys like Eddie Alvarez. Same thing happened with Dustin [Poirier]. I should have learned my lesson, but I get in there and I get too comfortable.
"I need to go in there and I need to be scared at all times. I need to understand that it can happen with one shot and that one shot can happen at any time, especially when I'm fighting guys in the top 10 of the UFC. So just staying focused, staying vigilant in my positions has really been my focus in this camp."
Since the loss to Poirier in April, Gaethje received plenty of criticism about his fighting style, including more than enough unwelcome advice on what he should do to get back in the win column when he returns to face Vick.
While he will readily admit there are a few tweaks that he needs to make, Gaethje isn't suddenly going to become a boring fighter just to appease people who say he's too reckless.
Gaethje knows the mistakes he's made, but those errors have come more from enjoying himself a little too much rather than just focusing on finishing an opponent when the opportunity presents itself.
"It's disappointing more than anything," Gaethje said about the criticism he receives. "As much as I want to say I do it for the fans, I don't do it for the fans, I do it for myself. I do it for my family. This is just the person that I am. I couldn't change the way I fight if I wanted to. I can be more vigilant about staying in better positions at all times. I cannot become comfortable and I can't have fun.
"It needs to be a job to me. It can't be a complete pleasure for me. I've got to go in there and I've got to make it a job."
As far as the critics go, Gaethje just doesn't pay attention.
"It's not hard to know you're not educated on a subject and act as if you know what you're talking about and speaking facts as if you have a clue," Gaethje said. "It's disappointing to know that these are the people that I entertain. I wish I could pick and choose the people that I could bring a little bit of joy with my work but unfortunately it's always 50-50.
"There's always gonna be 50-percent assholes out there, so you just can't worry about it."