Gleison Tibau, Tom Lawlor Among 14 Fighters Cut From UFC Roster
Gleison Tibau, Tom Lawlor Among 14 Fighters Cut From UFC Roster
The UFC has cut 14 fighters from its roster, including veterans Gleison Tibau and Tom Lawlor. View the full list here.
Aug 15, 2018
by Nolan King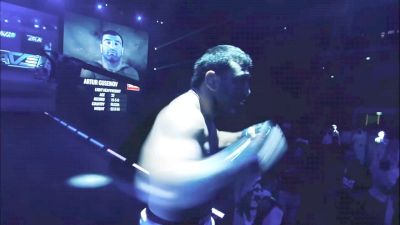 While the UFC has added numerous fighters this summer, it has simultaneously trimmed its roster.
FloCombat has confirmed with multiple sources that the promotion made numerous trims to its roster in the past few weeks, releasing over a dozen fighters.
Here is a list of recent UFC departures:
Gleison Tibau: Tibau (16-12 UFC) was two fights short of notching 30 fights inside the UFC Octagon. The 35-year-old fighter has lost his last four fights—the only streak of its kind on his record—since his UFC debut in 2006. The news about Tibau was first reported by Ag. Fight and confirmed by MMA Fighting.
Tom Lawlor: Lawlor (6-5 UFC) took to the Internet to announce his release via pro wrestling site F4W Online. Lawlor was suspended by USADA back in 2016 after testing positive for the banned substance ostarine. His 10-year stint with the company made him one of the longest-tenured fighters at the time of his departure.
Diego Rivas: Chile's Rivas (2-2 UFC) gained notoriety for not only his battles inside the cage, but for his perseverance outside of it as well. Diagnosed with testicular cancer in the midst of his UFC tenure, Rivas overcame the disease to return to the Octagon in 2017. Unfortunately for Rivas, he dropped his next two bouts, leading to his release.
Albert Morales: Morales (1-4-1 UFC) had a difficult stint in the UFC when it came to wins and losses. With that being said, the Californian faced off against a laundry list of surging prospects, including Thomas Almeida, Alejandro Perez, and Brett Johns.
Mike Santiago: A Contender Series veteran, Santiago (0-3 UFC) debuted against Zabit Magomedsharipov on just days' notice in the Netherlands. Following a second-round submission loss in that fight, Santiago dropped back-to-back bouts vs. Mads Burnell and Dan Ige.
Eric Spicely: New England's Spicely (2-4) took to Twitter earlier this summer to hint at the news. FloCombat has since confirmed Spicely was indeed released. It was kill or be killed for the Tristar team member, who never went the distance in his six-fight stint for the promotion.
Everything is finite. Is there life after @UFC? We ll find out. #ufc #mma #bjj

— éS (@EricSpicely) June 18, 2018
Damien Brown: Beloved by fight fans for his brawling style, Brown (2-4) dropped three straight UFC decisions, leading to his release. Brown, with the help of opponent Frank Camacho, put on one of the best fights of the year at UFC Sydney in November of 2017. Brown announced the news via his Twitter account last month.
Rob Wilkinson: The UFC only gave Australia's Wilkinson (0-2 UFC) two promotional opportunities to prove his worth. In his UFC debut, Wilkinson was finished by Siyar Bahadurzada. In his second promotional bout, at UFC 221, Wilkinson suffered a similar fate at the hands of Israel Adesanya.
James Bochnovic: News of Bochnovic's (0-2 UFC) UFC release surfaced after he appeared on a fight poster for Aug. 4's XFO 63, then he was pegged to fight TUF 17 vet Adam Cella at Shamrock FC 309 Sept. 7 on FloCombat. The 29-year-old Illinois native was finished in both of his Octagon appearances.
Magnus Cedenblad: Having twice as many promotional wins as losses, Cedenblad (4-2) announced his (surprising) retirement via Instagram earlier this week. Cedenblad only competed six times over his six-year tenure, defeating Jared Hamman, Krzysztof Jotko, Garreth McLellan, and Scott Askham.
Oliver Enkamp: Sweden's Enkamp (0-2) was winless in his two UFC appearances. In his UFC debut, Enkamp went three rounds with Nordine Taleb in a bout he took on short notice. His return bout only lasted 132 seconds, as he was knocked out by Danny Roberts.
Marcel Fortuna: Brazil's Fortuna (1-2 UFC) was preparing for a potential fourth UFC appearance when he got the news of his release. Most notably, the light heavyweight made a statement in his UFC debut, knocking out opponent Anthony Hamilton, who outweighed Fortuna by almost 50 pounds. The news was first reported by Combate's Raphael Marinho.
Vitor Miranda: Following a loss to Antonio Carlos Junior in the heavyweight finale of The Ultimate Fighter: Brasil 1, Miranda dropped to middleweight, where he won three straight fights. His success came to a screeching halt, however, as he then dropped three consecutive bouts. Miranda was the first to announce the news, doing so via Instagram.
Damian Grabowski: Poland's Grabowski (0-3 UFC) was released following three straight losses in the UFC. After suffering two quick knockout losses to Anthony Hamilton and Derrick Lewis, "The Polish Pitbull" lost a unanimous decision to Chase Sherman in July of 2017. Grabowski has spoken openly to Polish media about his departure (h/t MMARocks.pl).