Dustin Poirier Passing On 'Most Violent' Title Ahead Of Nate Diaz Fight
Dustin Poirier Passing On 'Most Violent' Title Ahead Of Nate Diaz Fight
UFC lightweight contender Dustin Poirier discusses his evolved fight style ahead with FloCombat of his UFC 230 clash vs. Nate Diaz.
Aug 13, 2018
by Damon Martin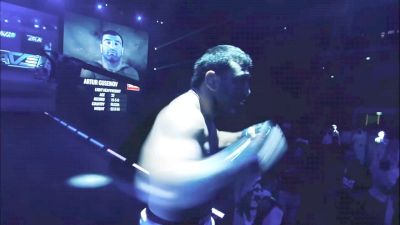 Don't expect Dustin Poirier to seek out another bloody war vs. Nate Diaz Nov. 3 at UFC 230.
Throughout the course of his UFC and WEC career, Poirier has taken home five "Fight of the Night" awards and engaged in plenty of back-and-forth battles.
Lately, however, Poirier has decided to play the hammer more often than the nail by committing himself to taking less shots from his opponents than he's dishing out in return.
Heading into his last fight against Eddie Alvarez at UFC on Fox 30 in Calgary, Poirier had no interest in trading punch for punch with the former lightweight champion. Instead, Poirier stayed patient in the pocket until he was finally able to deliver a fight-ending barrage of strikes while absorbing far less damage than his opponent.
In recent years, Alvarez has declared himself the "most violent fighter" in the UFC and even touted a mythical title that he carried into every fight while promising to deliver a brutal beatdown.
Now that Poirier has soundly defeated Alvarez, he was happy to hold onto that moniker for one night, but as he prepares for his next bout against Diaz, he has no desire to call himself the most violent fighter in the UFC.
"I took it for the night and now it's back on the market. Anybody else in the lightweight division can have it. I'm over having the bloodiest fights," Poirier told FloCombat. "I'm trying to get home safe and not stitched up every fight. That's for the younger, crazier guys who want to make a name for themselves. They can have that. I'm not so much interested in that any more.
"I'm a fighter at heart, so when the fight gets to that, I do it better than anybody else, but I'm not trying to defend the most violent title. I will pass it onto somebody else."
While Poirier has always been capable of biting down on his mouthpiece and just winging punches with his opponents, he's been cognizant of changing his style in recent years as he climbed closer to title contention.
Poirier knows anybody can just throw punches with no regard for personal safety, but that's not what will finally earn him a UFC championship.
So Poirier has changed the way he trains and the way he fights, and the end result is one of the most potent offensive weapons in the sport today.
"I feel dangerous everywhere," Poirier said. "I've been doing this so long. I have 39 fights. I'm a black belt in [Brazilian] jiu-jitsu. I dedicated the last five or six years to wrestling at American Top Team and upping other parts of my game.
"I've just been working so hard at all of these things and I have so many fights and I have so much mat time. I'm a guy that lives in the gym. My fight IQ, I feel like I know where I'm at in the rounds and I know where I'm comfortable. I'm just a student."
Poirier will look to show off his improvements once again when he faces Diaz in the co-main event at UFC 230 Nov. 3 in New York.