Colby Covington Discusses 'Greatest Day' With President Donald Trump
Colby Covington Discusses 'Greatest Day' With President Donald Trump
Interim UFC welterweight champion Colby Covington discusses his meeting with President Donald Trump in full with FloCombat's Damon Martin.
Aug 6, 2018
by Damon Martin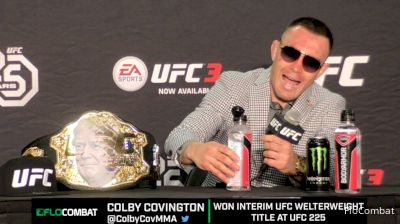 Colby Covington had two goals walking into UFC 225.
He wanted to become the UFC interim welterweight champion, and then he wanted to present that title to President Donald Trump.
Covington has now accomplished both after meeting with President Trump last week in the Oval office in Washington D.C. alongside UFC President Dana White, American Top Team Owner Dan Lambert and UFC Hall of Famer Matt Hughes.
Just after winning the title, Covington requested the meeting with the President in the aftermath of several sports teams—including the Philadelphia Eagles and Golden State Warriors—declining to visit the White House.
Covington made the request, and last week he finally got the opportunity to sit down with President Trump.
"I believe it, that's the thing. My belief is my most powerful mental weapon," Covington told FloCombat on Monday. "I've been telling you since the beginning that I'm the best fighter in the world. I've been telling you since the beginning that I was going to go bury f*cking Demian Maia in that dump, go put the dong in the dirt against Dong Hyun Kim, go put a cardio pace on [Rafael dos Anjos] that he's never seen before.
"I told you at the press conference after I beat Ralphie dos Nachos that I was going to deliver this world title like a real American should to the leader of the free world, Donald Trump."
According to Covington, the meeting with President Trump was very informal, as the group sat around talking for approximately 30 minutes. That's also where he presented the President with the championship title.
"It is history. It was the greatest day of my life," Covington said. "I'm sitting out in the lobby, senators like Lindsey Graham are walking by, and here I am about to go meet the leader of the free world, Donald J. Trump. It was a relaxed meeting. He greeted me and just kept calling me 'champ' and I went in and shook his hand and I gave him my belt. He goes, 'Here's your belt back,' and I told him, 'No, Mr. President, this belt's for you. You're the champion of the people. I'm the welterweight champion of the UFC, but you sir are the champion of the people.'
"So I gave him the belt and he just fell in love. He was so happy. He was just a genuine, down-to-earth guy and it was just the greatest time of my life."
Covington says President Trump was more than happy to sit down and have a conversation with the group who attended the meeting with him.
"This was no photo-op. This was completely different," Covington said. "We were in there at least 30 minutes and we're sharing stories, he's talking about his love of pro wrestling, his love for MMA, his love for amateur wrestling. It was a cool time, he's a great person, I'm genuinely very happy and I'm glad I was able to share those moments with him."
Covington added that President Trump also talked about some of his favorite past UFC fights, including matchups involving Chael Sonnen and Randy Couture. Trump had previously hosted several UFC events at his hotels in Atlantic City.
Before the meeting was over, Covington even extended an offer to attend his next fight.
"He might just be front row at my next fight," Covington said. "At the least, I think he'll be watching the fight and I think there's a chance he shows up. I understand if he was nervous to come and be in a crowd like that. As the President of the free world, he's got a lot of eyes on him and people that would want to do harmful things to him, but I invited him.
"If he's not busy dealing with some other war type stuff or stuff going on around the world, if he's not busy I would love to have him at my next fight."