UFC 226: Stipe Miocic vs. Daniel Cormier
Daniel Cormier: Brock Lesnar Is Getting 'Punished' With Title Shot
Daniel Cormier: Brock Lesnar Is Getting 'Punished' With Title Shot
UFC heavyweight and light heavyweight champion Daniel Cormier makes his thoughts on Brock Lesnar clear in this interview with FloCombat's Damon Martin.
Jul 13, 2018
by Damon Martin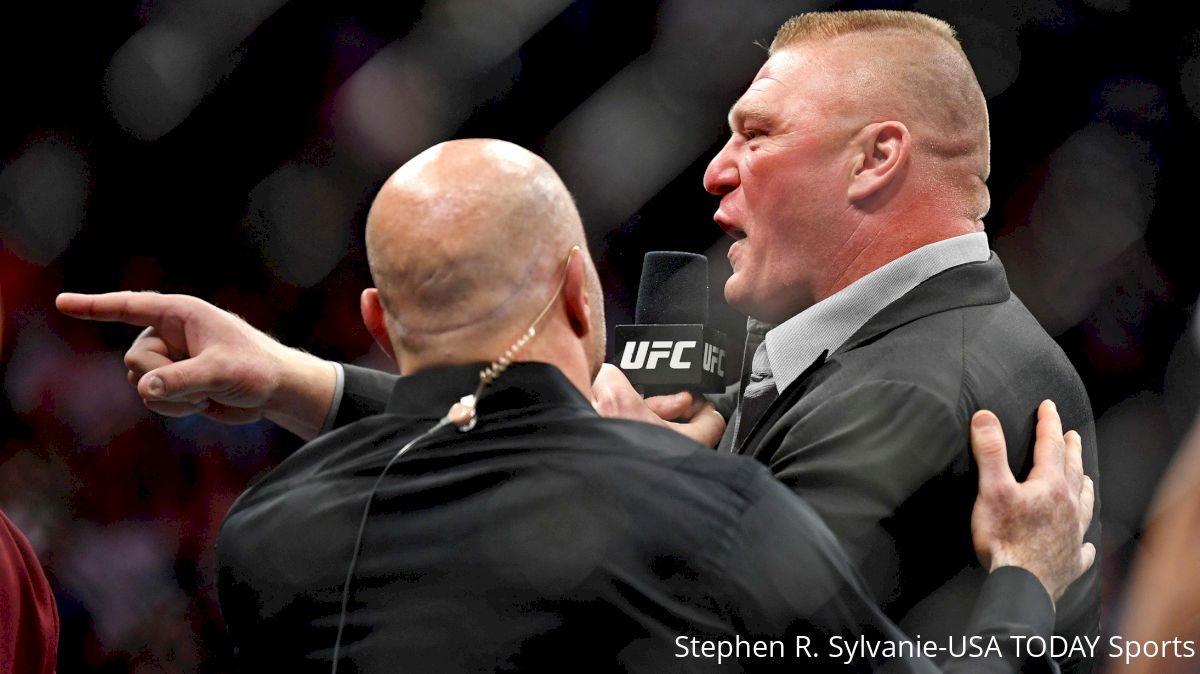 Despite popular belief, Daniel Cormier doesn't see Brock Lesnar receiving an automatic title shot in his return to the UFC as preferential treatment.
Instead, Cormier believes Lesnar is actually being punished.
Last Saturday night at UFC 226, Lesnar announced his intention to fight again just seconds after Cormier defeated Stipe Miocic to become the UFC heavyweight champion.
Cormier wasted no time calling out Lesnar, who was sitting cageside for the fight. Later that same night, UFC President Dana White confirmed he was going to book a heavyweight title fight between the two former wrestlers turned mixed martial artists.
DC calls out Brock Lesnar!

LESNAR IS IN THE CAGE!! #UFC226 pic.twitter.com/XTz7q16GJo

— UFC (@ufc) July 8, 2018
Of course, since that announcement was made, there has been an influx of arguments against Lesnar getting a title shot after returning from suspension for a doping violation.
Thanks to that failed drug test, Lesnar's win at UFC 200 against Mark Hunt was overturned to a no-contest, which means the hulking heavyweight hasn't actually won a fight inside the Octagon since he defeated Shane Carwin back in 2010.
Still, Lesnar is going to get the next crack at the heavyweight title. But Cormier argues that while the current WWE superstar might be jumping the line, the UFC is doing him no favors by giving him this fight on his first day back inside the Octagon.
"Brock Lesnar's getting punished for all his discretions," Cormier told FloCombat following his win at UFC 226. "All the bad that he's done, all the times that he's left the UFC and come back to the UFC—even right now it could be seen as preferential treatment [since] he's walking into a title fight.
"This isn't preferential treatment for Brock Lesnar. This is a punishment."
To Cormier, this isn't just posturing, either. He's not being overly confident. He's just calling it like it is.
"I'm telling you: The UFC is clear as day, [and] they are not rewarding Brock Lesnar," Cormier said. "They are punishing him for some of the things he has done over the course of his career."
The reason why Cormier says the UFC is punishing Lesnar by giving him this fight is because the organization already knows what the outcome will be when they finally clash.
Cormier is undefeated as a heavyweight, and he just knocked out the longest-reigning champion the division has ever known in less than five minutes.
Add to that, Lesnar didn't fare too well when he faced Cormier's close friend and teammate Cain Velasquez back in 2010. Their fight ended by TKO in the first round.
Cormier expects to dish out more of the same while giving Lesnar a very rude welcome back to the UFC when they meet in 2019.
"I feel great going into the matchup with Brock," Cormier said. "He's a big, tough guy, a strong guy. He's going to come in and he's going to try and wrestle me. But once that wrestling fails him and his cardio fails him, he will not be able to handle what I'm bringing to the cage.
"He's not going to be able to handle the pressure. He's not going to be able to handle the power. He's not going to be able to handle the approach. It's just a different approach."
To Cormier, even Lesnar's biggest asset—his raw strength and power—is no issue.
"Once I figure his timing and feel his power, which I'm not afraid of, I think he's going to be like, 'Oh my goodness, I'm in over my head,'" Cormier said. "But at that point you're already in the Octagon and there's no escaping it."