2018 Shamrock FC 307
Shamrock FC 307 Full Preview, How To Watch On FloCombat
Shamrock FC 307 Full Preview, How To Watch On FloCombat
Shamrock FC 307 comes to FloCombat live Saturday, July 14, bringing a stacked card with it. Here's why you need to watch.
Jul 13, 2018
by Nolan King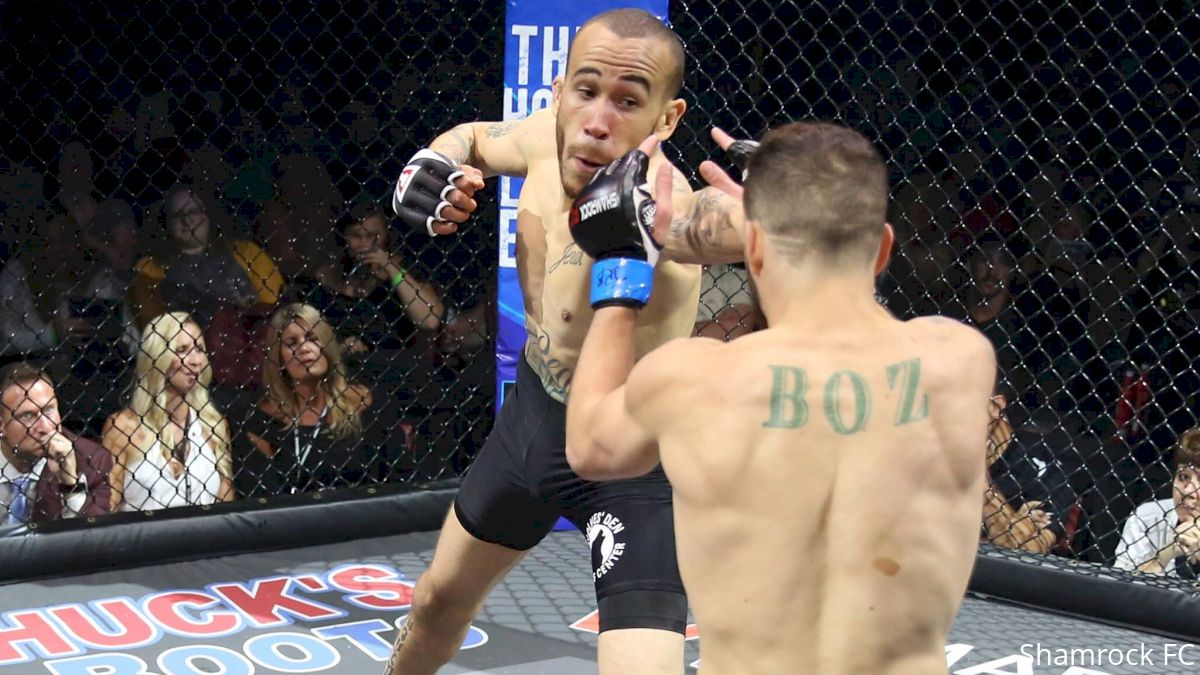 Saturday, July 14, marks the 20th anniversary show for Missouri's top fight promotion, as Shamrock FC returns for its staggering 307th installment, bringing top fighters from the region live to the Ameristar Casino in St. Charles.
Watch Shamrock FC 307 LIVE on FloCombat
Twenty years is an eternity in MMA. In fact, this year's anniversary makes Shamrock FC the longest-running unsold promotion in MMA history.
Over two decades, the Midwest MMA staple has produced and housed numerous UFC, Strikeforce, and Bellator veterans, all while supplying fans with some of the craziest regional action available.
While the promotion reflects on the past, it also looks toward the future Saturday night with Shamrock FC 307, kicking off at 8:30 PM ET live on FloCombat.
What To Expect
If you've ever watched a Shamrock FC event, you know what the promotion usually brings to the table: phenomenal fights, excitement, highlight-reel finishes, and the occasional pyrotechnic show.
HE GOT FROZEN IN SPACE AND TIME! BAH GAWDDD! #ShamrockFC305 (@Shamrock_FC) pic.twitter.com/E0hch5EPji

— FloCombat (@FloCombat) May 12, 2018
Don't expect this event to be any different. The card is filled with some of the area's best professional and amateur talent. If 12 action-packed MMA bouts aren't enough for you, Shamrock FC 307 additionally features a trifecta of kickboxing bouts.
Strikeforce Vet Returns
Two welterweights will throw down in the main event, as Strikeforce veteran Sal Woods makes his Shamrock FC debut vs. Josh Weston.
Woods competed twice under the Strikeforce banner, losing both fights inside the distance. The losses have aged well however, as they came at the hands of future champions in Michael Chandler and Tyron Woodley.
A six-time veteran of Shamrock FC, Josh Weston returns to the cage for the second time this calendar year. In his first outing at Shamrock FC: Mayhem this past February, Weston defeated 23-fight veteran Aaron Derrow via unanimous decision.
Amateur Intrigue—WUT?!
The professional portion of the evening isn't the only segment of the card poised for putting on highly entertaining action. The amateur Shamrock FC lightweight strap will be on the line as Evan Elder (5-1) battles Brad Ragan (10-6).
A training partner of the Diaz brothers, Elder always comes to fight. The 21-year-old is riding a three-fight winning streak entering Saturday's title bout, including wins over Benjamin Lewis, Luis Felipe, and Colin Parr.
His lone career loss was suffered at the hands of UFC veteran Luis Pena in April of 2016.
With one of the best nicknames in all of MMA, you know Brad "The Half-Fro Samurai" Ragan is ready to bring the flash. The seasoned amateur fighter is coming off back-to-back losses outside of the organization.
He will look to get back to his winning ways when he returns to the Shamrock FC cage for the first time since 2015.
The entire card for Shamrock FC 307 will air exclusively on FloCombat, beginning at 8:30 PM ET.
Watch Shamrock FC 307 LIVE on FloCombat
Full Fight Card
MAIN CARD
Professional Welterweight Bout: Josh Weston vs. Sal Woods
Amateur Lightweight Title Bout: Evan Elder vs. Brad Ragan
Amateur Welterweight Bout: Nathan Whited vs. Gaston Marraboto
Amateur 177-pound Catchweight Bout: Dustin Ventimiglia vs. Bryan Barkau
PRELIMINARY CARD
Amateur Welterweight Bout: David Jackstadt vs. Anthony Oden
Amateur Lightweight Kickboxing Bout: Mark Perkins vs. Patrick Kead
Amateur 160lb Catchweight Bout: Shaun Briggs vs. Adam Dixon
Amateur Welterweight Bout: John Kelly vs. Jake Richards
Amateur Middleweight Kickboxing Bout: Dan Herina vs. Josh Jessie
Amateur Featherweight Bout: Jimmy D'Angelo vs. Nikk Willyard
Amateur Flyweight Kickboxing Bout: Devon Bobby vs. Jesse Martinelli
Amateur Bantamweight Kickboxing Bout: Jessica Smith vs. Tiffany Axton
Amateur Preliminary Bout: Dustin Brown vs. Travis Taylor
Amateur Preliminary Bout: Toshi Miyatsu vs. Chris Peterson