Curtis Blaydes Names The 'Only Fight' He Would Possibly Take
Curtis Blaydes Names The 'Only Fight' He Would Possibly Take
UFC contender Curtis Blaydes expresses his disgust with the heavyweight landscape and gives his thoughts on a potential showdown vs. Daniel Cormier.
Jul 12, 2018
by Daniel Vreeland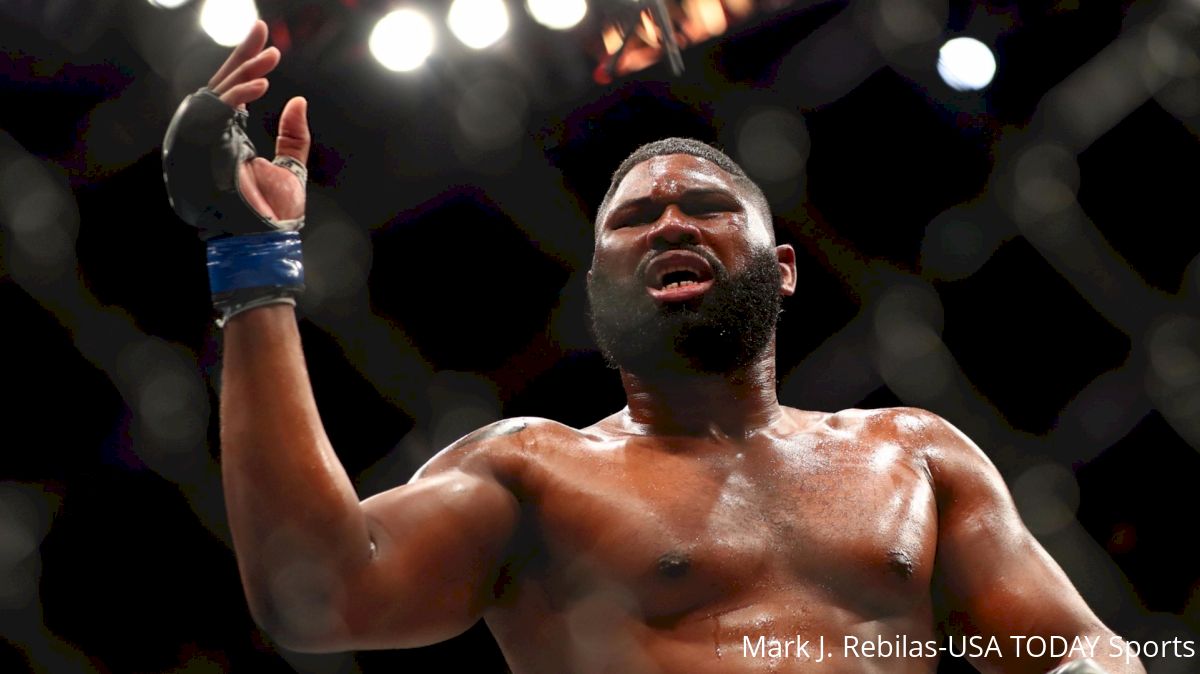 Daniel Cormier's knockout of Stipe Miocic at UFC 226 changed the landscape of the heavyweight division in a way that few fans anticipated.
Not only did Cormier defeat the man who had defended that belt more than any fighter before him, but he then opened a whole new can of worms by calling semi-retired, sort-of-suspended former UFC champion Brock Lesnar into the cage for an impromptu promo.
DC calls out Brock Lesnar!

LESNAR IS IN THE CAGE!! #UFC226 pic.twitter.com/XTz7q16GJo

— UFC (@ufc) July 8, 2018
While much of the MMA world welcomed the fight with open arms, citing a need for a big-money fight, there were plenty who hated the spectacle. It's hard to imagine anybody who disliked what they were seeing more than No. 3-ranked UFC heavyweight Curtis Blaydes, who seemed lined up for a chance at the winner regardless of who came out on top.
Now, despite his impressive resume, he finds himself on the outside looking in.
He spoke with the Top Turtle MMA Podcast on FloCombat about what happened at UFC 226 and what he thinks will happen next.
"As much as I would like to believe [in getting a title shot], I'm a realist and I can already feel the swell of the casuals; they're all getting super hyped up about it," Blaydes said. "And I know that Dana White and the UFC, they can just smell the money."
But while Blaydes feels he no longer will get the next shot at heavyweight, don't expect him to take another fight immediately to stake his claim. This whole situation has given him a new outlook on what it means to be a fighter in 2018.
"I'm seeing now that this is a business," he said. "So I'm going to treat it as a business also."
Treating it as a business might mean some time on the shelf for Blaydes, who doesn't see too many attractive options out there and even less that do anything for his claim at the strap.
"Ngannou, after his performance [against Derrick Lewis at UFC 226], doesn't deserve [a fight with me]. Derrick Lewis equally after his performance doesn't deserve it," he said. "I'm not going to fight Stipe unless he has the belt."
Even though Ngannou, Lewis, Miocic, and Cormier all seem to be off the table, there is one person who he Blaydes feels he could possibly fight—although even that possibility is pretty slim.
"The only fight that I would possibly take, and I'm saying this with the smallest amount of it actually happening, is [Alexander] Volkov," he said.
Of course this all changes when you introduce something shiny into the equation. In an age when interim titles appear all too commonly, Blaydes wouldn't be adverse to the idea.
However, it's for what it promises in the future rather than what it stands for in the present.
"If they offer an interim belt, then yeah, the interim belt is almost as good as the real belt," he said. "It guarantees that you get to fight the real titleholder."
And in a bout with the "real titleholder" Daniel Cormier, Blaydes likes his chances to do what the former champion could not do.
"I wouldn't allow DC to close the distance and use his underhooks or pull my head down," Blaydes said. "As soon as he got in range, I would take him down."