Michael Bisping, Kenny Florian: Jon Jones Lingers Over Daniel Cormier
Michael Bisping, Kenny Florian: Jon Jones Lingers Over Daniel Cormier
Michael Bisping and Kenny Florian discuss Daniel Cormier's legacy and what role Jon Jones plays in it.
Jul 6, 2018
by Damon Martin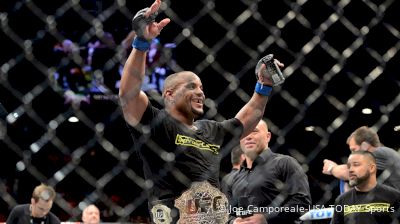 Unlock this video, live events, and more with a subscription!
Get Started
Already a subscriber? Log In
Daniel Cormier wants to be considered one of the greatest fighters of all time.
Saturday, July 7, at UFC 226, Cormier has an opportunity to take a big step toward that distinction if he can get past heavyweight champion Stipe Miocic to become only the second ever simultaneous two-division champion in UFC history.
Regardless of his accomplishments, former champion Jon Jones has fired back recently at the notion that Cormier would be put into the category as the best ever after failing to beat him on two separate occasions.
While the second fight was eventually overturned after Jones tested positive for steroids, he still holds a win over Cormier from their first fight at UFC 182, and it's the only loss on the two-time Olympian's record.
As much as Cormier would like to believe a win over Miocic puts him into a category all his own, UFC on FOX analysts Michael Bisping and Kenny Florian can't quite forget about the fights with Jones.
"I think there's always going to be those question marks surrounding Jon Jones," Florian told FloCombat when speaking about Cormier's legacy. "I think a lot of it depends on how he argues this case here and what USADA comes out and says about that test. I think any time you lose to a fighter—I look at my own case, I'm sure I went against some guys pre-USADA that were using, however, I still lost that fight. So it's hard to go out there and say you're the greatest of all time if you have two losses against one particular guy, which is Jon Jones.
"So I'd say 'one of the greatest of all time,' which isn't too shabby to say but [it's] hard to say the greatest."
Meanwhile, Bisping says Jones' repeated violations of the UFC's anti-doping policy definitely put into question his legacy as well but that still hurts Cormier's case to be considered the best ever.
Bisping has been one of the most outspoken fighters in the sport when firing back at athletes who use performance-enhancing drugs, so he certainly believes that harms Jones' case to be considered the greatest to ever step inside the Octagon.
At the same time, Bisping can't ignore Jones' wins over Cormier in the past when making that argument about who is the best to ever do it.
"I don't know if he's the [greatest of all time]. He's certainly in discussion for it alongside Georges St-Pierre and Demetrious Johnson. Certainly puts him there," Bisping said about Cormier. "The Jones [fights are] an asterisk over Jones and over Cormier.
"Over Cormier for being the greatest and over Jones, obviously, for the steroids. Otherwise Jones would be in there as well so it's an asterisk on both of them."