UFC 226: Stipe Miocic vs. Daniel Cormier
Derrick Lewis 'Nervous' To Impress Ronda Rousey: 'She Might Be Watching'
Derrick Lewis 'Nervous' To Impress Ronda Rousey: 'She Might Be Watching'
UFC heavyweight contender Derrick Lewis discusses his upcoming UFC 226 showdown vs. Francis Ngannou, sprinkling a little Ronda Rousey love in the process.
Jul 2, 2018
by Damon Martin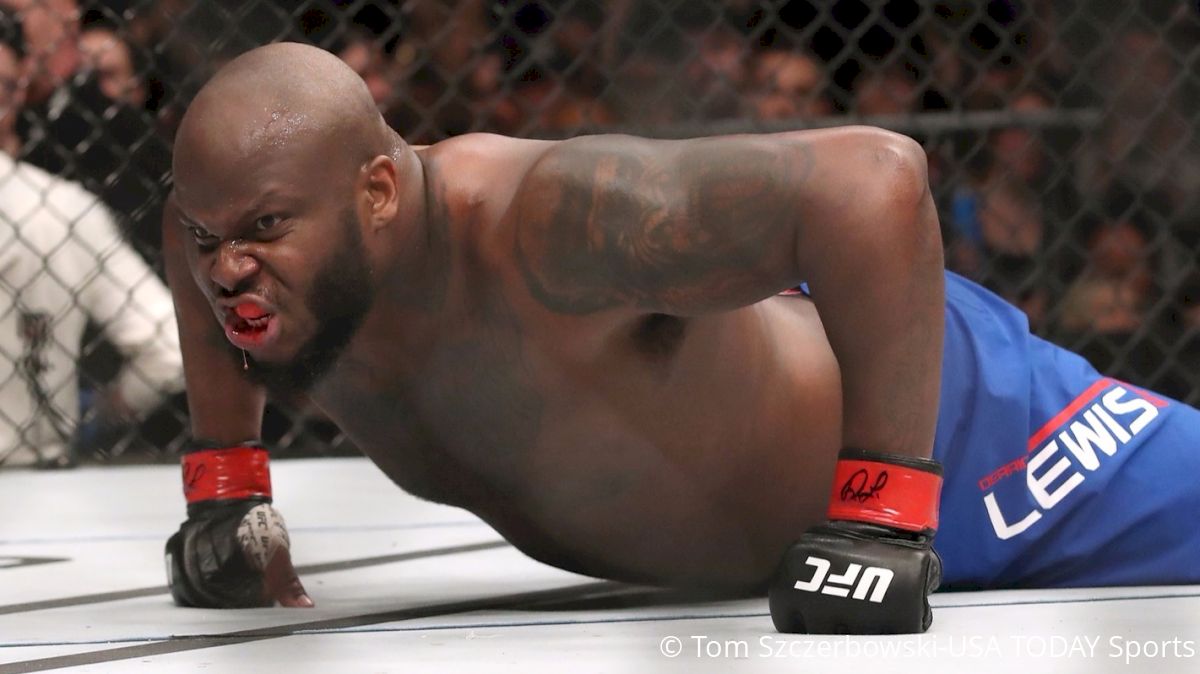 Derrick Lewis is the first to admit he hasn't always taken his training and preparation for fights all that seriously.
Thanks to his massive size and even more ferocious knockout power, Lewis earned many of his biggest wins on sheer physical attributes rather than by spending arduous hours in the gym getting ready for his fights.
Even since arriving in the UFC, Lewis hasn't always been dedicated to his training—but that all changed when he finally got matched up with Francis Ngannou for this Saturday's blockbuster UFC 226 event in Las Vegas.
Lewis says he's been anxiously awaiting the chance to face Ngannou ever since they had an awkward encounter in Croatia back in 2016.
"He introduced himself to me [before the fight] saying that I was his next opponent, and ever since then, I've been watching him," Lewis told FloCombat. "I did [think that was disrespectful] and then after the fight, he called out everybody else but me. It seems like he was avoiding me, but I guess he had bigger fish to fry."
Lewis will finally get his shot at Ngannou on Saturday night, and he's been putting in the work to get ready for this showdown.
"Let's just say I've been training a lot more than I have been," Lewis said. "My past fights, I probably only trained 30 minutes a day. Now I'm training at least two or three hours a day. I'm training more serious. I'm doing everything that I needed to be doing that a mixed martial artist is supposed to be doing. Like trying to eat right 'cause at first, I wasn't eating right at all. I'm trying to eat right. I'm still slipping up here and there."
Specifically, Lewis is adding a bit more of the "mixed" component to his MMA game.
"Just working on everything, not just my stand-up," Lewis said. "I'm working on everything, my wrestling, jiu-jitsu, conditioning, everything. I'm taking it more serious."
As one of the bigger heavyweights on the roster, Lewis has enjoyed a love-hate relationship with some of his food choices leading up to fights and he's been engaged in that battle for this matchup as well.
Lewis says he wanted to actually come into the fight a little slimmer than usual, but when he spoke to FloCombat a couple of weeks ago, he was still tipping the scales at more than he initially expected.
"Right now I'm walking around at 280 [pounds]," Lewis said. "My goal was to be in the [2]50's for this fight. All these specials going on, it's hard to pass up."
The good news is Lewis knows exactly what's on the line for his fight against Ngannou, so he's pulling out all the stops to ensure he walks away with a victory.
"If I knock him out, it's a title shot," Lewis said about the aftermath of UFC 226. "If I win by decision, then I should fight Curtis Blaydes."
Lewis also promises to put on his best performance because former women's champion Ronda Rousey might be in the audience after accepting her induction into the UFC Hall of Fame earlier in the week.
Lewis has long expressed his approval of Ms. Rousey, making an impressive performance all the more important to him.
"I already sent her flowers," Lewis joked about Rousey's Hall of Fame induction. "You're trying to distract me. I've got to fight extra hard, she might go to the fight. She might be watching. Now I'm nervous."