UFC 226: Stipe Miocic vs. Daniel Cormier
UFC 226: Francis Ngannou Ready To Start New Chapter vs. Derrick Lewis
UFC 226: Francis Ngannou Ready To Start New Chapter vs. Derrick Lewis
UFC 226's Francis Ngannou is eager to show off adjustments he's made following his defeat vs. Stipe Miocic against Derrick Lewis.
Jul 2, 2018
by FloCombat Staff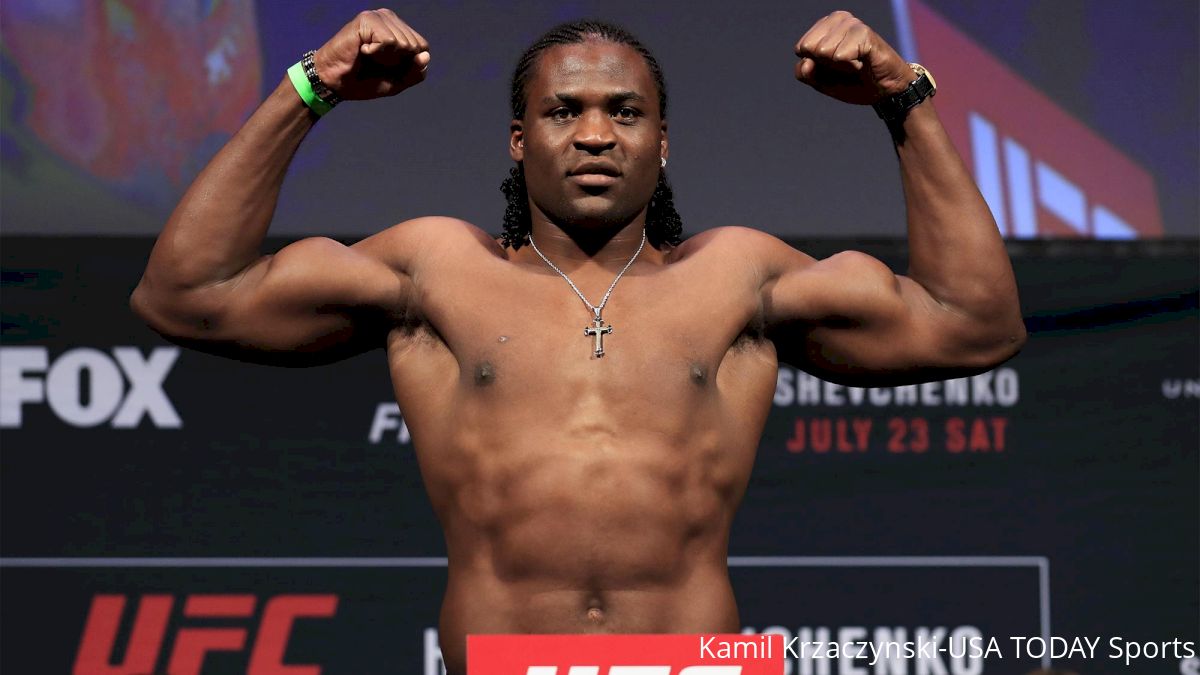 By Lucas Grandsire
---
The entire MMA world waited anxiously as two 6-foot-4 behemoths prepared to throw down. The heavyweight division finally had a fresh contender and someone powerful enough to potentially wipe out "The Baddest Man on the Planet," UFC heavyweight king Stipe Miocic.
Unfortunately for Francis Ngannou, things wouldn't go his way as many predicted. The Cameroonian ended up gassing out in the first round after hunting for the early finish, and Miocic took advantage, using his superior wrestling to tire out the challenger for the next four rounds en route to a unanimous 50-44 scorecard decision at UFC 220 on Jan. 20 in Boston.
"I learned a lot about how to prepare for a fight, how to save your energy, how to organize my time, how to manage a training a camp, organize a good team around me," Ngannou told FloCombat. "Especially for a camp that was for a title fight. I didn't adjust my attitude. I mean, I went to Paris and that was a terrible idea. I stayed on my basic skills and they weren't enough. You can't prepare for a title fight by yourself. You need a whole team around you and people around you to help. That's what I didn't have."
Ngannou decided to fly to Paris for his training camp just weeks before his fight, but he didn't account for how much the time change would affect him.
"Everything went wrong for me," Ngannou said. "I think I wasn't ready. I got the title fight and then I realized just how much pressure there was plus I didn't manage things well with being in Vegas and I thought that I needed to go to Paris two weeks before the fight. That was a huge mistake. Everything wasn't on point. There were a lot of mess-ups."
Following the fight, Ngannou realized he needed to change his camp and add some consistency. He couldn't keep mixing Vegas and Paris together for every fight. The physical and mental toll would be too much for him. In the end, he chose to stick with Vegas.
"I train with John Wood at Syndicate and sometimes I go for sparring," Ngannou says of joining a new gym in Las Vegas. "I keep doing my things but I try to do it differently and have people around, try to have good people around me. I don't want to have people rely[ing] on me. That was a mistake before, I was worrying about other people before me.
"At the end of the day, the lesson was mine, the mistake was mine. Not anyone else's."
Six months removed from the fight, Ngannou is now ready to move on. Standing in front of him on Saturday's UFC 226 fight card in Las Vegas is another hard-hitting heavyweight known for shutting people's lights out in Derrick Lewis.
Although everyone was excited when the fight was announced, Ngannou was not.
"Excited? No. But I really want to finish with it," Ngannou said. "I don't really get excited about fighting certain people. I'm just looking to fight someone who can bring me right back to the title shot. Do I think he can take me back to the title? I don't know. I don't think so. That's why I wasn't so excited because he's not the one that can bring me back. But, we never know. So then I can see what I messed up in my first title fight and improve upon it."
Regardless of Ngannou's lack of excitement, there's no denying the matchup is guaranteed fireworks. With two heavy-handed strikers set to clash, everyone will be on the edge of their seats.
"My striking matches up great with everyone," Ngannou said. "Basically with a guy like Derrick we just know he is not just a one-round fighter, he is a striker as well. I don't think he's going to try to do something different instead of striking. I don't think he's going to wrestle. At this point, I would imagine that he doesn't like to be punched. If that's the case then he might try wrestling or something."
Before the fight was booked, Lewis fired some shots at Ngannou over social media, mocking his cardio, his accent, and just about anything else. But Ngannou isn't going to let it distract him. It's not even worth him getting angry over.
"I'm going to fight," Ngannou said. "Do you think I'm planning on going in there and be[ing] angry? Sometimes you might fight someone twice or three times in your life. You have the rest of your life after that. In your professional life, you have to deal with this but you don't just get angry with people for nothing.
"I think what I have to keep in mind is this is only business. That's it. We don't have to like each other. So he's been talking some shit and then I just don't like someone that talks shit. I just want to step in the Octagon, fight, and shut the fu*k up."
Me and @francis_ngannou if the fight would have happened 2 years ago ?#ripkimbo https://t.co/oqWvh5MAUQ

— Derrick Lewis (@Thebeast_ufc) June 26, 2018
Ngannou isn't letting the trash talk anger him, but don't expect him and Lewis to strike up a post-fight friendship either.
"Do I care? Nope," Ngannou said. "But you wouldn't say that you're 'happy' if there's someone that's always talking shit about you. So I mean, do you expect me to invite him to dinner, just to show that it doesn't bother me?"
Impatient to prove he's learned from his mistakes, Ngannou isn't even thinking of the possible outcomes for UFC 226. He just wants a good scrap, and he just wants to wash the taste of the Miocic defeat away.
"This is one of the mistakes I made before, for my last [fight] I went there to hunt for the KO," Ngannou said. "That was something I never did before and it was a huge mistake. I kept winning by KO and in this fight, I couldn't find it. I gave it all in the first looking for the KO and when I missed it, it became really hard.
"In this fight, I'm just looking to smash Derrick. Whatever happens, happens. I will not be scared to go to a decision. I won't be scared of anything. I'll take whatever the fight gives me."
Ngannou believes his change in preparation will be key for him. With a new team, new mindset, and new training methods, Ngannou believes a win is easily within reach.
"Derrick, he's a tough guy, but I just have to be prepared and have a good plan," Ngannou said. "It should not be that complicated to fight him. If I go there on point it will be really good."