Antonina Shevchenko On Comparisons To Sister Valentina: 'I Don't Mind It'
Antonina Shevchenko On Comparisons To Sister Valentina: 'I Don't Mind It'
Antonina Shevchenko discusses the constant comparisons to her sister, UFC flyweight Valentina, her own MMA ambitions, and more.
Jun 25, 2018
by Damon Martin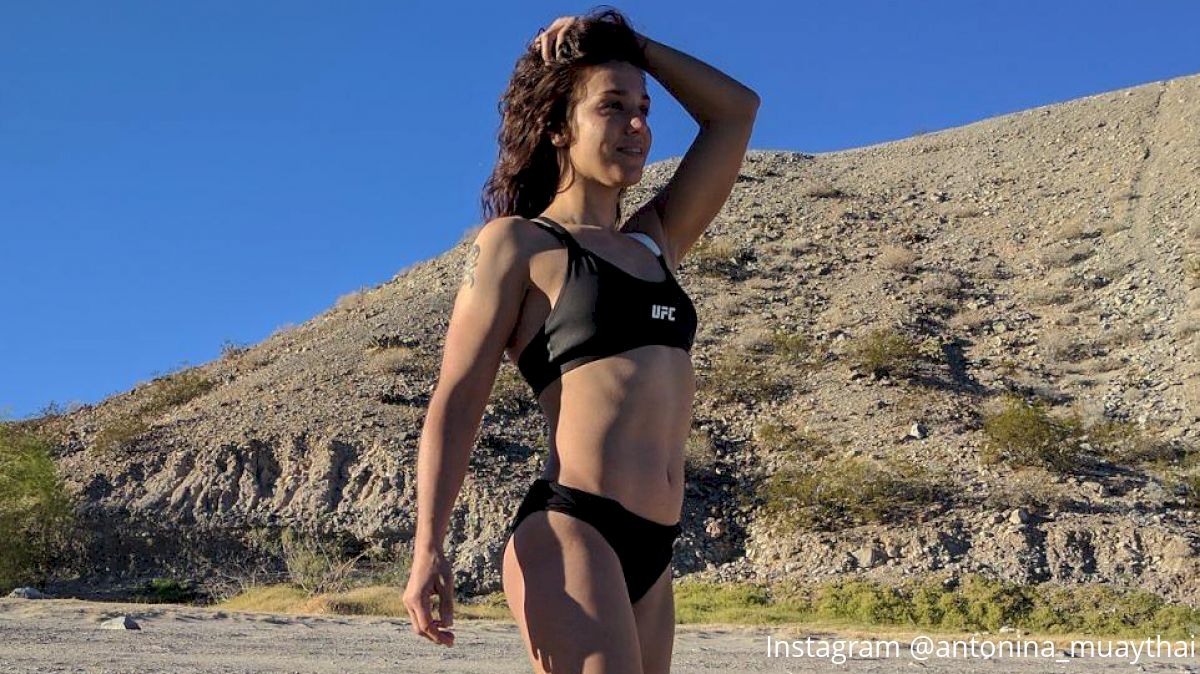 Antonina Shevchenko is excited to carve out her own niche in mixed martial arts, but for now she's not offended by the constant comparisons to her sister.
Antonina's younger sibling Valentina Shevchenko is the No. 1-ranked women's flyweight fighter in the world and a former title contender at bantamweight as well. Valentina has proven to be one of the best pound-for-pound women's fighters on earth since joining the UFC roster, and now her sister is looking to join her with an impressive win at Dana White's Tuesday Night Contender Series June 26.
As sisters both competing in combat sports, Antonina understands why there are going to be so many comparisons to Valentina. Actually, Antonina is proud of those comparisons, especially considering what Valentina has accomplished during her UFC career.
"I don't mind it. She's my sister. She's my younger sister and I always take care of her and I'm always proud of her," Shevchenko told FloCombat. "She's so good, she's a strong fighter. I'm OK being compared to her.
"I'd say we are like each other, but we are a little bit different and I think people will see this difference in this [fight Tuesday]."
Unlock this video, live events, and more with a subscription!
Get Started
Already a subscriber? Log In
Perhaps the best part about having a top-ranked sibling already competing in the UFC is that Antonina has the best possible training partner to get her ready for what lies ahead in her own career.
"Valentina, training with her is very hard and we [have trained] together more than 20 years," Shevchenko said. "We obviously started to train when she was very little, but when we started with our professional careers, every day we would train together. Valentina is a universal fighter. She's good everywhere. Her Muay Thai is amazing. Her wrestling is good, her ground is good.
"She doesn't allow you to make mistakes."
If there's one legitimate comparison to make, it's that Antonina and Valentina followed a very similar path to mixed martial arts after both finding a lot of success competing in professional Muay Thai bouts.
While she only has a few professional MMA fights on her resume, Shevchenko first started fighting all the way back in 2002. At the time, however, she says there weren't many women competing at that level, so it just didn't make sense to pursue that as a career.
"I fought MMA many years, so it's not just that I fought Muay Thai and made my transition into MMA," Shevchenko said. "I just started to do Muay Thai and I trained and competed in different sports because our coach wanted us to be universal fighters. We competed in MMA, Muay Thai, boxing, Taekwondo, karate, and different styles. When we started to compete in MMA it was 2003, 2004, and 2005 and there were not many girls in the sport at that time. There were more offers to fight in Muay Thai so we fought Muay Thai.
"When Valentina started to fight in the UFC, I was training with her all the same things she had. So I was working on my MMA also."
Last year, after Shevchenko had already become the Lion Fights champion in Muay Thai, she realized that the timing was right to return to MMA. Shevchenko has won her last two fights in a row before getting the call to compete on the Contender Series, and she believes now is the time to join her sister on the UFC roster.
"I think it's the right time. I already started last year my professional comeback to MMA and I think the Contender Series is the right decision because it's one more fight for experience before getting into the UFC," Shevchenko explained. "To come back to MMA, for me, it's just a big challenge. Because the girls in MMA, especially in the UFC, they are so strong. They are complete, universal fighters—strong everywhere. I want to develop myself as a fighter. Continuing to compete in Muay Thai would be repetition.
"I want to develop myself as a martial artist and a fighter. That's why I want to be the best in the UFC, because the UFC is the strongest MMA organization in the world."