Colby Covington: I'm Definitely In Tyron Woodley's Head
Colby Covington: I'm Definitely In Tyron Woodley's Head
Interim UFC welterweight champion Colby Covington takes aim at 170-pound king Tyron Woodley, holding nothing back in the process.
Jun 13, 2018
by Damon Martin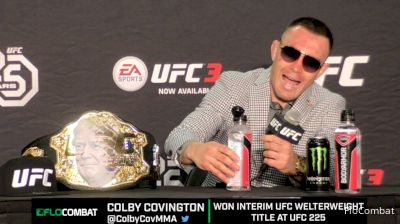 If UFC welterweight champion Tyron Woodley wants Colby Covington out of American Top Team, he might want to actually show up there one of these days.
That's the message from the new interim UFC welterweight champion, who scoffed at Woodley's declaration that he called American Top Team owner Dan Lambert and demanded Covington booted from the team after he loses in their fight later this year.
Woodley went on a tirade days ago after Covington won the interim title at UFC 225, and included in his long list of problems with his former teammate was how he represented the Coconut Creek, Florida-based gym.
Covington fired back by pointing out that Woodley doesn't even really train at American Top Team, so he can't say much of anything when it comes to who works there, much less who represents the team.
"I just have to laugh at him. He's so emotional right now. I've already got him beat," Covington told FloCombat. "He can say whatever he wants to say to Dan Lambert. Me and Dan Lambert just shared the most special moment in American Top Team history last Saturday. As soon as I left the cage, I saw Dan Lambert and we got to share a hug. I'm a f*cking home grown ATT champ. I started at American Top Team. I was born and raised there. I never went anywhere else."
Woodley, meanwhile, also trains out of Roufusport in Milwaukee, something Covington is quick to point out.
"Tyron Woodley, he's at Roufus, he's at all these other places," Covington said. "The only reason he's trying to keep his relationship with American Top Team is because Dan Lambert has so much money. He's a billionaire. He's trying to keep that good relationship. He doesn't want to burn that bridge 'cause he knows how many connections Lambert has.
"Whatever he wants to say, all this emotional stuff, calling Dan Lambert, whatever. Tyron Woodley has a better chance of hitting the Powerball lottery than [beating] me in a fight."
Screw the National Filthball League! They dont deserve to go to the White House. See u soon Mr. President! @realDonaldTrump ?? #MAGA pic.twitter.com/08OgbVuLB8

— Colby Covington (@ColbyCovMMA) June 13, 2018
While Woodley is making demands that Covington get booted from the team, the interim champion can't help but notice how he's already winning the mental war before the fight ever begins.
Covington has long claimed that his words were getting to Woodley, and hearing the three-time defending champion go on this epic rant against him only proves his point.
"I've been living rent free in that guy's head for the last year," Covington said. "I know I've been in his head. After I beat Dong Hyun Kim, I said he got tired at home and he's still exhausted and winded, and that's the truth.
"As soon as I beat Dong Hyung Kim, a guy that was a former opponent of his, he knew that I was coming and this is my division now. His time has come and gone. This is my division now. I'm definitely in his head."
Covington then used social media to illustrate his point.
"He's got me blocked on all social media outlets so I can't see what he says," Covington said. "I don't block anyone by the way. You want to talk shit to me, come to my page @ColbyCovMMA, say whatever you want.
"Tyron Woodley, I'm definitely in his head. All he's doing is thinking about me lately. He's even got Wiz Khalifa coming out talking shit, trying to say some shit for him. It's hilarious. I can't wait to melt him in front of the whole world."