UFC 225 Rewind: How Colby Covington Breaks His Opponents
UFC 225 Rewind: How Colby Covington Breaks His Opponents
Mindset Coach Mike Moor breaks down Colby Covington's performance at UFC 225, analyzing how he is able to conquer and break his foes.
Jun 12, 2018
by FloCombat Staff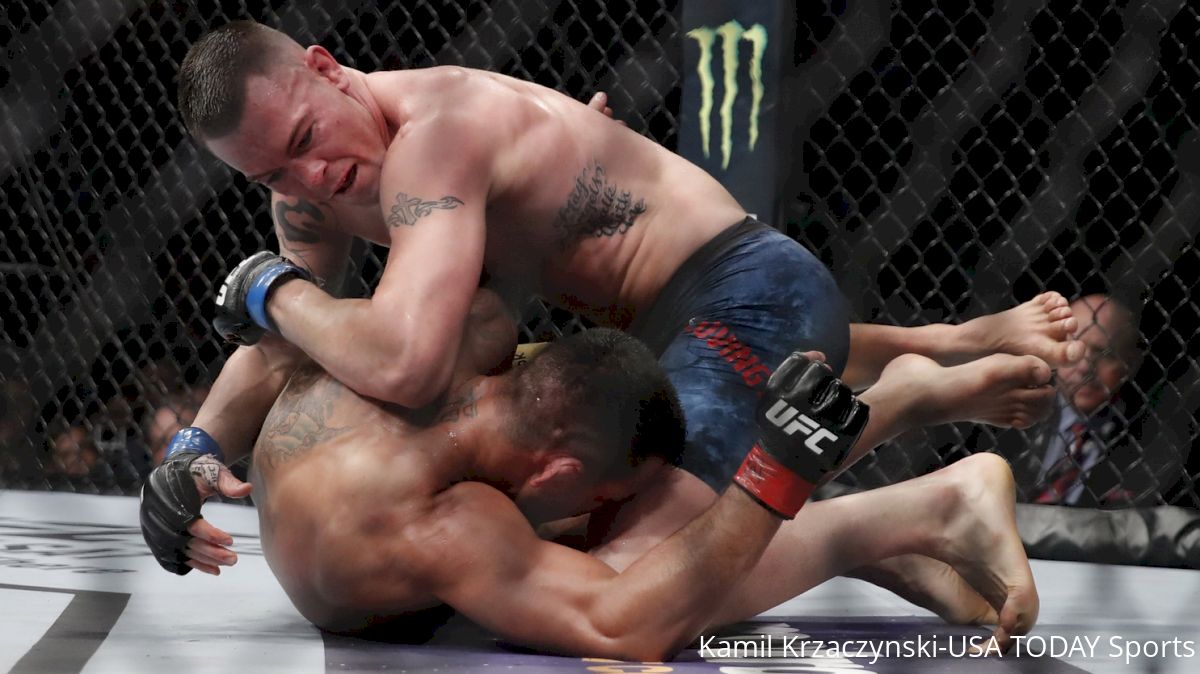 By Mindset Mike for FloCombat
---
Not every opponent is truly beatable, but every opponent is breakable.
UFC standouts such as Khabib Nurmagomedov, Kevin Lee, and, most recently, Colby Covington, dominate their opponents through a pressure-heavy style geared toward breaking their opponents.
If we set our sights on breaking our opponent's will to fight back, it is much more likely we finish our fights as victorious. But how do we do that? How do we "fight hard" and "focus on the process"?
"Not every opponent is beatable, but every opponent is breakable" - Mike Moor (@mindset_mike)#MindsetMonday pic.twitter.com/NeQXcix7as

— Wrestling Mindset (@WrestlingMindse) May 21, 2018
Step 1: Push The Pace & Pressure
PACE
Famous runner (and my inspiration as an athlete) Steve Prefontaine was quoted saying, "Set the pace, control the race." That is very true in MMA as well.
This doesn't mean to push so hard that you gas out right away. What it means is you must set the pace and make it "Your Pace or No Pace," no different than "Your Position or No Position," and "Your Ties or No Ties." Don't get sucked into speeding up or slowing down because it's what your opponent wants to do—you are in control.
The easiest way is to set the pace you want to keep from bell to bell. If you find yourself getting caught up in their pace, you can take a deep breath, reset yourself, and remind yourself that you are the alpha here and only you decide the pace.
If you want to keep a high pace, that can be one of the wisest ways (assuming you have the gas tank for it) to make your opponent break or quit. Mentally and physically, dealing with a high pace and constantly reacting to your opponent is exhausting!
Gregor Gillespie continued his undefeated streak via submission at UFC Utica by "staying active and persistent" against his 11-1 opponent. His fight was a highlight reel for pace and pressure.
Sometimes this mean slowing down, and other times it means speeding up. Just remember that you are in control and make them adapt to you.
PRESSURE
Forward pressure makes opponents nervous, puts them on the defense and has them reacting to you. Pace also creates mental pressure on your opponent to keep up or slow down. Physical pressure against the cage and on top can be used as a compliance measure or to inflict damage.
Either way, it chips away at their will to continue and makes them want to quit. Stay relentless with your pace and pressure, and you may not even need to make it to the next step.
At UFC 225, Colby Covington pushed a relentless pressure on Rafael dos Anjos that was not returned, ultimately . breaking the former champ.
Anyone fighting under Henri Hooft at Hard Knocks 365 will put a relentless forward pressure on you, and using simple striking, they will make it look easy finishing you.
Check out how Hard Knock's fighter Gilbert Burns used forward pressure to earn a ferocious knockout at UFC Glendale. There's nothing fancy about the strikes themselves, but coupled with Burns' relentless pace and pressure, there was nowhere for his opponent to go but down.
OH MY GOD GILBERT BURNS! A #BJJ black belt shouldn't be doing this. Terrifying. (? via @ufc) #UFCGlendale pic.twitter.com/tqPxFlRMtf

— FloCombat (@FloCombat) April 14, 2018
How about on top?
Grind on their face, stay busy with strikes, and if you're not finding a submission, you're inflicting pain while maintaining your position.
Top pressure makes the bottom fighter feel like they're drowning. Oftentimes, your opponent would rather give up an easy submission because they'd rather a quick exit than continue to take the punishment.
Step 2: Make Them Tired
See Step 1.
Keeping a relentless pace and pressure should make 98 percent of your opponents gas out mentally and/or physically. What about the 2 percent that can match your pace and pressure?
Looks like we're gonna have a guts race then!
The other key element with making your opponent tired is to keep your focus on making them tired and away from whether your effort will tire you out. Manage your training camp and weight cut so your cardio and pressure is a weapon, not a liability.
The easiest way to make someone tired is to mentally drain them. No one falls off that cardio cliff quicker than a broken fighter.
Stay active in every position—always look to do harm and improve on top, bottom, against the cage, or while controlling the center of the cage.
Break the mind and the body will follow.
Another way to mentally drain your opponent is to never show you're tired. Display confident body language, even if you know you've lost the round.
Bounce right up at the bell, jog back to the corner, and be ready to come back right away.
This was a key in Conor McGregor's victory over Chad Mendes at UFC 189. McGregor was getting crushed in Round 1 but popped up right after the bell and made his way back to the corner before Mendes even got up, taunting "Is that all you got?"
When you get the kitchen sink thrown at you and you just bite down and keep coming, it's exhausting for your opponent.
It makes them feel like their best isn't good enough.
Watch from 2:00 - 2:17 in this video to see the sequence in action:
Step 3: Get Them Frustrated & Making Mistakes
Steps 1 and 2 should directly result in your opponent making mistakes.
As someone is constantly having to back up, redirect, and answer to what you're doing, they're going to begin second-guessing themselves, start getting desperate, and thus start making mistakes. BOOM—now you're picking them apart, zoning in on their timing, and waiting to finish them Mortal Kombat-style.
How else can we frustrate an opponent?
Shut their best stuff down. Don't play into their games. In their fights against Demian Maia, Kamaru Usman, Tyron Woodley, and Covington all successfully stuffed just about every shot attempt from Maia and refused to give in to the taunting to enter his deadly guard.
Holly Holm did that against Megan Anderson at UFC 225 as well. When she felt in danger, Holm put Anderson against the cage or secured a takedown.
That's not only frustrating and demoralizing, but it makes a fighter get desperate because you've taken away their best weapons. Take away Lebron James from the Cavs lineup for the NBA Championship.
How confident would they be without their best weapon? Not very.
Tired, frustrated fighters don't last long inside the cage.
---
Want to learn about the final—and most entertaining—steps to breaking your opponent? Stay tuned for next week's column, where I break it down. My favorites are Steps 5 and 6: Step on their throats and take their souls.
---
Mindset Mike is the director of Martial Arts Mindset, a systematic mindset training program used by many professional fighters in the UFC, Bellator, Legacy, Invicta FC, and other major promotions.
For more information on the program or the concepts presented, sign up for a FREE trial session at www.martialartsmindset.com.
Follow on Twitter at @mindset_mike and Instagram @mindset_mike, @martialartmindset, and @wrestlingmindset.