UFC Veteran Breaks Down Weigh-in Drama, Gives Preference & Insight
UFC Veteran Breaks Down Weigh-in Drama, Gives Preference & Insight
UFC veteran Matt Hobar breaks down the drama surrounding the UFC's weigh-in procedure, sharing unique insight to the process and giving his preference.
Jun 11, 2018
by FloCombat Staff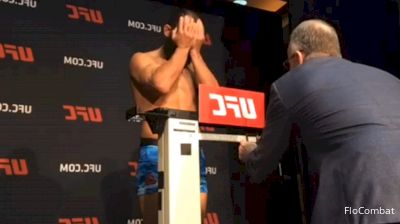 Three-fight UFC veteran and FloSports employee Matt Hobar shares his thoughts on the UFC's weight-cutting policy, giving unique insight and selecting his preference of early vs. later weigh-ins.
---
At UFC 225, we saw yet another fighter miss weight. Middleweight contender Yoel Romero missed the mark by just 0.2 pounds, leaving him unable to compete for the title vs. Robert Whittaker Saturday night and marking the second time he missed weight in a four-month period.
This is another prime example of why UFC President Dana White wants to implement the old system of having the fighters weigh-in during the afternoon instead of in the early morning.
The UFC's early weigh-ins seem like a good idea on paper. Fighters can cut their weight, weigh-in around 10 AM, and have the rest of the next two days to rehydrate and refuel before fight night.
It makes sense.
If a fighter can just get over the dark cloud of making weight first thing in the morning, they will have a free mind to focus solely on the "what"—the essence—the fight they have prepared so long for.
But with this system, there comes a cost, it seems. By making the weigh-ins earlier in the day, fighters actually have less time to cut weight. Or, is it that certain fighters lack the discipline to prepare and take the proper steps to make the weight early?
The Process
Before my UFC debut in Brazil in May of 2014, when the later weigh-in time was still implemented, I was cutting weight up to the last second before the weigh-in mark of 3 PM that day.
I wasn't alone in this struggle. It was every fighter. We were scrambling around in our sauna suits, doing jumping jacks and burpees, hopping in and out of the sauna at the hotel, or engaging in my favorite technique, submerging ourselves in a brazenly hot bath for 10 minutes.
But it didn't end there.
After exiting the bath, I would then wrap towels around my body to keep the heat from escaping. It is a more relaxing type of suffering. I passed out a few times after getting up too fast out of those nearly scalding baths.
We all found our creative ways for cutting those last few pounds. And for most of us, because of the later weigh-in time, it all paid off.
Some people don't realize what goes on behind the scenes.
Fighters put their bodies through intense torment to make weight. You have to be borderline masochistic to endure the weight-cutting process. This is why it irritates me to see some fans say, "Oh, this guy/girl lacks discipline" or, "They are so unprofessional for not making weight."
These are the same people who have never fought or trained in their life who sit looking on as armchair quarterbacks. They have never been through the process themselves. Just because you hide behind a computer and a Twitter handle doesn't give you the authority to be a critic. As an onlooker, one should respect the process and allow other fighters and professionals handle the shit-talking.
The Numbers
As for the fighters who criticize going back to the old system, one must look at the statistics, and MMA Junkie's Mike Bohn has a thorough breakdown there.
With the new system, more fighters have missed weight and more fighters have dropped out of their fight entirely due to the missed weight.
Some fighters, however, claim that to do away with the early weigh-ins is to punish the ones adhering to the system. Why can't some of these fighters who are missing weight make the adjustments to come in lighter on fight week?
Proper weight cuts start months in advance not the week of the fight , We sign contacts wayyyy in advance and are told the requirements . If You miss Its Your Fucking Fault !!!!!!!

— Eddie Alvarez (@Ealvarezfight) June 5, 2018
Not the structure, not the hot tubs , not the suanas, not the meal prep guys , not the UFC , not the plane ride . If You miss weight it's All Your Fualt . Why are we blaming the system ??????? Please help me here guys

— Eddie Alvarez (@Ealvarezfight) June 5, 2018
Please bossman @danawhite don't get rid of the early Weigh inns. it won't solve a thing . Your punishing the fighters who are accountable and responsible. #dontdoit

— Eddie Alvarez (@Ealvarezfight) June 5, 2018
It seems like fighters could simply adjust to the earlier weigh-ins and start cutting earlier. The truth is that it is such a specialized, hellacious process that quick change is not as easy as it seems. The early weigh-in system has only been in place for two years, and a sizable portion of fighters are used to the old procedure and schedule. A few hours doesn't seem like a big deal, but it actually changes the game completely.
Making an adjustment like that is huge. It's not as simple as "I'm going to tweak my diet" or "I'm going to cut my water out sooner."
When your body is doing something as drastic as a weight cut and it's already used to dropping those final pounds later in the day, making minor adjustments isn't going to do anything. It takes a lifestyle change. Fighters already have to deal with so much during fight camp, this added element could prove disastrous.
Having to deal with family, working if you have a job outside of fighting, and training for a fight at the same time is a lot on your plate—and making another change like this could prove too much.
The earlier weigh-ins also result in something that everyone agrees is bad: It rewards the person who cuts the most by giving them even more time to be heavier at the time of the fight. With the later weigh-ins, fighters will actually be fighting closer to their weigh-in weight come fight night. In that way, it levels the playing field a bit.
The earlier weigh-ins were a great experiment, but ultimately one that failed miserably. White is not going to let any more fight cards fall apart because of fighters missing weight and I, now as a fan, don't want to see that either.
Simply put, there is not enough time to make weight.
The Verdict
To me, the early weigh-in system is clearly broken. For some fighters, it is a great option, but for most fighters, it is a terrible option. When you have to make weight in the morning, your body is just not prepared to make that final stretch.
The last 10 pounds of a large weight cut comes off the slowest. There needs to be more time to get those last stubborn pounds off, and the morning is a bad time to push that. It takes the body some time to get warm in order to burn the rest off.
UFC President Dana White made a great point as well on the UFC Unfiltered podcast.
"The other thing is, I don't know any fighters that are morning people," White said. "Most of them stay up half the night and sleep half the day, so that might have something to do with the morning weigh-ins too."
Most fighters are used to training in the late morning and the late night, but every fighter fights at night! Our bodies are attuned to being active the most in the afternoon/night.
I would be disappointed in the organization I fight for if they change weigh ins without any consideration of their athletes opinion on the matter.

— Justin Gaethje ?? (@Justin_Gaethje) June 6, 2018
Should be standard when someone misses weight, 50% of their purse goes to opposing fighter. No way in hell should a penny go to a commission or anyone but the fighter.

— Justin Gaethje ?? (@Justin_Gaethje) June 7, 2018
I love adding that if the overweight fighter wins it becomes a no contest. Brilliant!

— Justin Gaethje ?? (@Justin_Gaethje) June 7, 2018
The discipline factor is on a case-by-case basis.
Some fighters are notorious for being a little lazy in their weight cut and missing weight. But to blame missing weight solely on discipline is a false narrative that needs to be eradicated. Yes, for a select few fighters this might be the case. But for the majority, there is not sufficient time to make weight properly and safely.
I would love to make weight in the morning and have almost two days to replenish. As somebody who never fought under the early weigh-in system, I truly don't think I could have done it. I think most current/past UFC fighters would agree.
Typically, I would cut my last five pounds on the day of weigh-ins to hit 135/136.
For fighters in heavier weight classes, it would potentially be even more drastic. If I had to weigh-in before noon, shedding those last few pounds may not been possible.
After the body has been already depleted of any substance, it won't allow you to lose anymore weight. It would take me about one pound per hour that last day to lose the weight. It is very doable if I am weighing in at 3 to 4 PM. That's not doable if I am weighing in between 9 and 11 AM, though.
I strongly agree with Dana White's decision to change it back to the later weigh-in time.
The weight cutting process should be safe, not rushed. Every missed weight is a missed fight.
If we're not here for the fights, what exactly are we here for?