UFC Fight Announcements: Champ Demetrious Johnson Gets Rematch
UFC Fight Announcements: Champ Demetrious Johnson Gets Rematch
FloCombat's Nolan King breaks down the latest UFC fight announcements for June, including a flyweight title rematch and much more.
Jun 11, 2018
by FloCombat Staff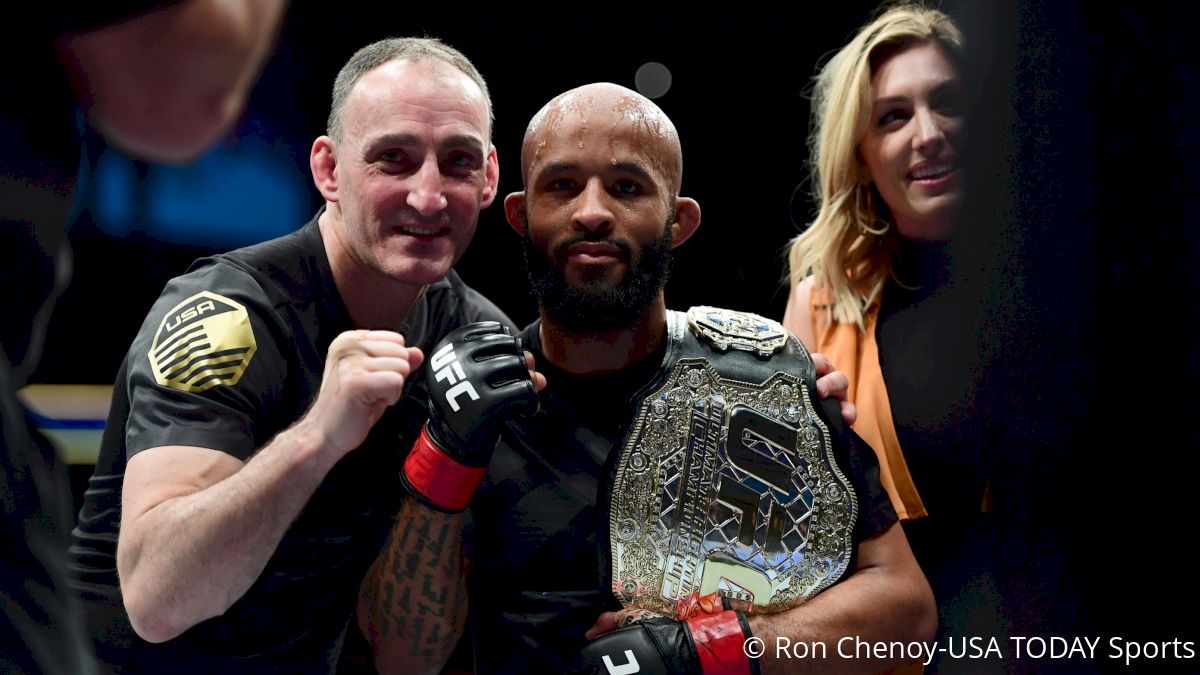 By Nolan King
---
With fight announcements breaking each and every day, it's hard to keep track of all the hustle and bustle in the world of MMA.
Luckily, here at FloCombat, we've got you covered. Here's a list of all of the UFC fight announcements that were put out by notable outlets across the world so far this month.
Bouts are not confirmed by the UFC unless noted otherwise (*). Below, view the matchup announcements as well as a bonus list of fighter signings and releases.
July 7 - UFC 226: Stipe Miocic vs. Daniel Cormier
Lightweight Bout: Lando Vannata (9-2-1, 1-2-1 UFC) vs. Drakkar Klose (8-1-1, 2-1 UFC) - per Las Vegas Review-Journal
July 14 - UFC Fight Night 133: Boise
Featherweight Bout: Kurt Holobaugh (17-4, 0-1 UFC) vs. Raoni Barcelos (11-1, 0-0 UFC) - per MMA Today
Welterweight Bout: Niko Price (11-1 1NC, 3-1 1NC UFC) vs. Randy Brown (10-2, 4-2 UFC) - per Newsday
Women's Strawweight Bout: Jessica Aguilar (19-6, 0-2 UFC) vs. Jodie Esquibel (6-3, 0-1 UFC)
July 22 - UFC Fight Night 134: Hamburg
Welterweight Bout*: Emil Meek (9-3-1 1NC, 1-1 UFC) vs. Bartosz Fabinski (13-2, 2-0 UFC)
August 4 - UFC 227: TJ Dillashaw vs. Cody Garbrandt II
Bantamweight Bout: Benito Lopez (9-0, 1-0 UFC) vs. Ricky Simon (13-1, 1-0 UFC) - per LA Times
Flyweight Bout*: Demetrious Johnson (27-2-1, 17-2-1 UFC) vs. Henry Cejudo (12-2, 5-2 UFC) - per MMA Fighting

August 25 - UFC Fight Night 135: Nebraska
Bantamweight Bout: Rani Yahya (25-9 1NC, 14-6 1NC) vs. Luke Sanders (12-2, 1-2 UFC) - per MMA Fighting
Middleweight Bout: Eryk Anders (10-1, 2-1 UFC) vs. Tim Williams (15-4, 0-1 UFC - per Fansided
Lightweight Bout: Justin Gaethje (18-2, 1-2 UFC) vs. Al Iaquinta (13-4-1, 8-3 UFC) - per ESPN
September 8 - UFC 228: TBA vs. TBA
Featherweight Bout: Yair Rodriguez (10-2, 6-1 UFC) vs. Zabit Magomedsharipov (15-1, 3-0) - per ESPN
---
CONTENDER SERIES:
6/19 - Featherweight Bout: Giga Chikadze (5-1) vs. Austin Springer (5-0) - per MMA Today
7/17 - Welterweight Bout: Austin Vandeford (4-0) vs. Angelo Trevino (7-2) - per ESPN
7/31 - Heavyweight Bout: Jeff Hughes (9-1) vs. Josh Appelt (15-6) - per MMA Today
Brazil - Women's Flyweight Bout: Sarah Frota (8-0) vs. Maiara Alves (6-2) - per Women's MMA Fight
---
UFC Signings:
Elias Garcia – Flyweight (6-0) – Cabo Bato Fighting (Dana White: Lookin' For a Fight)
UFC Departures:
Michael Bisping – Middleweight (30-9, 20-9 UFC) – Retired
Michel Quinones – Welterweight (8-3, 0-2 UFC) – Signed with Titan FC
Augusto Mendes – Bantamweight (6-2, 1-2 UFC) – Signed with ACB