UFC 225: Michelle Waterson Talks 'Great Villain' Colby Covington
UFC 225: Michelle Waterson Talks 'Great Villain' Colby Covington
UFC strawweight Michelle Waterson discusses the appeal of Colby Covington ahead of UFC 225.
Jun 9, 2018
by FloCombat Staff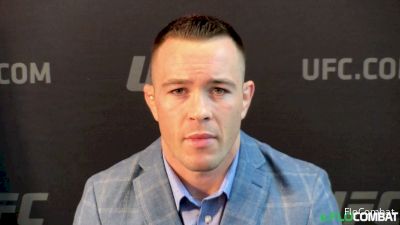 By Damon Martin
---
Michelle Waterson has never been one to engage in trash talk.
The top-10-ranked UFC strawweight contender rarely has a bad word to say about anyone, and throughout her career, she's avoided the kind of heated rivalries that are spurred on by words as much as action.
If there was a polar opposite to Waterson in the UFC, it's interim welterweight title contender Colby Covington, who has built a reputation on finding a way to get under the skin of just about every athlete on the roster while simultaneously staking his claim as one of the best fighters in his division.
Covington, who takes on Rafael dos Anjos Saturday at UFC 225 for UFC gold, has taken aim at just about every fighter competing at welterweight. And just because someone isn't in his division doesn't mean they're safe either.
Covington has fired off shots at just about everybody from heavyweight to strawweight and even managed to spoil two of the biggest movies of the past year on Twitter.
I'm gonna melt this little Brazilian soy boy tomorrow night in Chicago. Then I'm bringing that gold belt where it belongs, 1600 Pennsylvania Ave with President @realDonaldTrump! #ufc225 #nerdbash2018 #maga pic.twitter.com/mq8XqQEsC2

— Colby Covington (@ColbyCovMMA) June 9, 2018
The end result is Covington becoming one of the most despised and talked-about athletes in the UFC today, and whether you like what he's saying or not, Waterson argues watching him is still the result he wanted.
"What I can say, there are people in the entertainment business, whether it's WWE, whether it's Marvel, or the UFC, that people love to hate," Waterson explained when speaking to FloCombat ahead of her return to the broadcast desk on FOX for UFC 225. "There is a time and place for all of those people, and Colby Covington has made himself out to be a villain—and he's a great villain at that.
"People love to hate him. So he's based his career movement on how he's acted, and the great thing about him being so outspoken and such a trash talker is that he is on a winning streak."
To Waterson, the fact that the 13-1 Covington just keeps winning is a crucial component to his mass appeal—or lack thereof.
"If it wasn't for his loud mouth and his ability to talk trash to his opponents and people outside of his weight class and just pretty much anybody that picks a bone with him, [he still] backs it up," Waterson said. "I think the reason a lot of people will be tuning in this weekend is to either see him win or to see him lose and get beaten up by dos Anjos. That's what makes good fighting — people tuning in. Period."
Waterson definitely has a point when it comes to Covington dominating the headlines. "Chaos" has discussed everything from hoping a win on Saturday night nets him a meeting with President Donald Trump to calling out NBA superstars like Kevin Durant and Steph Curry, who have turned down offers to travel to the White House.
Covington will certainly have a lot more to say Saturday night should he get past dos Anjos and be crowned interim welterweight champion.