Michael Bisping Closes Door On UFC Return: 'I'm Not Going To Be That Guy'
Michael Bisping Closes Door On UFC Return: 'I'm Not Going To Be That Guy'
Former UFC middleweight champion Michael Bisping discusses his decision to retire from MMA and promises his days inside the Octagon are done.
Jun 6, 2018
by FloCombat Staff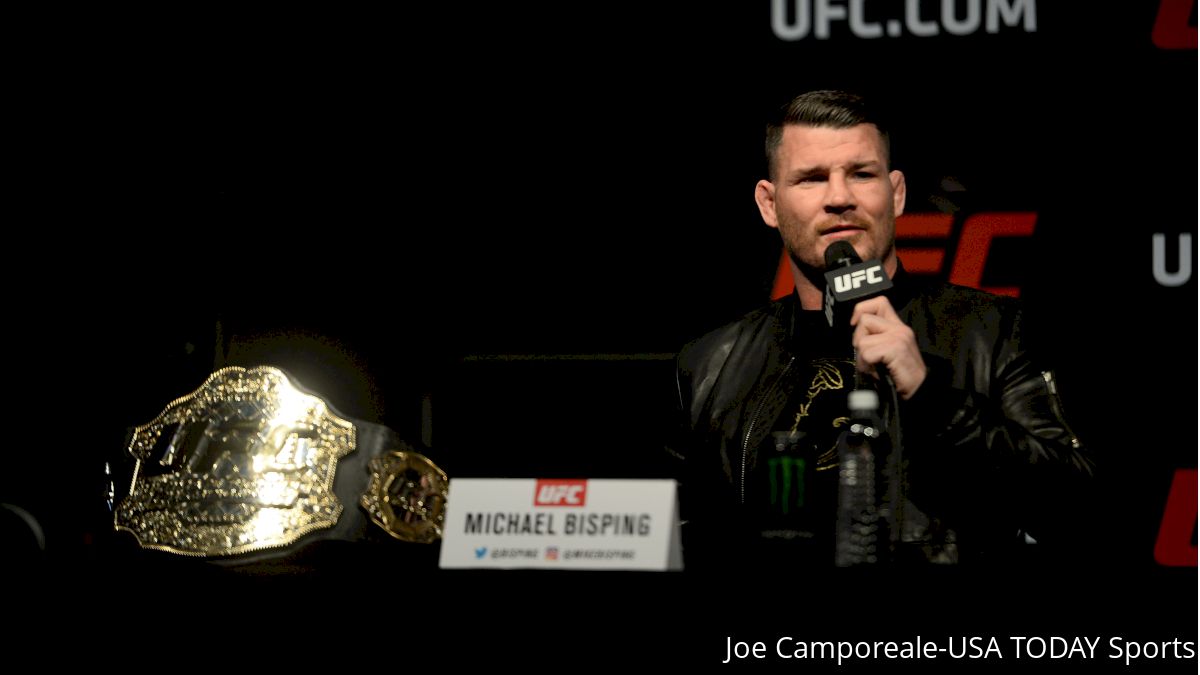 By Damon Martin
---
Michael Bisping is done with fighting.
The former UFC middleweight champion announced his retirement from the sport last week after a career that saw him win Season 3 of The Ultimate Fighter, pick up the most wins in UFC history, and begin a title reign by knocking out Luke Rockhold to win gold back in 2016.
Truth be told, Bisping didn't really have much left he could accomplish in the sport, but he'll be the first to admit it wasn't easy to make that call to actually retire.
"It was a tough decision, something I've thought about for a long time," Bisping told FloCombat. "I still played with the idea of another fight, but it's for the best. I've had so many injuries over the years, my eye being the main one obviously, so time to move onto other things.
"[I had to] put my big boy shoes on and step out into the wide world away from fighting and see what I can do."
While Bisping was absolutely contemplating another fight, his life has gotten awfully busy outside the cage.
In recent years, Bisping started to pick up acting roles in several films and television shows with a Hollywood agent who wanted to get him even more if he had the time. Add to that, Bisping launched his own podcast, does analyst work for FOX, and has part ownership in a couple of new website ventures as well as plans to help open numerous new UFC gyms in his home country of England.
Bisping says having a career set up outside the cage played a massive part in the decision to retire now—when the time was right—versus giving in to the temptation to keep going.
"One-hundred percent. If it wasn't for that, I don't think I would have [retired]," Bisping said. "Even with the injuries and all the rest of it, I would have hung around trying to get a few more paydays. But with all these other things going on, 100 percent, I don't need to do this anymore. I'm forever grateful for the experiences, the UFC, and everyone who supported me. The time was right. So much going on. Greener pastures.
"I've done it all, fought all around the world, main events, I won the belt, made some money, what else is there to do than just to be one of those guys that starts racking up the losses, taking paychecks and it gets a little sad by the end to be honest. I didn't want to do that. I didn't necessarily go out on top, but it wasn't bad."
As difficult as it was to retire, Bisping also knew that was necessary so he could truly close the door on his fighting career.
Bisping has seen it more times than he can count where an athlete retires and then within a year or two they're itching for a comeback.
He never wants to be that guy.
"Listen, I don't want to be one of those guys that comes out of retirement in a few years or even a year. I'll be embarrassed if I'm that guy and I'm not going to be that guy," Bisping said. "I've closed the door, USADA took me out of the testing pool, and I'm moving on. Thank you to the UFC, thank you for everything, but it's over. At some point, all good things must come to an end.
"I've pushed it as long as I can, [had] a ton of fights, had some amazing memories, had some incredible relationships, made some amazing friends, but you can't do it all your life. You've got to know when to walk away."