Belal Muhammad On Fighting During Ramadan, Representing 'Real Muslims'
Belal Muhammad On Fighting During Ramadan, Representing 'Real Muslims'
UFC welterweight Belal Muhammad discusses his decision to fight during Ramadan ahead of UFC Fight Night 131 in Utica.
May 31, 2018
by FloCombat Staff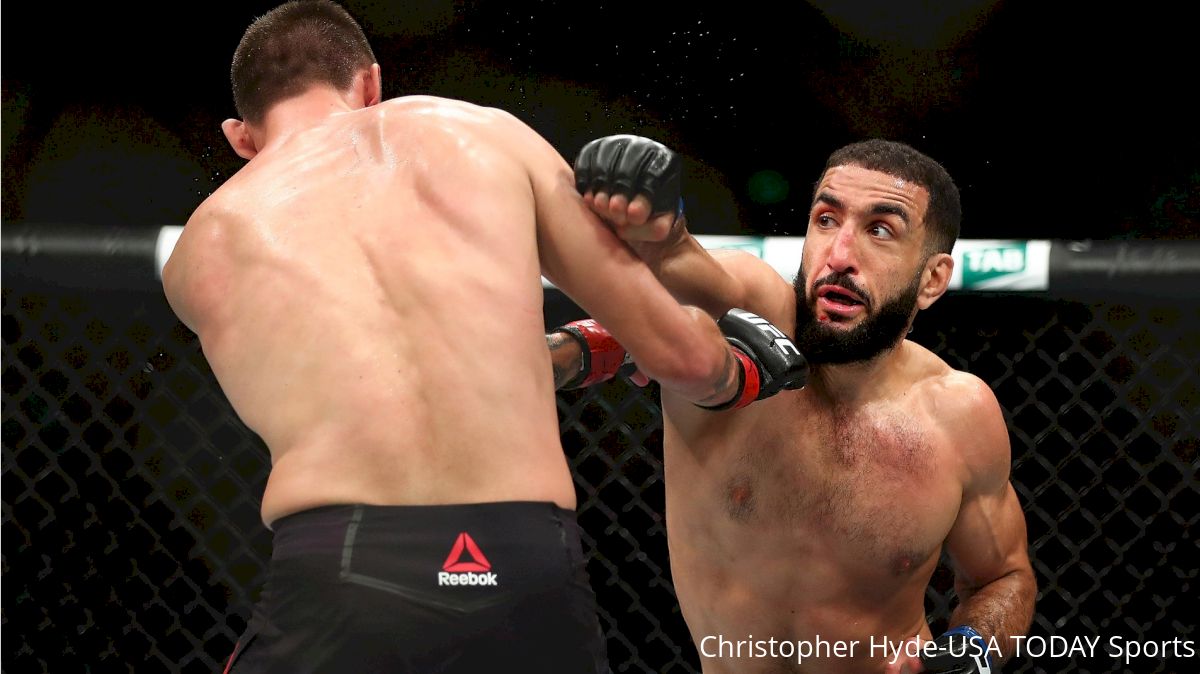 By Damon Martin
---
Belal Muhammad will look to secure his fourth win in a row when he competes Friday at UFC Fight Night 131 in Utica, N.Y., but his preparation will be unlike anybody else on the card.
As a practicing Muslim, Muhammad is currently observing the sacred month of Ramadan—a yearly event where Muslims focus on prayer, charity, generosity, study of the Quran, and fasting from dawn until dusk.
While the observation of Ramadan is a very important month for all Muslims, many mixed martial artists who practice the faith are hesitant to compete during that time, in large part because fasting can alter how they're able to eat, drink, or train in preparation for an upcoming fight.
Numerous fighters in the UFC are practicing Muslims, including lightweight champion Khabib Nurmagomedov, who has stated numerous times in the past that he would never want to fight during Ramadan.
While Muhammad absolutely respects Nurmagomedov's choice as well as the other Muslim athletes on the UFC roster who do the same, he finds training and preparing for a fight during Ramadan as an extra tool to help him get ready for the battle ahead.
"I'm just one of those where I've been doing it my whole life," Muhammad explained when speaking to FloCombat. "Like in high school, I played football and I always trained around Ramadan and I feel like nowadays it's tougher. Like mentally, it pushes me to a whole different level.
"I'm still training during the day with no water, no food, and I feel like my body adjusts to it after a couple of days and I feel like it just makes me that much stronger mentally. Like if you can push yourself with no water, no food and then once you get to fight time and you get that food and water, it's going to be the easiest thing in the world. You can go through anything at that point."
The key to Muhammad is planning, decision-making, and a strong team dynamic.
"I just do it smart," Muhammad said. "I have the right people around me. Like they'll sit there and monitor how I'm feeling, they see me being a little lackadaisical, they'll tell me to take off for a little bit. I feel like honestly it makes me a lot stronger."
According to Muhammad, he's gone through this kind of rigorous preparation several times throughout his career while still observing the sacred month of Ramadan.
In fact, Muhammad points to a fight he had last year against Jordan Mein as one of the best training camps of his entire life.
"Last year my whole Jordan Mein fight camp was during Ramadan, and that was the best I've ever felt," Muhammad said. "I feel like it makes me that much more disciplined during that time. It just makes my whole life more disciplined. The whole camp, nutrition, everything, it just makes me that much stronger of a fighter.
"I know a lot of guys don't want to do it, but I'm happy to do it and bring more attention to it so I can be that guy out of the box. That way people will know who I am and wonder how I'm doing it."
Muhammad also uses his preparation during Ramadan as a way to get mentally stronger ahead of a fight because he's making sacrifices that he knows his opponents aren't going through.
"Everybody says, 'Nobody trains harder than me,' but I know my opponents aren't fasting," Muhammad said with a laugh. "So I have that advantage over them. Everybody is looking for that edge with training, nutritionists, and strength and conditioning programs, but if you can train your mind and your heart to push you to a different level, that's a whole new story."
Muhammad also likes to speak about his willingness to fight during Ramadan as another example of how he can use his public platform as an athlete in the UFC to allow people to see a different side of the Muslim faith.
In a highly volatile political climate in the United States in 2018, Muhammad knows that Muslims are often vilified in the media, and that's why he's doing everything in his power to put a positive face on his faith.
That's why Muhammad celebrated Nurmagomedov's big win in April when he became the first Muslim to hold a UFC championship.
The way Muhammad sees it, he wants to celebrate the good deeds of his fellow Muslims while also trying to share those positive stories with the rest of the world.
"I know that I have a lot of people around the world that respect me and they're rooting for me just because I'm Palestinian and I'm Muslim. So I have to speak for the unspoken," Muhammad said. "You don't get a lot of people at this level to speak about Palestine or the people or Muslims or show what Muslims are all about. Every time you look at the news, the headlines are always about a bad Muslim or Muslims doing something wrong. That's why I posted a congrats to Khabib [Nurmagomedov] as the first Muslim champion and I got a lot of blowback like, 'What does Muslim have anything to do with it?'
"It does have a lot to do with it because the media shines a negative light on Muslims and slamming our religion. So when I see a good guy like Khabib, a humble guy like Khabib out here being a positive role model for other Muslims, I'm going to put it out there. Yes, he's a Muslim champion and there are good Muslims out there. You get to know a real Muslim, you'll know what the religion is about."