Latest UFC, Contender Series Fight Announcements | May 7, 2018 Edition
Latest UFC, Contender Series Fight Announcements | May 7, 2018 Edition
FloCombat's Nolan King reviews the latest UFC and Contender Series fight announcements, including Junior dos Santos' return.
May 7, 2018
by FloCombat Staff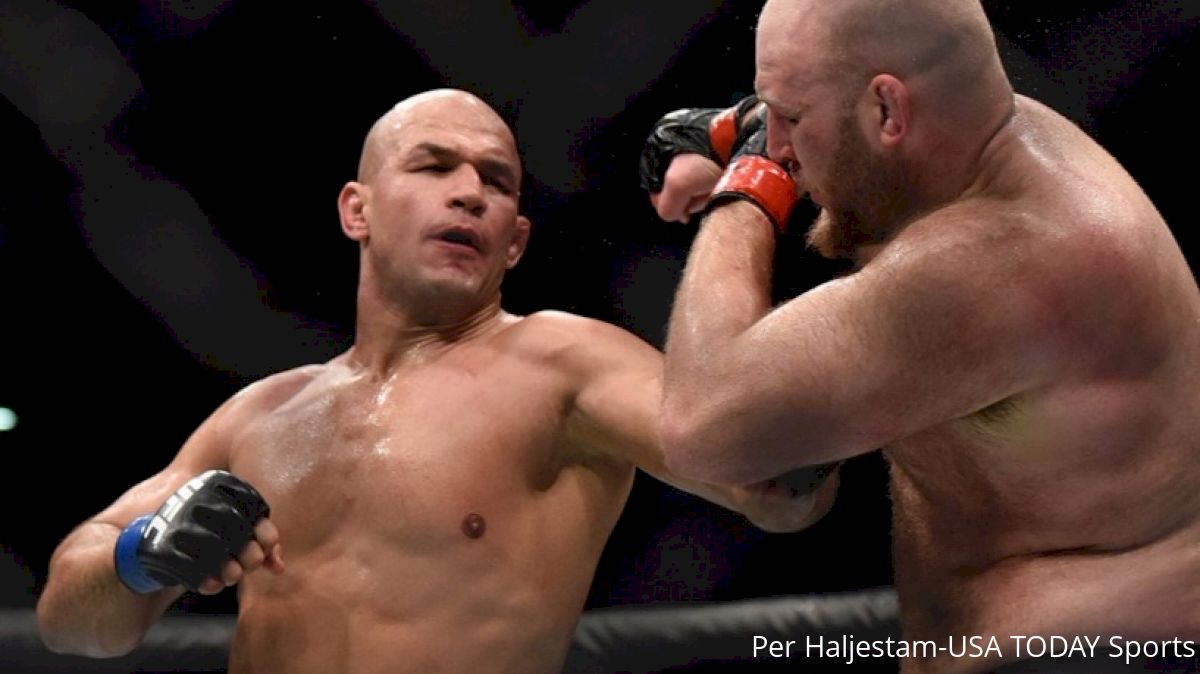 By Nolan King
---
With fight announcements breaking each and every day, it's hard to keep track of all the hustle and bustle in the world of mixed martial arts.
Luckily, here at FloCombat, we've got you covered. Here's a list of all the UFC fight announcements that were put out by notable outlets across the world so far this month.
Bouts are not confirmed by the UFC unless noted otherwise (*). Below, view the matchups as well as a bonus list of Contender Series fights and the latest fighter signings.
---
June 1 - UFC Fight Night 131: Utica
Lightweight Bout: Nik Lentz (28-2-2, 1 NC; 12-5-1, 1 NC UFC) vs. David Teymur (7-1, 3-0 UFC) - per MMA Fighting
June 9 - UFC 225: Whittaker vs. Romero 2
Middleweight Bout: Gerald Meerschaert (27-9, 3-1 UFC) vs. Oskar Piechota (11-0-1, 2-0 UFC) - per Art Mazur
June 23 - UFC Fight Night 132: Singapore
Welterweight Bout*: Li Jingliang (14-5, 6-3 UFC) vs. Daichi Abe (6-1, 1-1 UFC) - per Combate
Bantamweight Bout*: Teruto Ishihara (10-5-2, 3-3-1 UFC) vs. Petr Yan (8-1, 0-0 UFC)
Welterweight Bout*: Kenan Song (12-3, 1-0 UFC) vs. Hector Aldana (4-0, 0-0 UFC)
Bantamweight Bout*: Felipe Arantes (18-9-1, 2 NC; 5-5-1 UFC) vs. Song Yadong (11-3, 2 NC; 1-0 UFC)
July 6 - The Ultimate Fighter 27 Finale
Middleweight Bout*: Brad Tavares (17-4, 12-4 UFC) vs. Israel Adesanya (13-0, 2-0 UFC)
Featherweight Bout*: Matt Bessette (22-8, 1 NC; 0-1 UFC) vs. Steven Peterson (16-7, 0-1 UFC)
July 7 - UFC 226: Miocic vs. Cormier
Lightweight Bout*: Anthony Pettis (20-7, 12-7 UFC) vs. Michael Chiesa (14-3, 7-3 UFC) - per MMA Fighting
Welterweight Bout: Max Griffin (14-4, 2-2 UFC) vs. Curtis Millender (15-3, 1-0 UFC) - per MMA Junkie
July 14 - UFC Fight Night 133: Boise
Heavyweight Bout: Junior Dos Santos (18-5,12-4 UFC) vs. Blagoy Ivanov (16-1, 1 NC; 0-0 UFC) - per ESPN
July 28 - UFC on FOX 30: Calgary
Women's Strawweight Bout*: Joanna Jedrzejczyk (14-2, 8-2 UFC) vs. Tecia Torres (10-1, 6-2 UFC) - per ESPN
August 4 - UFC 227: Dillashaw vs. Garbrandt 2
Middleweight Bout*: Derek Brunson (18-6, 12-5 UFC) vs. Antonio Carlos Junior (10-2, 1 NC; 7-2, one no-contest UFC)
---
CONTENDER SERIES:
July 3 - Featherweight Bout: Toby Misech (10-5) vs. Ricky Palacios (9-1) - per MMA Today
Brazil - Heavyweight Bout: Henrique Montanha (5-1) vs. Rodrigo Nascimento (5-0) - per Combate
Brazil - Heavyweight Bout: Augusto Sakai (10-1-1) vs. Marcos Conrado Jr. (5-0) - per Combate
Brazil - Light Heavyweight Bout: Johnny Walker (13-3) vs. João Zaiden (7-0) - per Combate
Brazil - Bantamweight Bout: Rogério Bontorin (13-1) vs. Gustavo Gabriel (12-0) - per MMA Today
Brazil - Women's Bantamweight Bout: Luana Carolina (4-1) vs. Duda Santana (3-0) - per Combate
Brazil - Middleweight Bout: André Muniz (16-4) vs. Daniel Pereira (7-2) - per Combate
Brazil - Women's Bantamweight Bout: Mayana Kellen (7-0) vs. Taila Santos (14-0) - per Combate
Brazil - Women's Flyweight Bout: Estefani Almeida (6-1) vs. Mayra Bueno Silva (4-0) - per Combate
Brazil - Flyweight Bout: Allan Nascimento (17-4) vs. Raulian Paiva (15-1) - per Combate
Brazil - Light Heavyweight Bout: John Allan (13-4) vs. Vinicius Alves (8-1) - per MMA Today
Brazil - Middleweight Bout: Wellington Turman (13-2) vs. Leonardo Silva (11-2) - per MMA Today
Brazil - Women's Bantamweight Bout: Dayana Silva (7-3) vs. Gisele Moreira (7-2) - per MMA Today
Brazil - Women's Strawweight Bout: Marina Rodriguez (10-0) vs. Maria Oliveira (10-3) - per Combate
---
UFC Signings:
Hector Aldana – Welterweight (4-0) – The Ultimate Fighter: Latin America